WHITE PALACE
(director: Luis Mandoki; screenwriters: novel by Glenn Savan/Ted Tully/Alvin Sargent; cinematographer: Lajos Koltai; editor: Carol Littleton; music: George Fenton; cast: James Spader (Max Baron), Susan Sarandon (Nora Baker), Renée Taylor (Edith Baron), Eileen Brennan (Judy), Kathy Bates (Rosemary), Jason Alexander (Neil), Corey Parker (Larry Klugman), Jason Alexander (Neil Horowitz),  Steven Hill (Sol Horowitz); Runtime: 103; MPAA Rating: R; producers: Griffen Dunne/Amy Robinson/Mark Rosenberg; MCA Universal Home Video; 1990)
"The psychodrama is never as bad or as good as it could be."
Reviewed by Dennis Schwartz
A 1930s style melodrama, telling of an unlikely summer romance between an uneducated older woman commoner and a well-educated younger sophisticate, that's taken by writers Alvin Sargent and Ted Tully from Glenn Savan's 1987 novel. Director Luis Mandoki ("Trapped"/"Angel Eyes") never loosens up on his soap opera romantic grip, urging us to believe that in this improbable relationship lust leads to love.

The wife of the upwardly-mobile middle-class 27-year-old Jewish yuppie workaholic ad-executive from St. Louis, Max Baron (James Spader), died in an auto accident a few tears ago. Her passing left him spiritless and withdrawn, wondering about the meaning of life. The repressed Max meets the free-spirited 43-year-old crude Catholic waitress from the White Palace (think White Castle) burgher joint, who dwells in the slum section of Dogtown, Nora Baker (Susan Sarandon). She also lives with the memory of her dead teenage son who was destroyed by booze and drugs. We learn Nora's obsessed with Marilyn Monroe and digs the Oak Ridge Boys, while Max favors Bach. What they have in common is sharing their misery.

But despite all the obstacles, they enjoy getting together and having sex. At a Thanksgiving gathering at the home of his wealthy lawyer friend, the newly married Neil Horowitz (Jason Alexander), the uncultured tart with the golden heart downs too many vodkas for this stuffy crowd and she laces into the phony liberals when they reject her. She then splits for New York. But it ends on an upbeat note, as Max journeys to the Big Apple to reunite with her after renouncing his family, friends and job.

Eileen Brennan plays Sarandon's goofy, fortune teller sister. Renee Taylor plays Spader's stereotypical Jewish mother.

The psychodrama is never as bad or as good as it could be, though I found the tacked-on ending a bit forced and not believable.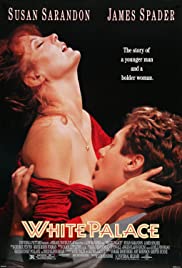 REVIEWED ON 4/18/2017 GRADE: C+