TOTEM
(director/writer: Lila Avilés; cinematographer: Diego Tenorio; editor: Omar Guzmán; music: Thomas Becka; cast: Naíma Sentíes (Sol), Montserrat Marañon (Nuria), Marisol Gasé (Alejandra), Saori Gurza (Ester), Mateo García Elizondo (Tona), Teresita Sánchez (Cruz), Juan Francisco Maldonado (Napo), Iazua Larios (Lucia), Marisela Villarruel (Ludica), Alberto Amador (Roberto); Runtime: 95; MPAA Rating: NR; producers: Tatiana Graullera, Lila Avilés, Louise Riousse. Co-producers: Per Damgaard Hansen, Jean-Baptiste Bailly-Maitre; Limerencia Films; 2023-Mexico*Denmark/France-in Spanish with English subtitles)
"Heartfelt and mournful."
Reviewed by Dennis Schwartz

A slight but engrossing family drama about a close-knit middle-class Mexican family dealing with their 27-year-old artist patriarch, Tona (Mateo García Elizondo), and his impending death from an interminable cancer. Mexican actor-turned-director  Lila Avilés ("The Chambermaid") keeps it heartfelt and mournful.

The seven-year-old Sol (Naíma Sentíes), a spirited kid who loves animals, while at her therapist grandfather Roberto's (Alberto Amador) house, plans with him a surprise birthday party for her dying painter father Tona. In the film's first half there's no Tona, as the frail dying man is hidden in a back room and refuses to have visitors–only the family party planners are shown.

There's Tona's stressed out sister Nuria (Montserrat Marañon), in charge of baking the cake. There's tension from Tona's other harried, bossy and superstitious sister, Alejandra (Marisol Gasé). She doesn't pay the hired nurse for two weeks to pay for the services of a shaman, Ludica (Marisela Villarruel), whom Alejandra hires to cleanse the house of its bad spirits.

Tona's free-spirited wife Lucia (Iazua Larios) allows Sol's aunts to watch her and she disappears.

In the second half, a sickly looking Tona appears. His nurse Cruz (Teresita Sánchez) is there.
Sol tries to keep things gay by donning a wig and miming a song.

As seen from Sol's POV of innocence, the film quietly accepts death and it all seems convincingly real.

But you got me what the title signifies, as it obviously is some kind of symbolic and spiritual metaphor.

It played at the Berlin Film Festival.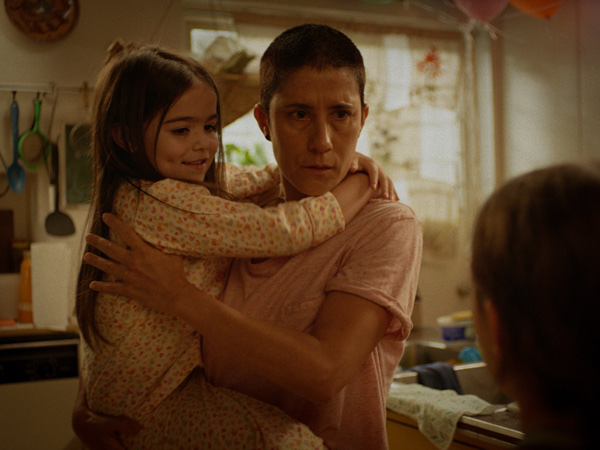 REVIEWED ON 2/26/2023  GRADE: B-