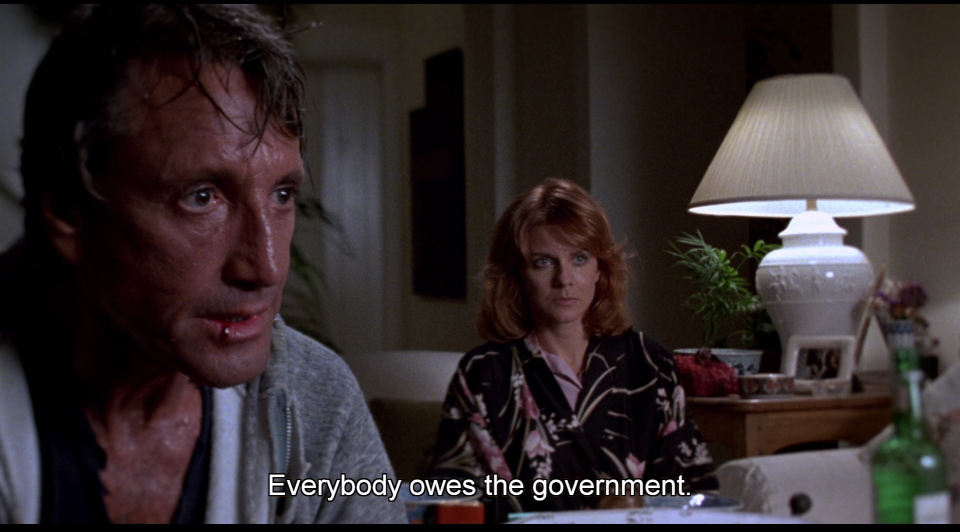 52 PICK-UP
(director: John Frankenheimer; screenwriters: based on the novel by Elmore Leonard/Elmore Leonard/John Steppling/Marshall Brickman; cinematographer: Jost Vacano; editor: Robert F. Shugrue; music: Gary Chang; cast: Ann Margret (Barbara Mitchell), Vanity (Doreen), Roy Scheider (Harry Mitchell), Kelly Preston (Cini), John Glover (Alan Raimy), Robert Trebor (Leo Franks), .Lonny Chapman (Jim O'Boyle), Doug McClure (Mark Averson), Clarence Williams 3d (Bobby Shy); Runtime: 111; MPAA Rating: R; producers: Menahem Golan/Yoram Globus; MGM/Fox (the Cannon Group); 1986)

"This is one of the few films taken from an Elmore Leonard novel that should please the author's readers."
Reviewed by Dennis Schwartz
This film was the second adaptation of the Elmore Leonard novel. The first one, also made by the Cannon Group, was called The Ambassador (1984). John Frankenheimer("The Gypsy Moths"/"All Fall Down"/"The Manchurian Candidate") plays nicely with the slick and glossy, and makes a trashy sardonic pulp film that is much more enjoyable than it should have been. Writers Leonard, John Steppling and Marshall Brickman keep it L.A. sleazy.
Harry Mitchell (Roy Scheider) is a self-made man, who owns a successful construction company and lives in a luxury house in the Hollywood Hills. His wife of 23 years, Barbara (Ann Margret), is running for a council position in Los Angeles. Harry has a young mistress named Cini (Kelly Preston). Arriving at Cini's pad one night, Harry has a gun pointed at his head by three hooded blackmailers, who force him to watch a video tape of him having sex with his model mistress. They then demand $105,000 hush money. Afraid if he tells the police it will become public and be bad publicity for his wife's campaign, so Harry decides not to pay while pretending to the men he will. Problem is the lead blackmailer, a menacing pornographer, Alan Raomy (John Glover), is a sociopath, and when not paid (instead of money he receives newspaper scraps) the humiliated leader executes the mistress in a snuff video and frames Harry for the murder by using his gun. Bobby Shy (Clarence Williams 3d) is the group's scariest psychopath, while the third gang member is the nervous strip-club owner Leo Franks (Robert Trebor). Harry now changes strategy and attempts to turn the gang against each other, using a divide and conquer plan.
The pic effectively mixes in violence, porn and infidelity into a unique kind of nasty film. The location shots of the seedy side of L.A. are captivating and the actors, especially the blackmailers, give terrific performances. This is one of the few films taken from an Elmore Leonard novel that should please the author's readers.
REVIEWED ON 2/5/2015 GRADE: B+