STRAIGHT TIME
(director: Ulu Grosbard; screenwriters: the novel No beast, So Fierce by Edward Bunker/Alvin Sargent/Jeffrey Boam/Edward Bunker; cinematographer: Owen Roizman; editor: Sam O'Steen/Randy Roberts; music: David Shire; cast: Dustin Hoffman (Max Dembo), Theresa Russell (Jenny Mercer), M. Emmet Walsh (Earl Frank), Gary Busey (Willy Darin), Kathy Bates (Selma Darin), Sandy Baron (Manny), Harry Dean Stanton(Jerry Schue), Edward Bunker (Mickey); Runtime: 114; MPAA Rating: R; producers: Tim Zinneman/Stanley Beck; WB; 1978)
"Message sending but uninvolving crime drama."
Reviewed by Dennis Schwartz
A perky, disturbing, message sending but uninvolving crime drama based on the 1973 novel by a real-life bank robber, Edward Bunker, entitled "No Beast, So Fierce." It's co-written by career convict Bunker, Alvin Sargent and Jeffrey Boam. Director Ulu Grosbard ("The Subject Was Roses"/"Falling in Love") does a decent job telling the problems of being an ex-con but never allows the viewer to connect with the characters so they can care about them. But he deserves kudos for the gripping jewelry store heist scene.
After serving a six-year prison stretch at San Quentin for armed burglary, Max Dembo (Dustin Hoffman), tries to get a job in Los Angeles and go straight. But his parole officer, Earl Frank (M. Emmet Wallsh), is a hard-ass, who makes life on parole and his job in a can factory a bad experience through a series of unnecessary humiliations. This forces us to believe the parole officer is the reason the Dustin character returns to crime. Also Max's old friends, a collection of thieves, junkies and gangster misfits, are a bad influence.
Hoffman, who bought the rights to the book, was to make it his directing debut, but shortly into the production realized he couldn't both act and direct and turned the reigns over to Grosbard. The film was a disappointment, probably because Hoffman didn't have final cut. The studio gave that right to Phil Feldman, who ruined the film with his cuts. The film was released to bad reviews and a poor gate.
The unfortunate Hoffman, who gave a solid performance as did the great character actors in it, lost in his suit about the final cut with the studio.
Theresa Russell, in her first starring role, is fine as Dustin's naive would-be gf, who is his employment counselor. Busey plays the old friend who uses Dustin's room to shoot heroin. But the acting honors go to Harry Dean Stanton, as the ex-thief yearning to get out of his dull suburban lifestyle and return to a life of crime.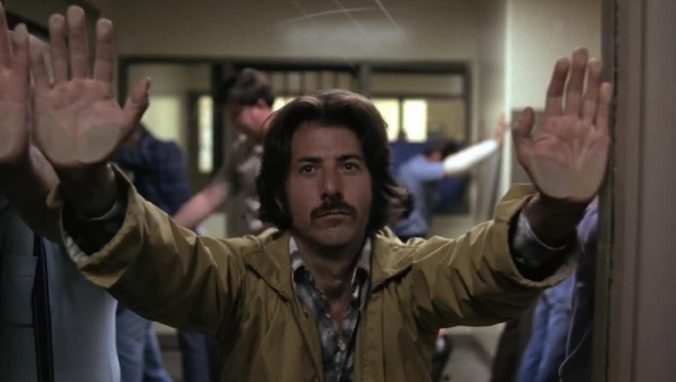 REVIEWED ON 2/2/2018 GRADE: B-