STARLING GIRL, THE
(director/writer: Laurel Parmet; cinematographer: Brian Lannin; editor: Sam Levy; music: Ben Schneider; cast: Liza Scanlen (Jem Starling), Lewis Pullman (Owen Taylor), Jimmi Simpson (Paul Starling), Wrenn Schmidt (Heidi Starling), Jessamine Burgum (Misty Taylor), Austin Abrams (Ben Taylor); Runtime: 116; MPAA Rating: R; producers: Kevin Rowe/Kara Durrett; Pinky Promise; 2023)
"Aside from the spry performance by Eliza, my attention wandered."
Reviewed by Dennis Schwartz

A disturbing coming-of-age religious drama about forbidden love set in a fundamentalist Christian community in rural Kentucky. It's the feature debut for Laurel Parmet.


The 17-year-old Jem Starling (Eliza Scanlen, Australian actress), a member of the Holy Grace Church youth group, is pushed down a path of matrimony with unattractive men she doesn't care for by her church. Instead she hits it off in a forbidden lustful relationship with her handsome 28-year-old pastor, Owen Taylor (Lewis Taylor, son of the actor Bill). Owen is in a loveless marriage to Misty (Jessamine Burgum), and has just returned to the close-knit community after a mission in Puerto Rico.

Jem's closer with her more feeling father Paul (Jimi Simpson) than her uptight mom (Wrenn Schmidt). Dad was a country musician before joining the cult, and is a recovering addict.

The film turns on a battle in the intolerant evangelical community over issues of feelings versus indoctrination. Shaming the so-called sinners is how they deal with the crisis.

It tells a familiar tale that offers nothing fresh. Aside from the spry performance by Eliza, my attention wandered. Though well-staged, it's a bore and the cautious romance is a snoozer.
 
It played at the Sundance Film Festival.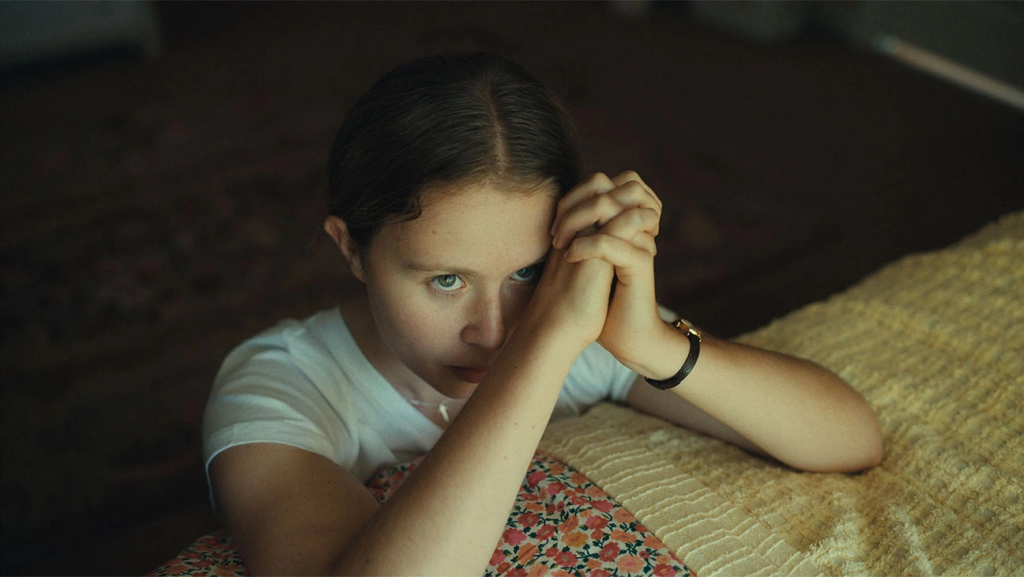 REVIEWED ON 3/27/2023  GRADE: C+