HAPPY DEATH DAY
(director: Christopher Landon; screenwriter: Scott Lobdell; cinematographer: Toby Oliver; editor: Gregory Plotkin; music: Bear McCreary; cast:  Jessica Rothe (Tree Gelbman),  Israel Broussard (Carter Davis),  Ruby Modine (Lori), Rachel Matthews (Danielle), Charles Aitken (Dr. Gregory Butler), Rob Mello (Joseph Tombs), Jason Bayle (David Gelbman), Phi Vu (Ryan Phan), Donna Duplantier (Nurse Deena), GiGi Erneta  (News Reporter), Jimmy Gonzales (Police Officer), Blaine Kern III (Nick), Caleb Spillyards (Tim); Runtime: 96; MPAA Rating: PG-13; producer: Jason Blum; Universal; 2017)
"Its best asset is the comical performance by its likable heroine played by Jessica Rothe. as the sassy sorority girl."
Reviewed by Dennis Schwartz

A middling and inane gore-free slasher/comedy movie spoof on the genre directed by Christopher Landon ("Paranormal Activity: The Marked Ones"/"Burning Palms") without charm or fortitude, and is lamely written without imagination by Scott Lobdell. It combines schematic elements of both Groundhog Day and Scream. It becomes ridiculous at the half-way mark, as the story runs out of ideas and flounders. The derivative film is not scary, its comedy is sophomoric and it gets over as a slick one-trick pony film. Its best asset is the comical performance by its likable heroine played by Jessica Rothe, as the sassy sorority girl.

The self-absorbed, slutty college sorority coed Tree (Jessica Rothe) wakes up with a hangover in the dorm room of someone she doesn't know called Carter (Israel Broussard). She's unsure of what happened that night and bolts from the room to walk across the campus quad while scantily dressed. Today is her birthday, and on it such things happen to her that include an affair with her married science teacher (Charles Aitken), a row with her scornful sorority sister roommate (Ruby Modine), some bitchy interactions with the uptight bossy head of her Kappa sorority (Rachel Matthews), and trying to avoid a psychopath slasher (Rob Mello) in a Halloween mask who is attempting to kill her. Stuck in the same day cycle like those in the Groundhog Day movie, her deaths keep repeating themselves until she figures out who wants her killed and why. It lost me when forced to watch such vacuous scenes recycled over and over.

The film punks out to avoid any edge by showing how Tree's dreams made her change her malicious ways, as it moves to secure a safe PC ending. It also lacks any freshness, fails to build tension, has too many false endings and its appeal is limited to mostly a teen audience.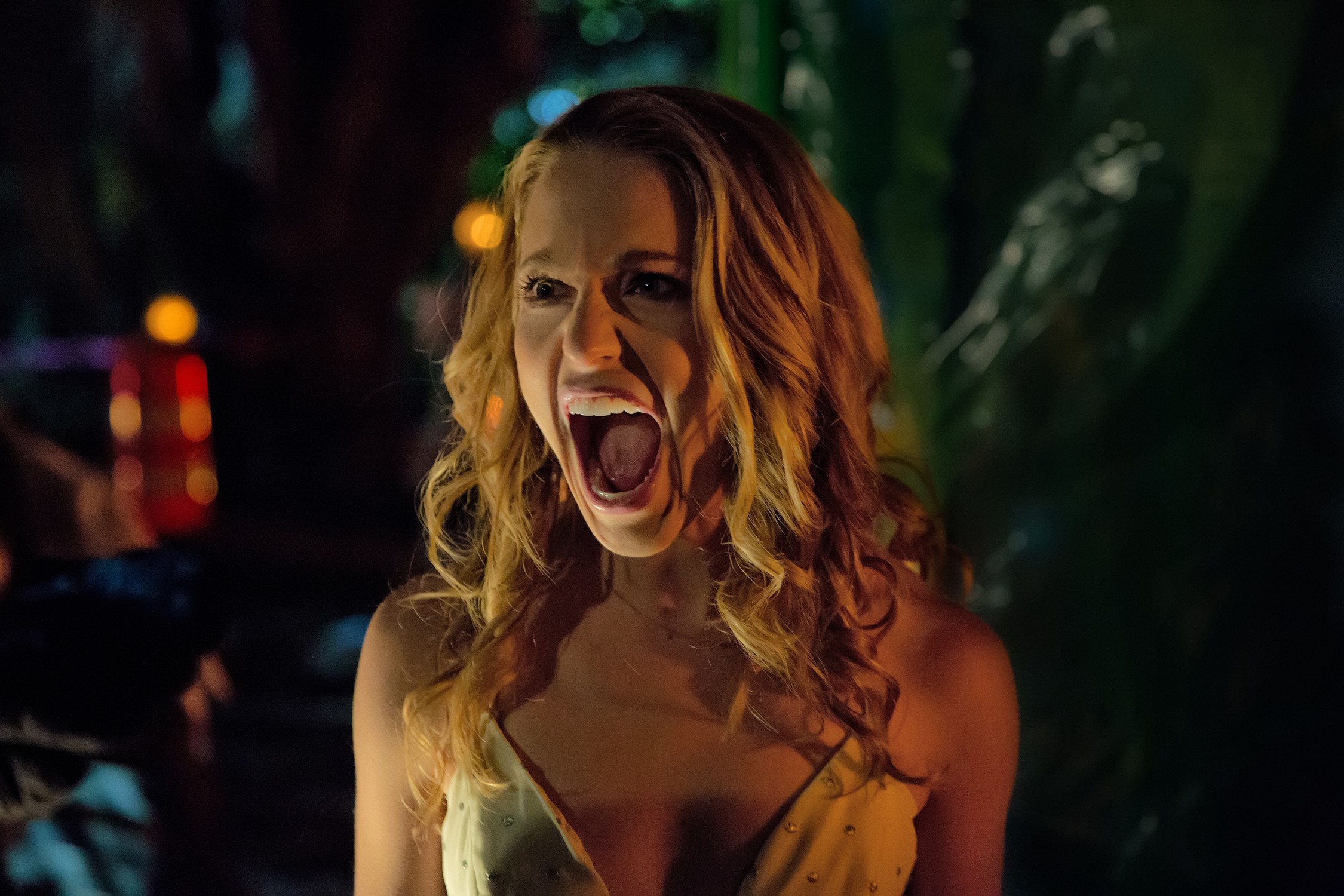 REVIEWED ON 10/14/2017 GRADE: C