SPOILER ALERT
(director/writer: Micheal Showalter; screenwriters: David Marshall Grant/based on the memoir "Spoiler Alert: The Hero Dies" by Michael Ausiello; cinematographer: Brian Burgoyne; editor: Peter Teshner; music: Brian H. Krim; cast: Jim Parsons (Michael Ausiello), Ben Aldridge (Kit Cowan), Jeffery Self (Nick), Sally Field (Marilyn), Nikki M. James (Nina), Josh Pais (Scott), Bill Irwin (Bob), Sadie Scott (Kirby), Antoni Porowski (Sebastian), Shunori Ramanathan (Dr. Lucas), David Marshall Grant (Tony, therapist), Allegra Heart (Franny); Runtime: 112; MPAA Rating: PG-13; producer: Alison Mo Massey/Micheal Showalter/Todd Spiewak/Jordana Mollick/Jim Parsons; Focus Features; 2022)
"A tearjerker that leaves us reaching for our tissues."
Reviewed by Dennis Schwartz
A sentimental and uninspiring queer rom/com from writer-director Micheal Showalter ("The Eyes of Tammy Faye"/"The Big Sick"), that he co-writes with the actor-turned-writer David Marshall Grant and the LGBTQ activist and author Dan Savage. It's based on the memoir "Spoiler Alert: The Hero Dies" by Michael Ausiello, and tells the story of the dweeb TV Guide journalist Michael Ausiello (Jim Parsons) and his gay relationship of 13 years with the Jersey City apartment dweller and Smurf loving handsome photographer Kit Cowan (Ben Aldridge). Ausiello acts as narrator.

It's an opposites attract love story, set in the early 2000's in NYC.

The vegetarian teetotaler journalist picks up the photographer in a queer bar, where Kit is with his sassy girlfriend (Nikki M. James) who is willing to share him with Michael.  

Its an old-fashioned love story that has a familiar ring to it: from the meet-cute beginnings to one of the lovers, Kit,  coming down with a terminal illness (cancer), to their separation at a time when the couple are going through a period of waning passion and attend counseling therapy sessions.

Kit has not told his Ohio parents (Sally Field and Bill Irwin) he's gay, who are a lively couple. They visit him in New York, which give the film its best scene.

It's a tearjerker that leaves us reaching for our tissues, or running for the theater exit. But even if it didn't work for me, it's bearable, well-acted and sincere. If you can handle a TV sitcom drama and don't expect any explosive scenes, you might even like it.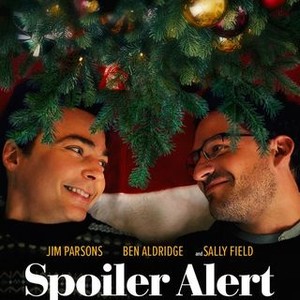 REVIEWED ON 12/10/2022  GRADE: C+