SAINT-NARCISSE
(director/writer: Bruce La Bruce; screenwriter: Martin Girard; cinematographer: Michel LaVeaux; editor: Hubert Hayaud; music:Christophe Lamarche-Ledoux; cast: Felix-Antoine Duval (Dominic / Daniel), Tania Kontoyanni (Beatrice (The Mother)), Alexandra Petrachuk (Irene / Agathe), Andreas Apergis (Father Andrew); Runtime: 101; MPAA Rating: NR; producers; Nicolas Comeau, Paul Scherzer: Film Movement; 2020-Canada-in English and subtitled in French)
"Homage to gay porn."
Reviewed by Dennis Schwartz

The kinky and provocative gay Canadian filmmaker Bruce La Bruce ("The Misandrists"/"Gerontophilia") covers the Narcissus myth not as the Greeks do but with his own bizarre reading of it as merely fodder for a gay sex film influenced by the current generation's obsession over selfies. The clever title is a double entendre that refers to its Quebec location site, as well as to Narcissus, the Greek god of self-love.

In Canada, in 1972, the 22- year-old hunk Dominic (Félix-Antoine Duval) has a fetish… for himself. He's turned on to his own reflections, and loves taking Polaroid selfies.

In the opening scene, Dominic scores a beautiful woman at the launderette, and the nervy couple fuck atop a laundry table, and are not bothered by the large crowd watching them.

The dude is obsessed over his good looks, and can't pass a mirror without stopping to look.

When his grandmother passes away, he learns a dark family secret about his mother, Beatriz (Tania Kontoyanni), that she's not dead as he was told, but was secretly living away from him as a lesbian. Dominic goes by motorcycle to find her in a life-altering trip.

He hears what she has to say after finding her living in a remote cabin with her girlfriend lover.

Dominic then finds his way to a monastic order in the area, where at the monastery, Father Andrew (Andreas Apergis), a rigid abusive gay priest obsessed with Saint Sebastian, keeps him as a sex slave. Dominic now completely identifies with his long-lost identical twin brother Daniel (again played by Félix-Antoine Duval) and begins to have sex with his twin.
 
The filmmaker has a ball showing sexual bondage scenes and ripping into the religious symbols.

LaBruce has made his rep as the master of Canadian "queercore" cinema, and this outrageous but artfully produced film is his magnum opus. The well-executed and produced arty film serves him well as his homage to gay porn.

At the Venice Film Festival Saint-Narcisse was the closing film of the Giornate degli autori section. The risk-taking LaBruce manages to retain the B-movie-influenced aesthetic of his previous features favored by his large cult following while achieving a higher level of gay film to advance his career with new viewers looking for more aesthetics, more boundaries broken and deeper curiosities introduced to his unconventional gay films.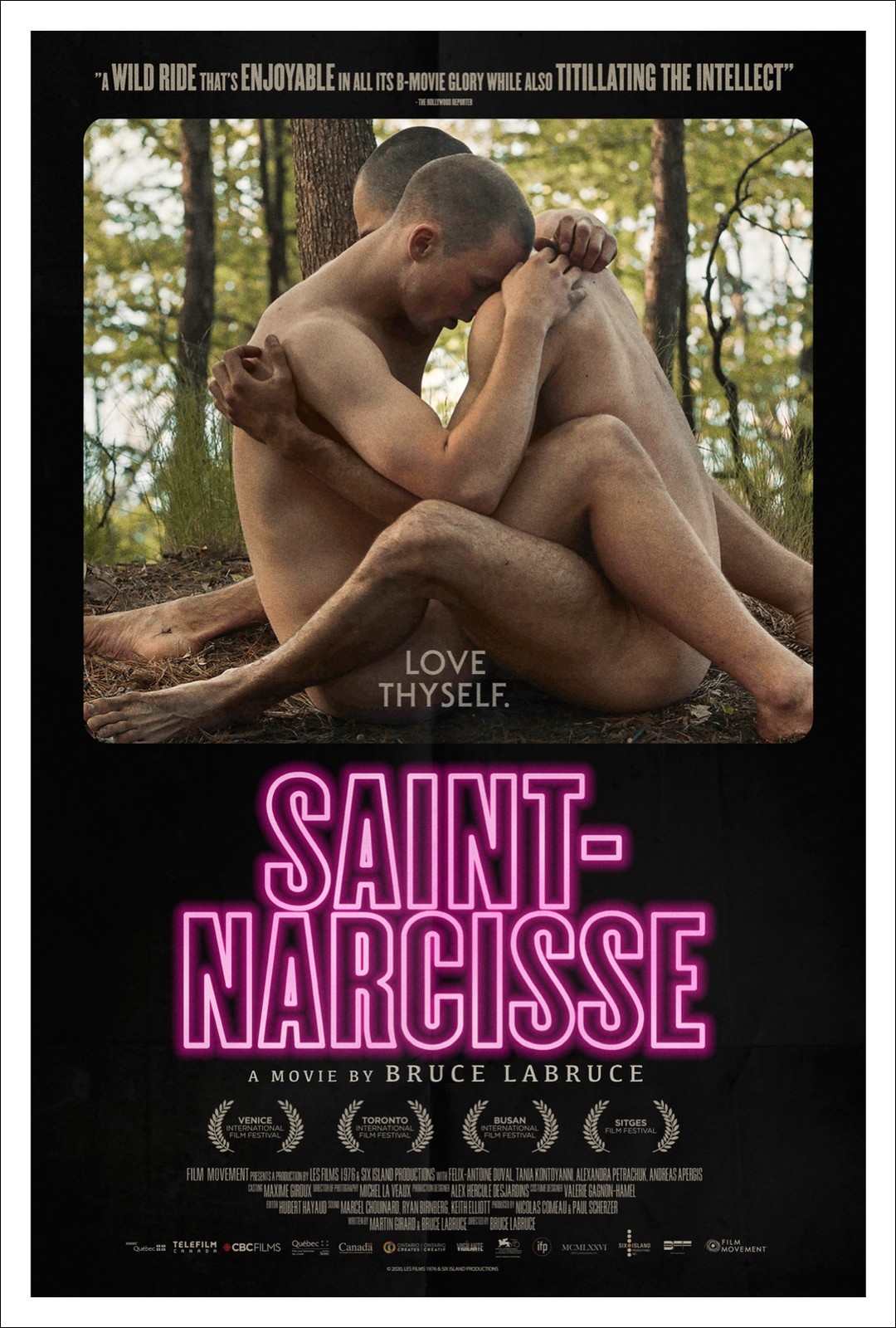 REVIEWED ON 12/20/2021 GRADE: B