ROVER, THE
(director/writer: David Michôd; screenwriter: based on a story by David Michôd & Joel Edgerton; cinematographer: Natasha Braier; editor: Peter Sciberras; music: Antony Partos; cast: Guy Pearce (Eric), Robert Pattinson (Rey), Scoot McNairy (Henry), David Field (Archie), Tawanda Manyimo (Caleb), Chan Kien (Karaoke 1), Nash Edgerton (Town Soldier), Anthony Hayes (Soldier 1, Sgt. Rickofferson), Gillian Jones (Grandma), Susan Prior (Dorothy Peeples), Richard Green (Storekeeper), Jamie Fallon (Colin); Runtime: 102; MPAA Rating: NR; producers; Liz Watts, David Linde, David Michôd: A24; 2014)
"It's a morbid and spellbinding film."
Reviewed by Dennis Schwartz

Aussie filmmaker David Michôd ("Animal Kingdom"/"War Machine") directs and writes this sort of Mad Max type of road film, a bleak film that's based on a story by David Michôd & Joel Edgerton. It tells of a defeated world where nihilism rules.

It's set in the squalid and lawless Australian Outback, ten years after the fall of society, where petrol, water and only American money is valued. Eric (Guy Pearce), a former soldier, who lost his farm and wife, is having a drink at a bar when three armed men (David Field, Scoot McNairy & Tawanda Manyimo) steal his car and he chases after them in the SUV they abandoned because it was stuck in a road block and they were in a hurry to flee the robbery scene. Eric is obsessed with getting his car back (why this is so, is revealed in the final shot of the third act) and pursues the car thieves, but retreats when they pull guns on him.  On the road again, Eric grabs a hold of Rey (Robert Pattinson), the dim-witted brother of Henry (Scoot McNairy), one of the car thieves. Rey was left behind because he was shot in the stomach.
Eric forces him to tell where his brother is going, and when his life is threatened by the wound he takes him to a kind doctor (Susan Prior), the only nice person in the film, who removes the bullet.

Eric and Rey after the bullet removal form an uneasy attachment because Eric needs him to find his car and Rey soon realizes his brother left him behind to die and now relies on someone who doesn't care about him to look after him.

It's a morbid and spellbinding film, where life is joyless, and there is no end to its bleakness. What makes it a strangely fascinating film is the powerful performances of the two leads and the desolate atmosphere conveyed and the eeriness of the unfriendly soldiers patrolling the roads that give the film a sense of danger and hopelessness.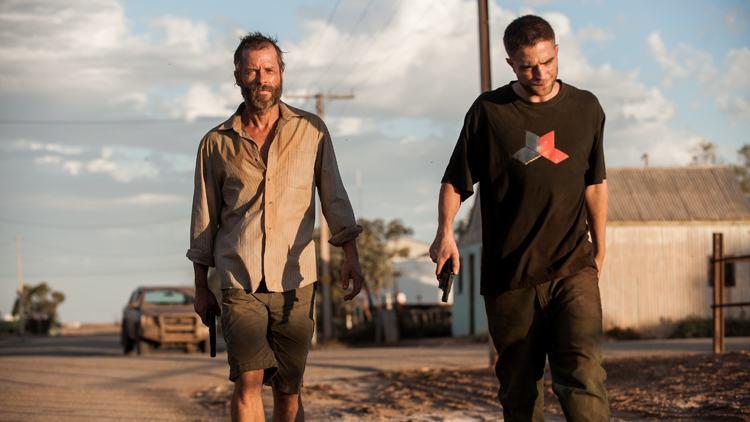 REVIEWED ON 4/5/2022 GRADE: B