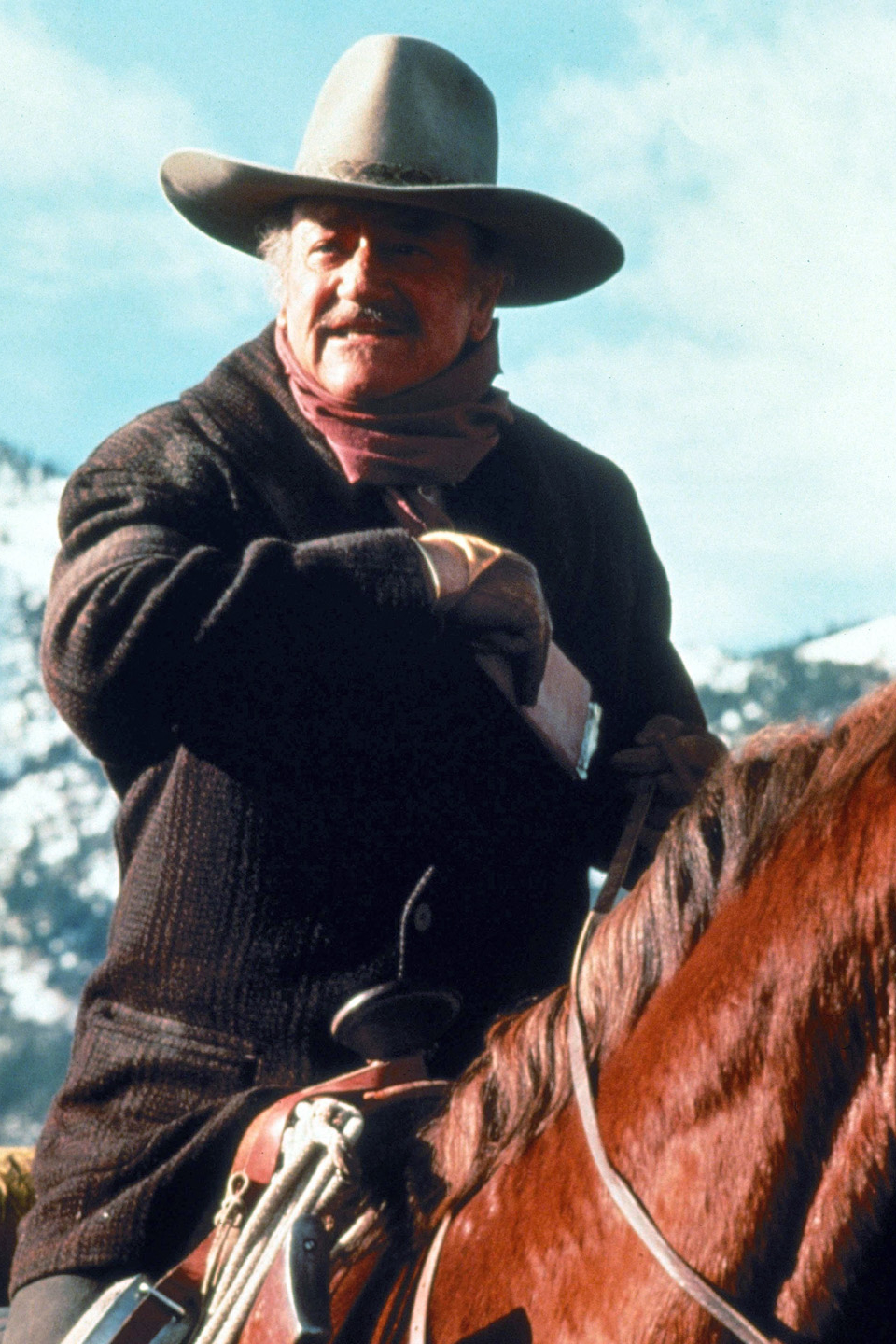 SHOOTIST, THE

(director: Don Siegel; screenwriters: from the novel by Glendon Swarthout/Scott Hale/Miles Hood Swarthout; cinematographer: Bruce Surtees; editor: Douglas Stewart; music: Elmer Bernstein; cast: John Wayne (J.B. Books), Lauren Bacall (Bond Rogers), Ron Howard (Gillom Rogers), James Stewart (Dr. E.W. Hostetler), Richard Boone (Mike Sweeney), Hugh O'Brian (Jack Pulford, faro dealer at Metropole Saloon), Bill McKinney (Jay Cobb, owner, Cobb's Creamery), Harry Morgan (Carson City Marshal Walter Thibido), John Carradine (Hezekiah Beckum, undertaker), Sheree North (Serepta, Books' ex-girlfriend), Richard Lenz (Dan Dobkins, reporter, 'Morning Appeal'), Scatman Crothers (Moses Brown, liveryman); Runtime: 100; MPAA Rating: PG; producers: M.J. Frankovich/William Self; Paramount; 1976)
"John Wayne's swan song is a touching tribute to the legendary star and the Western."
Reviewed by Dennis Schwartz
John Wayne's swan song is a touching tribute to the legendary star and the Western; it fittingly compares the life of the film's hero nearing his end with the end of the modern Western film, with the star probably aware that he was dying from cancer making the film even more touching. It's magnificently directed by Don Siegel ("Dirty Harry"/"Invasion of the Body Snatchers") with subtlety and much feeling. It's taken from the story by Glendon Swarthout and crisply written by Scott Hale and Miles Hood Swarthout. The wintry photography by Bruce Surtees is outstanding, as is the acting from this marvelously talented ensemble cast.
The credits open to a montage of tinted clips from the Duke's earlier Westerns and the first scene has The Shootist, John Bernard Books (John Wayne), a legendary gunfighter who is the last of his kind, riding the trail and plugging a hold-up man in January 1901 as he's returning to his hometown of Carson City, Nevada. In town, where there are automobiles, electricity and trolley cars are soon anticipated, Books visits Dr. Hostetler (James Stewart), someone he knows and trusts, to get a second opinion about the bad news he received from another doctor that he's dying of pancreatic cancer and has only a short time to live. It's confirmed by the doctor and because of his increasing pain he's provided with laudanum but told there's no cure. Resolved to die in peace and obscurity, Books rents a room at the quiet boarding house of the recent widow Mrs. Bond Rogers (Bacall). But his secret is difficult to keep, as Mrs. Rogers's hero-worshiping son Gillom (Ron Howard) learns his mom's guest is the famous gunslinger, the uncouth Marshal Thibido (Harry Morgan) is relieved to know the dangerous gunslinger doesn't have long to live and makes no bones about it in public, a wormy newspaperman Dobkins (Richard Lenz) prints the story in the paper and teams up with the gunslinger's ex-girlfiend (Sheree North) to try to make money off Books' legendary status by getting an authorized biography that they plan to fill with tall tales, an unseemly undertaker (John Carradine) schemes for a fancy funeral, and even the friendly liveryman (Scatman Crothers) tries to make a few shekels off his fame. The widow at first resents having a gunslinger as a boarder, but when she learns he's dying she suddenly remembers to act like a Christian and the two bond in a sincerely endearing way by taking a buggy ride in the country. Books goes about putting his affairs in order during his last week on earth, and rather than face a painful death arranges for a final shootout in the cavernous Metropole saloon with three local gunfighters, the faro dealer Pulford (Hugh O'Brian), a gunslinger named Sweeney (Richard Boone), who wants revenge for Books killing his brother, and, a thug named Cobbs (Bill McKinney). Books insists to the very end of living the only way he knows, by his old-fashioned behavioral code.
Just the right amount of sentimentality and stoic heroism are put forth by the assured direction of Siegel, in a film that is mesmerizing as a personal elegy that makes Wayne into the ultimate Western personality–something that is hard to argue against.
REVIEWED ON 9/29/2005 GRADE: A