MURDER MYSTERY
(director:Kyle Newacheck; screenwriter: James Vanderbilt; cinematographer: Amir Mokri; editor: Tom Costain; music: Rupert Gregson-Williams; cast: Adam Sandler (Nick Spits), Jennifer Aniston (Audrey Spitz), Luke Evans (Charles Cavendish), Gemma Arterton (Grace Ballard), Victor Turpin (Victor Turpin), Luis Gerardo Mendez (Juan Carlos Rivera), Shioli Kutsun (Suzi Nakamura), David Walliams (Tobias Quince), Adeel Akhtar (Maharajah Vikram Govindan), John Kani (Colonel Ulenga), Ólafur Darri Ólafsson (Sergei), Dany Boon (Inspector De La Croix), Terence Stamp (Malcom Quince); Runtime: 124; MPAA Rating: PG-13; producers: Allen Covert, Beau Flynn, Adam Sandler, James D. Stern, James Vanderbilt, Tripp Vinson; Netflix; 2019)
"A good cast tries to carry this mediocre film."
Reviewed by Dennis Schwartz

This is the second movie produced by Netflix in a mega-deal that Adam Sandler signed with them. The first film was a dud. This one is not good but a lot better than the first. Kyle Newacheck ("Game Over, Man!") competently directs this vacation action-comedy set in Monaco. A good cast tries to carry this mediocre film, one that's penned in a spiffy way by James Vanderbilt.

Nick Spitz (Adam Sandler), a policeman who fails the test for detective but tells his wife he passed, and his successful hairdresser wife who is seeking more romance in their marriage, Audrey (Jennifer Aniston), are a New York working-class couple celebrating their 15th wedding anniversary. They choose to go on a vacation to Europe to celebrate.
In the plane's first class, in which the couple sneak in, they run into the aristocratic playboy Charles Cavendish (Luke Evans). He invites them on his rich uncle, Malcolm Quince's (Terence Stamp) yacht that is docked in Monaco and going on a cruise to the Mediterranean. The gleeful couple then cancel their budget bus tour of Europe.

On the yacht, Malcolm Quince, the patriarch of a multi-billion-dollar empire, is to marry Charles' former girlfriend, Suzi Nakamura  (Shioli Kutsuna). After Malcolm tells a gathering of friends and family that he will disinherit them all, he is soon stabbed to death, with the fancy jeweled family dagger, before signing his new will.

The suspects in this Clue-style drama include the movie star Grace Ballard (Gemma Arterton), the African Colonel Ulenga (John Kani), the non-English speaking Formula One racing driver (Luis Gerardo Mendez), the unloved son Tobias Quince (David Walliams), Suzi Nakamura, and the questionable Maharajah Vikram Govindan (Adeel Akhtar). But when the suspects start getting killed off, the French inspector (Dany Boon, popular French comedian) surmises the Spitzes, who had nothing to gain by the murder, are the prime suspects. Thereby the couple go on the run throughout Europe trying to catch the killer and clear their name. This chase is ridiculous, with unfunny set pieces and action scenes that bring about a low-level physical comedy that fails to work.

But the stars have a good chemistry together, the dialogue is fine and it has a certain appeal that other Sandler turkeys never had.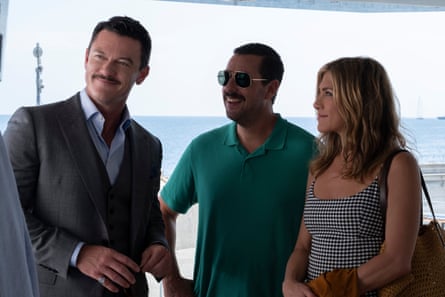 REVIEWED ON 7/25/2020 GRADE: C+