MARRIAGE STORY
(director/writer: Noah Baumbach; cinematographer: Robbie Ryan; editor: Jennifer Lame; music: Randy Newman; cast: Adam Driver (Charlie), Scarlett Johansson (Nicole), Alan Alda (Bert Spitz, Lawyer), Laura Dern (Nora Fanshaw), Julie Hagerty (Sandra), Merritt Wever (Cassie), Azhy Robertson (Henry), Ray Liotta (Lawyer); Runtime: 136; MPAA Rating: R; producers: Noah Baumbach, David Heyman; Netflix; 2019)
"Shoots for laughs despite its serious nature."
Reviewed by Dennis Schwartz
A witty and powerful cautionary tale over the ordeal of a divorce. The compelling drama is by director-writer Noah Baumbach ("The Squid and the Whale"/"Greenberg"). The 2013 divorce of Baumbach from Jennifer Jason Leigh provides some of the material,in a film that shoots for laughs despite its serious nature, It also wishes to show the unfairness of a divorce settlement, how hurtful it is to both sides and how profitable it is for the lawyers. It tells us that the divorce process itself might be more hurtful than the actual breakup. It also has something meaningful to say about breakups and how complex relationships are for couples who still get divorced even if they still love each other.

The Brooklyn residing theatrical couple Nicole (Scarlett Johansson), an L.A. bred actress and now a leading stage actress for her hubby's downtown theatre group, and Charlie (Adam Driver), a noted rising young director of avant-garde theatre, have been married for ten years and are now seeing a marriage counselor to prevent a divorce. Things begin sweetly with each listing all the things they love about each other. But things quickly sour when the divorce fight begins, as Nicole's celebrity divorce attorney Nora Fanshaw (Laura Dern) backs her as she takes the 8-year-old Henry (Azhy Robertson) to L.A. and Charlie asks for child custody through his avuncular but second-rate lawyer Bert Spitz (Alan Alda). When things go against him, the not so rich Charlie nevertheless hires the very expensive attack-dog attorney (Ray Liotta).

The divorce fight becomes increasingly acrimonious, as the initial love for each other shown in the opening scene gets buried in a nasty fight to win and the love that's still there doesn't surface again. Nicole, who initiated the divorce, moves back to L.A. and signs on to do a TV pilot with the potential of it becoming a serial. She reunites with her irreverent mom (Julie Hagerty) and her neurotic sister (Merritt Wever), and is good with her decision to be back in L.A. where she feels her roots are.

Tension reaches its climax with the articulate foes blasting each other in a verbal showdown in the bare L.A. apartment Charlie rented (one of the great movie divorce couple spat scenes of all time). It becomes an LA. versus N.Y. lifestyle divorce, where both sides make their cases and the viewer is free to choose the one they favor.

The talented cast give terrific performances whether as leads or as supporting actors. Despite his successful film career so far, this is Baumbach's breakthrough film into great filmmaking (into Bergman territory).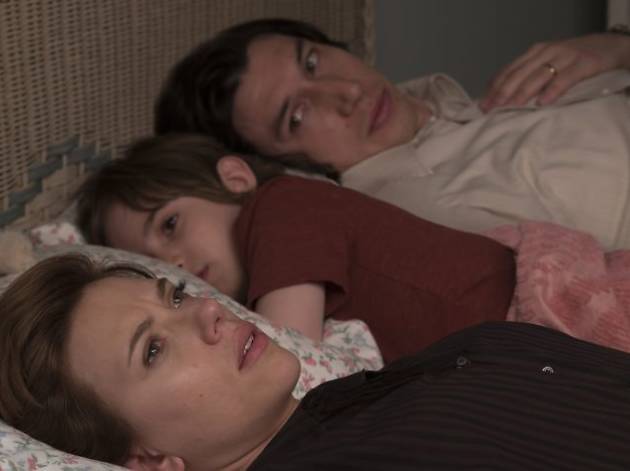 REVIEWED ON 9/1/2019 GRADE: A
https://dennisschwartzreviews.com/