MIMIC
(director/writer: Guillermo del Toro; screenwriters: short story by Donald Wollheim/Matthew Greenberg/Matthew Robbins/John Sayles/Steven Soderburgh; cinematographer: Dan Lausteen; editor: Patrick Lussier/Peter Devaney Flanagan; music: Marco Beltrami; cast: Jeremy Northam (Dr. Peter Mann), Mira Sorvino (Susan Tyler), Charles S. Dutton (Leonard), Josh Brolin (Josh), Alexander Goodwin (Chuy), F. Murray Abraham (Dr. Gates),  Giancarlo Giannini (Manny), Alix Koromzay (Remy); Runtime: 105; MPAA Rating: R; producer: Ole Bornedal/B.J. Rack/Bob Weinstein; Lionsgate Entertainment/Miramax; 1997)
"A dark story that entertains with artistic moments until it fizzles as it becomes derivative of those standard sci-fi horror Big Bug films from the fifties."
Reviewed by Dennis Schwartz
Mexican filmmaker Guillermo del Toro("Crimson Peak"/"Cronos") is writer and director of this frightening sci-fi thriller (think Alien). It's based on the short story Mimic by Donald A. Wollheim and is written by Matthew Greenberg, Matthew Robbins, John Sayles and Steven Soderburgh. The film bombed at the box office and with critics because the interfering executive producer Weinsteins changed the director's finale into an uninspired conventional ending. Though laced with the talented director's artistic touches, it was still dismissed by not only the public as just another run-of-the-mill monster pic but also by the director himself.

Jeremy Northam is the physician Deputy Director of the Center for Disease Control. His soon to be wife Mira Sorvino is the entomologist who stops a plague called Strickler's Disease from killing or crippling New York City's children by genetically designing a hybrid insect (named Judas Breed) to kill off the germ carrier cockroaches in Manhattan. Three years later a minister's body is found outside a Manhattan church, located above the Delancey St. subway station, after he jumps from a roof. Evidence reveals that the genetic insect, which was supposed to die out, is rapidly evolving into a dangerous preying type of human-sized people killer who is living in the subway tunnels to battle unsuspecting humans for world control.

Going into the tunnel to kill or further investigate the insects are Sorvino, her physician husband Jeremy Northam. Josh Brolin the forensic investigator and the gruff subway cop Charles S. Dutton. From street level, F. Murray Abraham plays Sorvino's mentor and the one trusted to explain the pseudo-science and falsely explain how evolution works.

A few other characters add some local flavor. Giancarlo Giannini is an immigrant subway shoeshine man and his son, Alexander Goodwin, is an idiot savant who plays the spoons to mimic the clicking sound made by the giant insects. The kid witnessed the minister jumping off the roof when attacked by the giant bug.

Mimic is a dark story that entertains with artistic moments until it fizzles as it becomes derivative of those standard sci-fi horror Big Bug films from the fifties.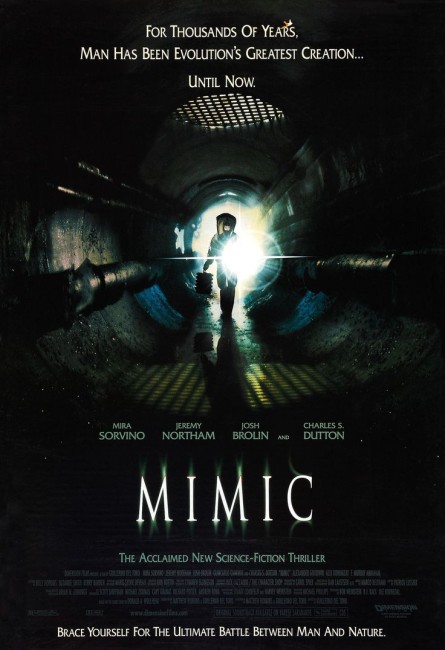 REVIEWED ON 4/21/2017 GRADE: C+