LOST DAUGHTER, THE
(director/writer: Maggie Gyllenhall; screenwriter: from the novel by Elena Ferrante; cinematographer: Helene Louvart; editor: Affonso Goncalves; music: Dickon Hinchliffe; cast: Olivia Colman (Leda), Jessie Buckley (Young Leda), Dakota Johnson (Nina),  Ed Harris (Lyle), Dagmara Dominczyk (Callie), Peter Sarsgaard (Prof. Hardy), Paul Mescal (Will), Jack Farthing (Joe), Ellie James (Older Bianca), Robyn Elwell (Young Bianca), Ellie Blake (Martha, younger), Oliver Jackson-Cohen (Toni), Panos Koronis (Vasili); Runtime: 121; MPAA Rating: R; producers; Talia Kleinhendler/Maggie Gyllenhall/Charlie Dorfman/ Osnat Handelsman-Keren: Netflix; 2021-USA/Greece/UK/Israel-in English)
"The performance by Olivia Colman is lyrical and striking."
Reviewed by Dennis Schwartz

Writer-director Maggie Gyllenhall in her debut as a feature film director marvelously adapts to the screen this unnerving psychological drama of the 2006 novel, of the same name as the title, on maternal conflicts by the Italian author Elena Ferrante.

Leda Caruso (Olivia Colman) is a divorced, 48-year-old, British language professor of Italian, alone on a working holiday on the Greek island of Spetses. She is the mother of two estranged daughters (the 25-year-old Bianca and the 23-year-old Martha). Leda was named after Yeats' poem, "Leda and the Swan."
On her vacation, Leda wants to be left alone, just to people watch, as she's troubled by her past and is content to just be at the beach and blankly stare out at the sea.

We will learn in time that Leda had a hot fling with Professor Hardy (Peter Sarsgaard, the real-life husband of the director), after they both fall hard for each other during a university conference over translating poetry–and Leda soon abandons her weakling husband and demanding daughters, a decision that still haunts her.

The old caretaker of her rental is the cheery American Lyle (Ed Harris), who tries to act friendly but he's someone she's ambivalent about and rebuffs his advances. As she does the flirtations of the more likeable and handsome Will (Paul Mescal), the young student summer cabana boy.

The quiet on the beach is broken by the arrival of a loud and crass extended rich American family from Queens, who think of themselves as entitled. We first hear from the pregnant Callie (Dagmara Dominczyk), who is turned down when asked to borrow a spare umbrella from Leda and is resentful. Meanwhile Leda can't help looking at the uncomfortable young mother Nina (Dakota Johnson) and her troublesome daughter and her bad-news husband (Oliver Jackson-Cohen). Nina is Calle's sister-in-law.

Watching these young women, brings back flashbacks to Leda from some twenty years ago and recalls her days as a mother–with Jessie Buckley superbly playing her. Leda recalls how she resented the little girls, especially Bianca, for demanding too much from her.

Back in present time, Leda and Nina converse after her daughter Elena strays from the beach and Leda finds her. Though sympathizing with Nina for being trapped living with such a controlling family, she starts acting strange around the family, and during her rescue mission inexplicably steals the doll of Nina's baby after bringing her back safely to her family. This random impulsive act makes us look at Leda with a deep concern as if she might be mentally ill, and it changes the way we view her.

When asked by Nina how it felt to be away from her daughters, the expected answer of regret is not the one received. But the startling reply by Leda is that "It felt amazing."

Though big things don't happen in this film and so much remains unexplained, as a tension builds we learn that the outwardly respectable professional career woman, who raised two daughters, is not as accepting of her role of motherhood as are most other mothers. In fact she says she "was an unnatural mother." This might sound strange and chilling, or not what is expected a mother would say. We instead get a shocking Bergman moment, one that seems honest–in a film to be cherished for its cutting edge and that it so darkly comes from the heart.

The performance by Olivia Colman is lyrical and striking, in a film that goes against convention and turns the table on what it means to be good and how much motherhood should be seen as a blessing. The genius quality about the film is in how Gyllenhall makes us care about Leda even if she's someone we might not like or is so messed-up we don't understand her. Why she still sleeps will dolls is not normal, but is the way she is and doesn't need to be explained. Likewise for her prickly ways and the way she's so smart and complicated.

It was shown at the Venice Film Festival competition premiere and at the New York Film Festival.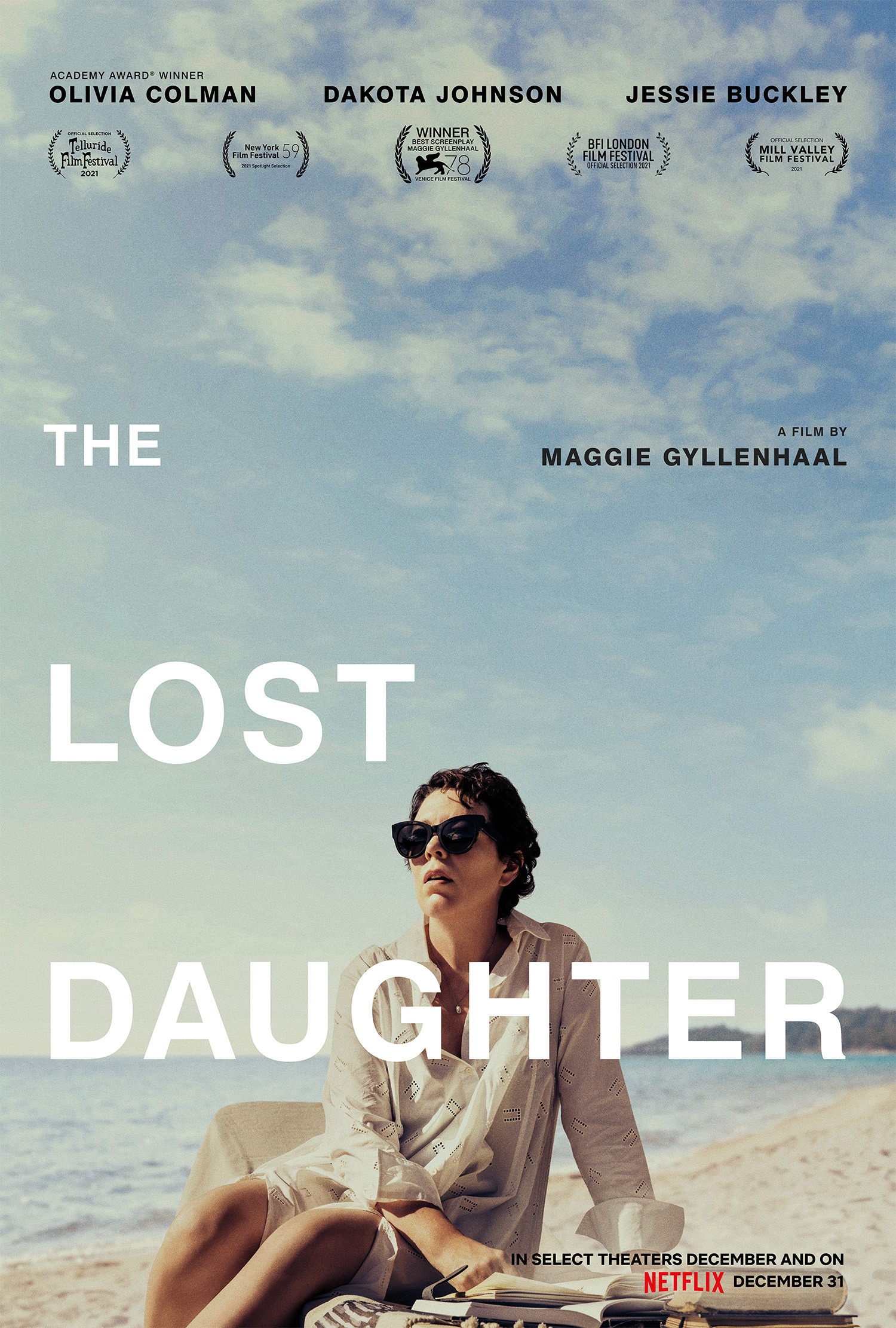 REVIEWED ON 11/29/2021 GRADE: A-