SLOW
(director/writer: Marija Kavtaradze; cinematographer: Laurynas Bareisa; editor: Silvija Vilkaite; music: Irya Gmeyner/Martin Hederos; cast: Greta Grineviciute (Elena), Kestutis Cicenas (Dovydas), Pijus Ganusauskas (Vilius), Laima Akstinaite (Victorija); Runtime: 108; MPAA Rating: NR; producers: Marija Razgute; Frida Films; 2023-Lithiania/Spain/Sweden-in Lithuanian & English with English subtitles)
"Its characters are fully developed."
Reviewed by Dennis Schwartz

Lithuanian director Marija Kavtaradze ("Summer Survivors"), in this trying drama, tries to move the needle to discover what is love in the modern-world. Its characters are fully developed. The visuals have a beautiful grainy look (shot on Kodak 16mm film), as the cinematographer Laurynas Bareisa gives the film an intimate look by filming his close-ups on a hand-held camera.

The sensuous dancer Elena (Greta Grineviciute) is nervous teaching a class of deaf kids, preparing them for a camp they're attending on the coast. She's fearful about not being able to communicate directly with her students. But she's joined by Dovydas (Kęstutis Cicėnas), an amiable sign language interpreter. He makes her less anxious by translating to the students. Part of the reason that the kids are there is to help them to connect with their bodies.

There's an attraction between Elena and Dovydas, but it's hampered by his asexuality. In bed he can't get hard unless she tells him that she loves him.

Despite her reservations, a complicated and slow developing relationship develops between them, which is deemed as a meditation on love.

It played at the Sundance Film Festival.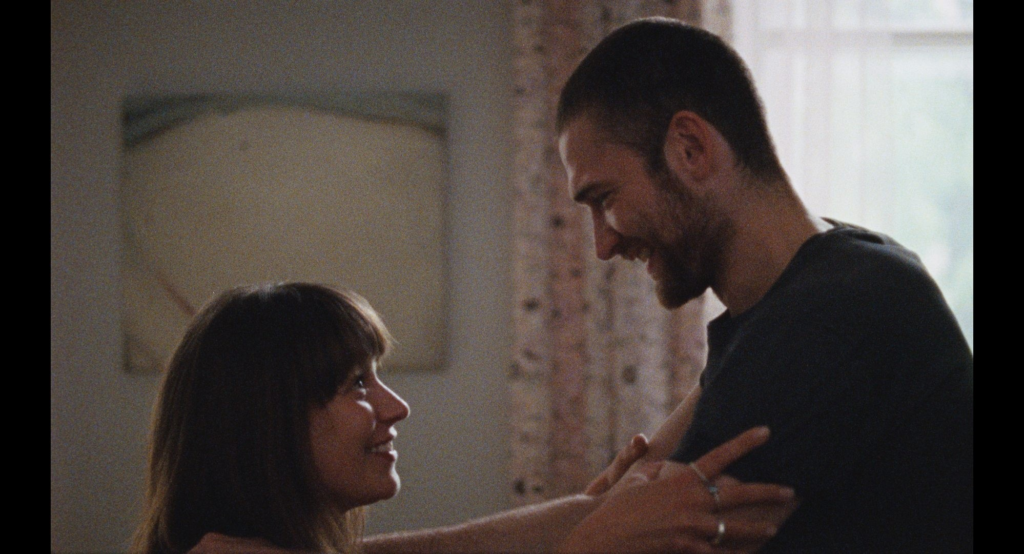 REVIEWED ON 6/18/2023  GRADE: B