KING RICHARD
(director: Reinaldo Marcus Green; screenwriter: Zach Baylin; cinematographer: Robert Elswit; editor: Pamela Martin; music: Kris Bowers; cast: Will Smith (Richard Williams), Aunjanue Ellis (Oracene 'Brandi' Williams), Jon Bernthal (Rick Macci), Saniyya Sidney (Venus Williams), Demi Singleton (Serena), Mikayla Lashae Bartholomew (Tunde Price), Dylan McDermott (George Macarthur), Tony Goldwyn (Paul Cohen), Noah Bean (PV CC Tennis Pro), Kevin Dunn (Vic Braden), Erika Ringor (Ms. Strickland); Runtime: 146; MPAA Rating: PG-13; producers; Tim White, Trevor White, Will Smith: Warner Bros. Pictures/HBO Max; 2021)
"Safely follows the conventions used for the inspirational sports film."
Reviewed by Dennis Schwartz

Director Reinaldo Marcus Green ("Joe Bell") safely follows the conventions used for the inspirational sports film. It tells the true story of how the older sister Venus (Saniyya) and the younger Serena Williams (Demi Singleton) rose to fame as tennis champions under the severe tutelage of their obstinate and demanding father Richard (Will Smith). Writer Zach Baylin tells the story through the eyes of the father, who grew more paranoid and more irrational the closer he came to achieving his dream.

The pushy but caring Black dude from the gang populated slums of Compton, California (who escaped from his backward Louisiana childhood), is a security guard with plans for his daughters to have a successful tennis careers even before they were born. As youngsters, he would drive them before work to play on the run-down inner-city public courts, and would teach them the game by relentlessly drilling it into them. When he went too far in pushing the girls, his realistic-minded wife Brandi (Aunjanue Ellis) kept him in check and insisted the girls get a good education and develop into a well-rounded adults instead of being just tennis players.

Richard had numerous coaches, recruited on visits to affluent LA country clubs, firing them all, as he deemed it essential the girls get good coaching. Eventually he gets the dream coach (Tony Goldwyn), the coach of Pete Sampras and John McEnroe, who coaches only Venus for free. Though she immensely improves, the volatile dad bullies the coach and eventually fires him to replace him with another good coach (Jon Bernthal).

What the film points out is how essential it is for a Black family to have their Black father point the way for his kids to live the American dream. It also shows how the flawed Dad knowingly loves to stick it to the white establishment that his Black daughters can beat them in what he deems to be their game. The film is finely acted (especially by Will Smith) but filled with too much sentimentality and poised to be only a crowd-pleaser without a deep look into dad's failings. The girls take a back seat to their fixated dad, whom they love because he cares so much about them. The film shies away from telling the full story about dad, as it fails to go into his many revolting qualities.

Because Venus and Serena are executive producers, everything shown comes through a filter and you only see what is acceptable to the family–and that makes for a questionable biopic, one which is played too much in foul territory.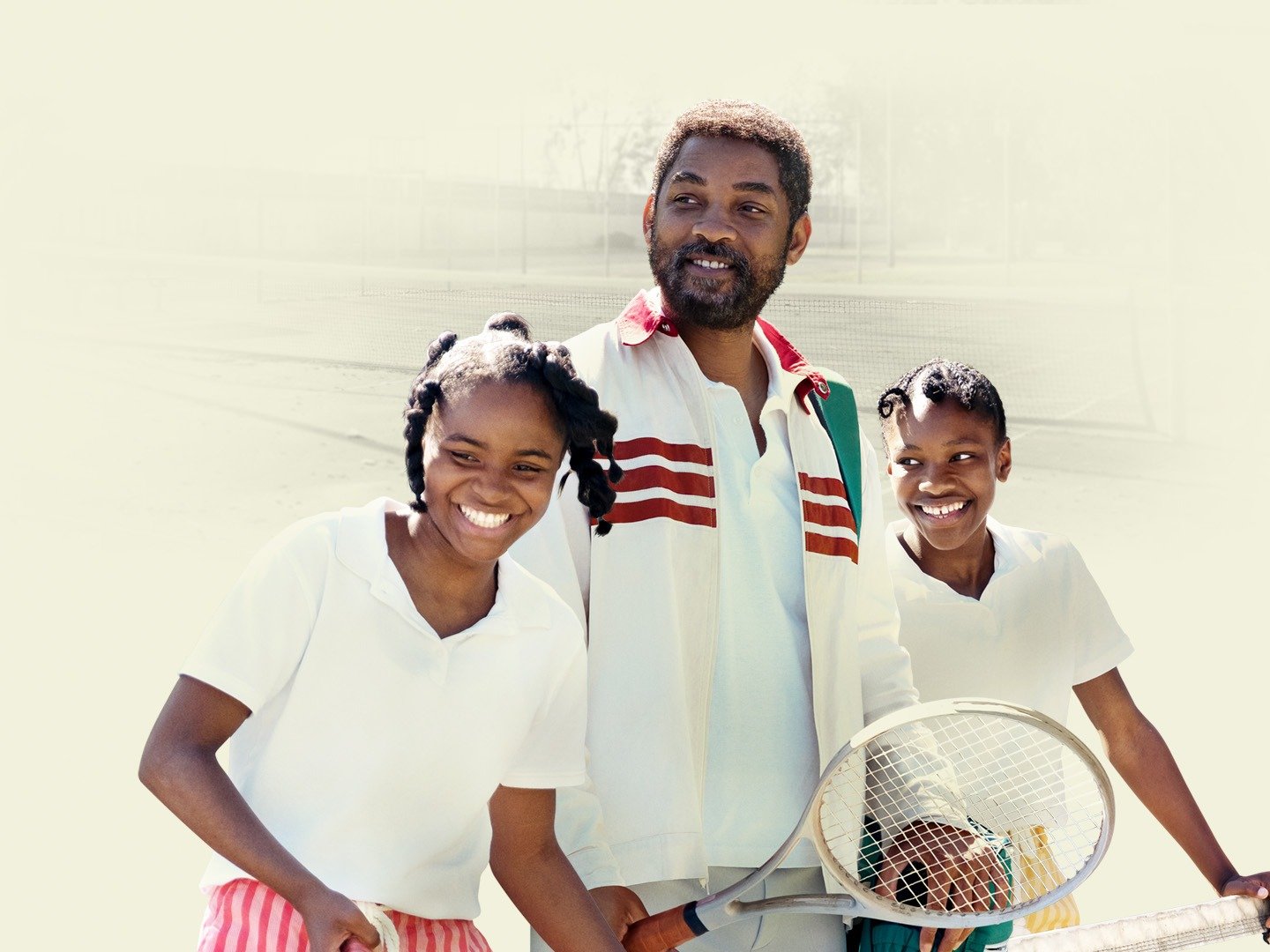 REVIEWED ON 12/20/2021  GRADE:  B-