ZEROS AND ONE
(director/writer: Abel Ferrara; cinematographer: Sean Price Williams; editor: Leonardo Daniel Bianchi; music: Joe Delia; cast: Ethan Hawke (J.J. & Justin), Valerio Mastandrea, Cristina Chiriac (Russian Agent), Babak Karimi, Salvatore Ruocco, Korlan Madi (Jiao), Valeria Correale, Dounia Sichov, Mahmut Sifa Erkaya, Stephen Gurewitz, Carla Lucia Cassola, Anna Ferrara Runtime: 86; MPAA Rating: R; producers; Diana Phillips, Philipp Kreuzer: Lionsgate; 2021-Germany/Italy/UK/USA-in English & Russian with English subtitles)
"Couldn't be more dull, incoherent and unsatisfying."
Reviewed by Dennis Schwartz
 
A minor late political sermonizing work on America's awful political strategy in the world, that's simply a dreadful film with a muddled storyline. The misfire was filmed in a quarantined Rome, over one night,  by the 70-year-old New York legendary maverick indie filmmaker Abel Ferrara  ("Bad Lieutenant"/"King of New York"), now residing in Rome (as he traded Catholicism for Buddhism around the same time as he relocated from New York to Rome). This murky guerilla shot film is shot digitally by the DP Sean Price. It shows the star Ethan Hawke stuck in a crappy role, and Ferrara coming up with a film that couldn't be more dull, incoherent and unsatisfying. The only clear thing about the pic is that it's really bad and shouldn't have been made.

The American soldier J.J. (Ethan Hawke) stationed in Italy, goes alone one night, dressed in military fatigues, to search the empty streets for his possibly imprisoned anarchist brother, Justin (also played by Hawke), who he believes has knowledge of a probable upcoming terrorist attack to blow up the Vatican–an attack his brother might know the intel that could prevent it. His brother was imprisoned in the States and tortured.

In this confusing film, nothing is explained and confusion becomes the gist of its story.

In one scene, J.J. encounters Asian sex workers; in another, he's held at gunpoint by a laughing Russian agent (Cristina Chiriac, his real-life new wife), who points a gun at him, and he's forced to have sex on camera with her. In other scenes, buildings blow up around him, he meets with a mullah in a mosque,  he walks around quoting the Bible. Nothing about terrorism or Covid gets discussed, which is supposedly what the film is about.

The scenes are so vacuous and crass it seems like a film that was not ready to be made. The only thing I got from this mess, is it tells us "it's always deadliest before the dawn."

Hawke has said in interviews and in the awkward moments of the film's preface, about his thoughts of the film, where he talks frankly as himself about the picture you're about to see. It's a weird moment where he makes a pitch for crowd funding, as he'll also do at the end of the movie. As we learn, he is an admirer of Ferrara and has waited his entire career to work with him, and, in my opinion. this is the piece of crap that he gets.

The unsatisfying guerilla shot film manages to get in a few peculiarities that Ferrara always seems to get into his films: in this case, it's his hero roaming around the eternal city as if lost and the image left of the empty railroad station that sticks with us, and the playing up of duality as a means to get at some of his philosophizing into the mix.

It had its world premiere at the 74th Locarno Film Festival in August 2021, where to my surprise it found quite a few critics that had something nice to say about it.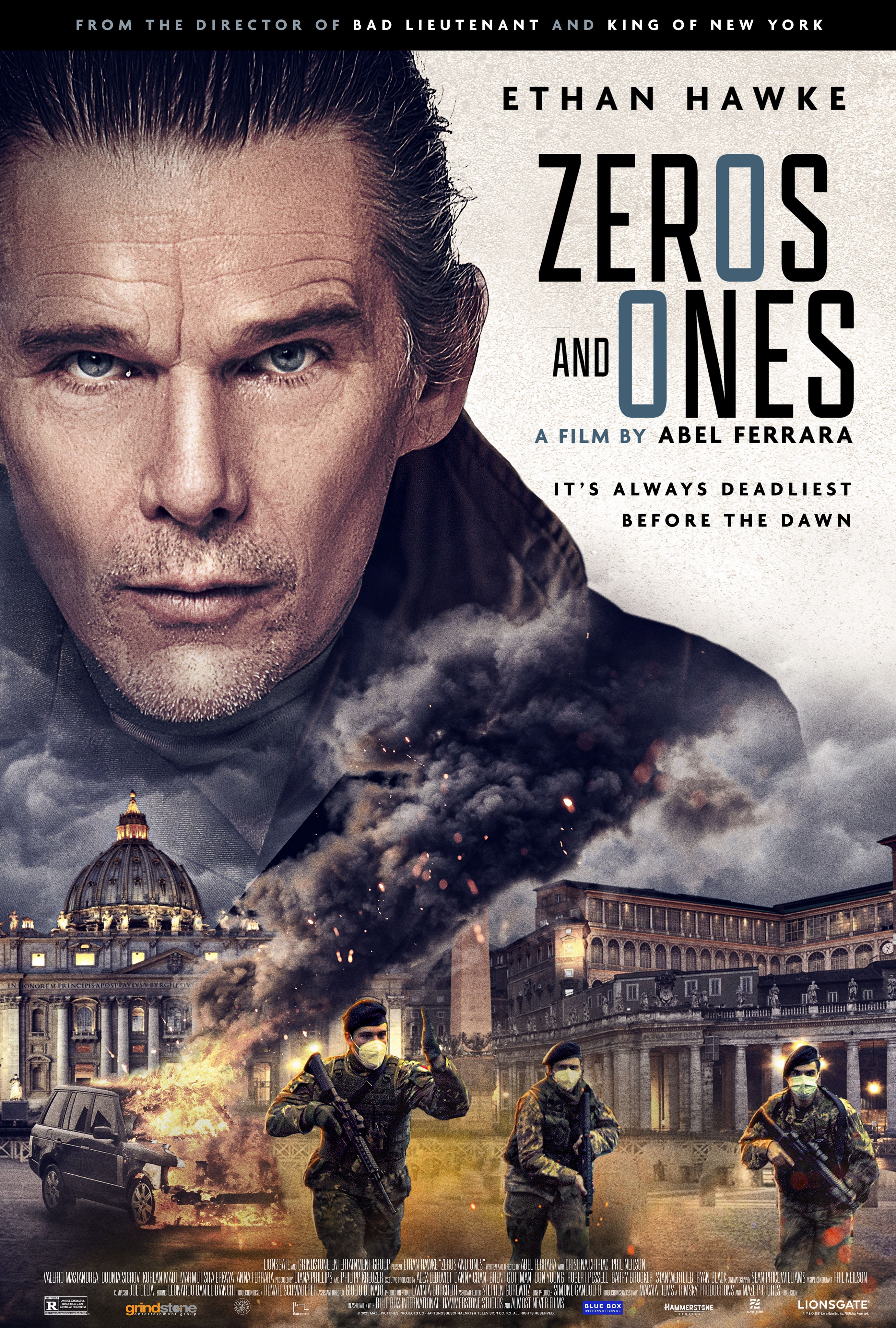 REVIEWED ON 11/21/2021  GRADE: C-