HARDER THEY FALL, THE
(director/writer:  Jeymes Samuel; screenwriter: Boaz Yakin; cinematographer: Mihai Malaimare; editor: Tom Eagles; music:Jeymes Samuel; cast: Idris Elba (Rufus Buck), Jonathan Majors (Nat Love), Zazie Beetz (Stagecoach Mary), Edi Gathegi (Bill Pickett), R.J. Cyler (Jim Beckwourth), Regina King ("Treacherous" Trudy Smith), LaKeith Stanfield (Cherokee Bill), Delroy Lindo (Bass Reeves), Danielle Deadwyler (Cuffee), Damon Wayans Jr. (), Deon Cole (Wiley Escoe); Runtime: 130; MPAA Rating: R; producers; Lawrence Bender, Jay-Z, James Lassiter, Jeymes Samuel: Netflix; 2021)
"An enjoyable watch."
Reviewed by Dennis Schwartz

Brit filmmaker, previously a singer-songwriter-producer, Jeymes Samuel ("They Die By Dawn"), also known for his musical group The Bullitts, assembles some kind of Black all-star cast for this stylish, spaghetti western like film about fictionalized real-life notorious Black outlaws in the west. The talented cast of mostly Blacks, depicts these once real Western Black cowboys largely ignored by the white westerns, such as Nat Love (Jonathan Majors), Stagecoach Mary (Zazie Beets), Bass Reeves (Delroy Lindo) and Cherokee Bill (LaKeith Stanfield). The story told has lots of splash in a classic western way, as told as a New Western with reggae and hip-hop music. Its bloody tale does not try to be accurate historically but instead wishes to make an effort to remind white audiences there were Black cowboys in the Old West even if rarely shown in the Hollywood westerns.

The script by Samuel and Boaz Yakin has a spicy dialogue, plenty of engaging gunfights, and a brilliant set piece of Elba's gang mowing down an all-white army attachment transporting Elba as a prisoner by train. The photography by DP Mihai Malaimare fully captures the vistas of the plains and the look of the frontier towns. It's set at the end of the Civil War, when slavery is over, in the 1800s.

When Rufus Buck (Idris Elba), Nat Love's long-time foe (his gang murdered his parents and Rufus carved a cross in the forehead of the baby Nat) is released from prison, the now grown-up outlaw Nat rounds up his old gang–his former lover and saloon owner, Stagecoach Mary, the cross-dressing ace gun-shooter Cuffee (Danielle Deadwyler), the hot-tempered Bill Pickett (Edi Gathegi) and fast drawing Jim Beckwourth (R.J. Cyler)–to get even with Buck. Meanwhile Rufus has his own gang–the "Treacherous" Trudy Smith (Regina King, One Night in Miami director) and the laconic sharpshooter Cherokee Bill (whose performance was most pleasing).

After the Black outlaw Love and his gang rob an all-white frontier town's bank, where the whites are frightened to see Blacks, they go to the frontier town of Redwood City to await a shootout with Rufus's gang.

It makes for an enjoyable watch, but it packs in too much violence as it veers back and forth between the two gangs. It could have avoided a lot of unnecessary scenes by better editing. It also goes on for too long.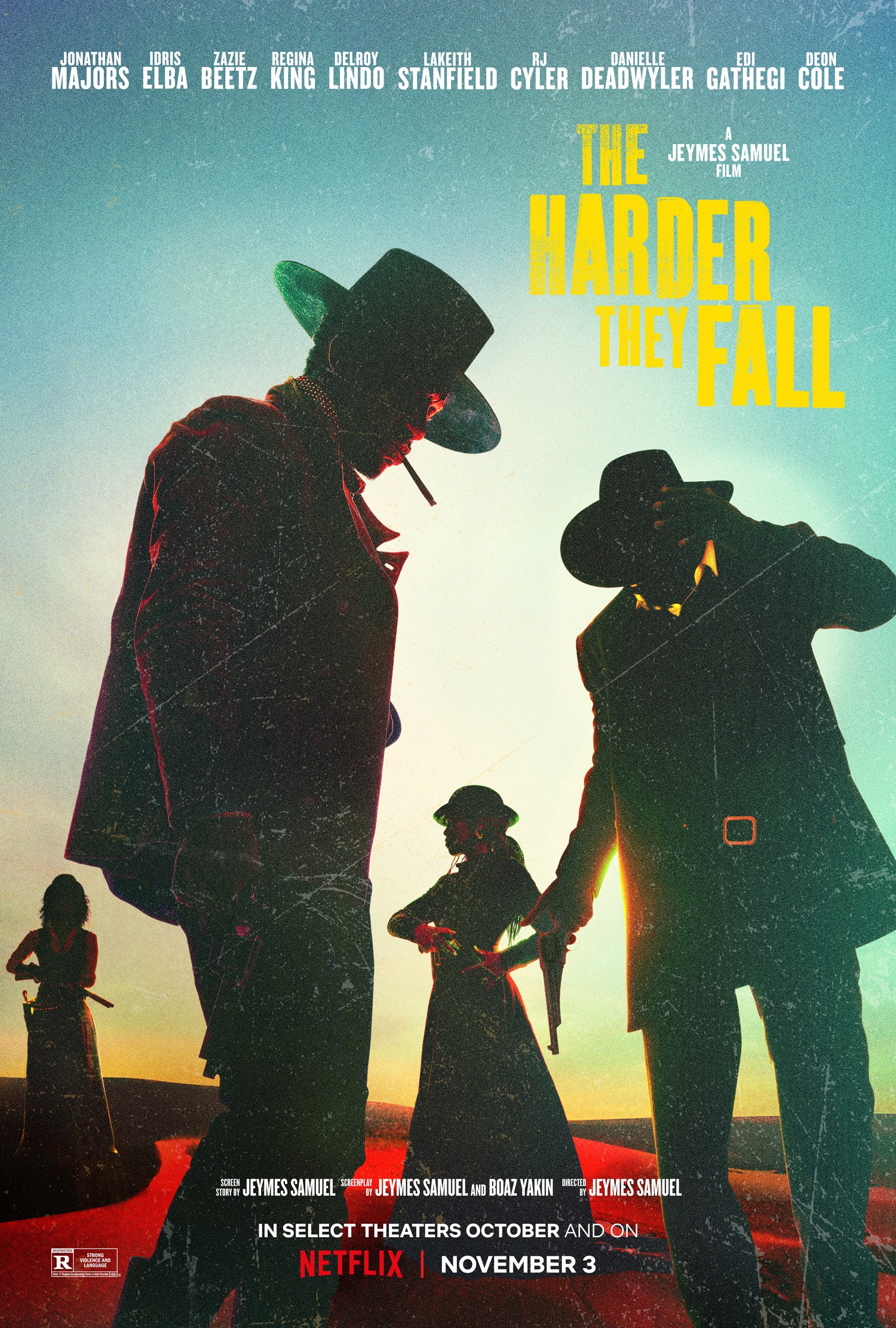 REVIEWED ON 10/21/2021 GRADE: B