DUNGEONS & DRAGONS: HONOR AMONG THIEVES
(director/writer: Jonathan M. Goldstein/John Francis Daley; screenwriter: Michael Gilio/story by Michael Gilio & Chris McKay; cinematographer: Barry Peterson; editor: Dan Lebenthal; music: Lorne Balfe; cast: Chris Pine (Edgin Darvis), Hugh Grant (Forge Fitzwilliam), Rege-Jean Page (Xenk Yemdar, Paladin), Michelle Rodriguez (Holga Kilgore), Chloe Coleman (Kira), Daisy Head (Red Wizard Sofina), Sofia Lillis (Doric), Jason Wong (Dralas), Justice Smith (Simon, sorcerer), Bradley Cooper (Marlamin); Runtime: 134; MPAA Rating: PG-13; producers: Nick Meyer/Brian Goldner/Jeremy Latcham; Paramount Pictures/Lionsgate; 2023)
"Lavishly produced."
Reviewed by Dennis Schwartz

Jonathan M. Goldstein and John Francis Daley ("Game Night"/"Vacation") co-direct and co-write with Michael Gilio this rather complex escapist story written by Gilio. It's based on the popular game created by Gary Gygax and Dave Arneson in 1974 (a game I have no interest in ever playing or knowing more about except from what I see in the movie). The movie plays out as a playful fantasy adventure tale that's lavishly produced and should make the game player viewers happy and should be entertaining for a wide audience of adults and children.

It's set in the middle-ages, in the Sword Coast of the Forgotten Realms, where the widowed Edgin (Chris Pine), whose wife was murdered, partners with the brusque tattooed barbarian Holga (Michelle Rodriguez) to raise his daughter Kira (Chloe Coleman). When they are arrested and placed in the ice prison of Revel's End for a two year stretch, the power-hungry con-man Forge Fitzwilliam (Hugh Grant), who rules over a walled city and is under the spell of the evil Red Wizard Sofina (Daisy Head).
The scoundrel Forge got control of Kira by convincing her that her father abandoned her.

Since this is a magical film, we must accept that Edgin is convinced that if he can acquire the Tablet of Reawakening, he'll be able to revive his wife and restore all that was lost.

But the Tablet is locked in a tall stone catacomb. Therefore to succeed Edgin must locate the Helmet of Disjunction to stop time. Thereby Elgin hooks up with the following searchers: the dull but righteous warrior, the paladin Xenk Yemdar (Rege-Jean Page), the inept wannabe sorcerer Simon (Justice Smith,) and the shape-shifting Tiefling Druid, Doric (Sophia Lillis).

Though I will never be a D & D game player, the film was nevertheless entertaining, had its comical and action-filled moments and the CGI effects were visually pleasing.

It played at the SXSW.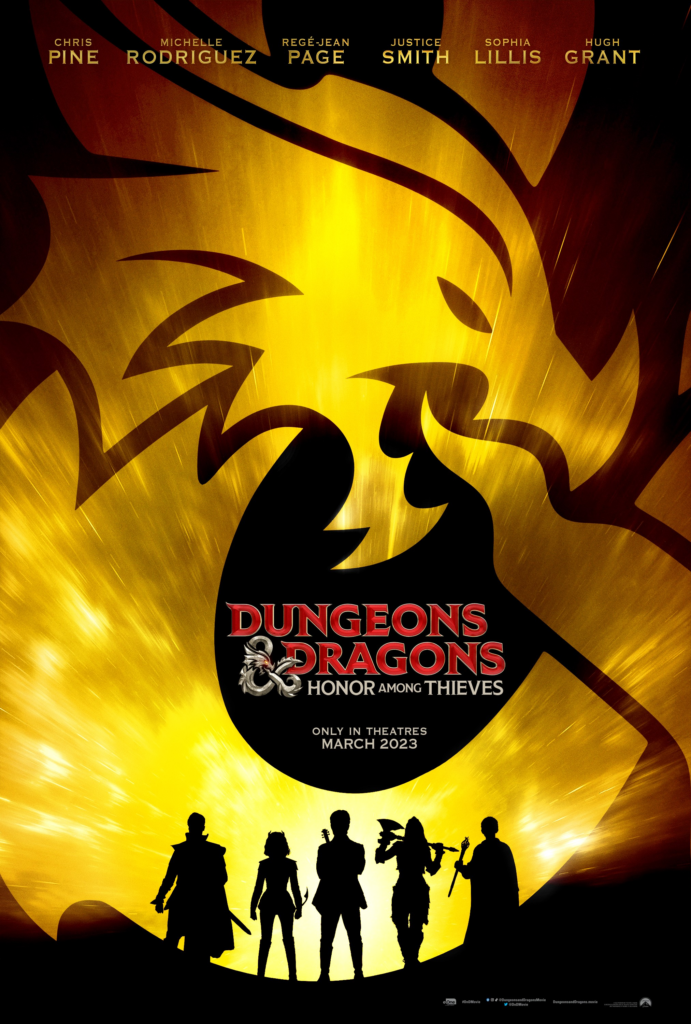 REVIEWED ON 5/8/2023  GRADE: B