CLIFFORD THE BIG RED DOG
(director/writer: Walt Becker; screenwriters: Jay Scherick, David Ronn, Blaise Hemingway; cinematographer: Peter Collister; editor: Sabrino Plisco; music: John Debney; cast: Darby Camp (Emily), Jack Whitehall (Casey), Tony Hale (Tieran), Izaac Wang (Owen), John Cleese (Bridwell), Sienna Guillory (Maggie), David Alan Grier (Packard), Tovah Feldshuh (Russian Neighbor), Russell Peters (Malik), Russell Wong (Mr. Yu ), Horatio Sanz (Raul), Kenan Thompson (vet), Rosie Perez (vet's receptionist), Paul Rodriguez (Alonso); Runtime: 97; MPAA Rating: PG; producers; Jordan Kerner, Iole Lucchese: Paramount Pictures; 2021)
"It's entertaining if you want it to be."
Reviewed by Dennis Schwartz

The Walt Becker ("Old Dogs"/"Wild Hogs") directed agreeable family comedy is based on the children's book from the Scholastic book series (started in 1963 by the author Norman Bridwell). The screenplay credit goes to Jay Scherick, David Ronn and Blaise Hemingway, and the screen story credits go to Justin Malen and Ellen Rapoport. Thankfully the writers never try to explain the impossible part of the absurd premise, whereby a tiny puppy suddenly grows to be 10 feet tall (thanks to CGI animation), and thereby saves us from dealing with that nonsense other than to just accept or not accept it. The inconsequential film maybe should delight the kiddies, dog lovers and undemanding adults (count me in this category). It's silly, cute and unimaginative. But it's entertaining if you want it to be. It also sends a useful public message not to abuse or be afraid of those who are different, but to possibly embrace them.

Emily Elizabeth (Darby Camp) is the out-of-place tiny, freckled nice girl sixth grader in an elite private school in Harlem, who is mockingly called by the rich meanie girls there "Food Stamp." She lives with her single mom (Sienna Guillory). When mom goes on a short business trip, her playful, irresponsible and financially struggling artist manchild Uncle Casey (Jack Whitehall), living alone inside a moving truck, is called in to look after her.

Visiting with her uncle on her school grounds an animal rescue shelter in a tent, that's run by Mr. Bridwell (John Cleese), there's a mutual attraction between the red puppy Clifford and Emily. When uncle refuses to get her the pup (her apartment building allows no pets and Emily's mom wouldn't approve), the pup thereby hides in her backpack and goes home undetected with Emily. When the pup is later discovered in her apartment, she wishes he was big and strong and before you can bat an eye he has mysteriously grown to be a frisky (house breaking) and lovable giant.

We must endure some heart-felt loving moments between Emily and Clifford, and must take in all the comical efforts made through some chase scenes and trying to keep the big dog secretive. The comedy rolls on when Clifford is taken to Central Park and interacts with strangers and takes some long pees there. There's also an unpleasant smirking villain (Tony Hale) to contend with, a greedy control-freak tech entrepreneur of Lyfegrow. His thing is to market genetically modified oversize food, and his outfit damages the growth of pet dogs to make dirty money off that unethical venture. When he spots Clifford he claims that the dog escaped from his laboratory. Thereby Clifford's new owners go back to Bridwell to see if they can change his size back to normal (none of this makes a bit of sense, but in a meaningless film like this that might not matter).

Joining Emily in her rescue efforts is her nerdy classmate Owen (Izaac Wang), who has a crush on her. There's also her many neighbors (my favorite was her Russian one played by Tovah Feldshuh) and an entire block of good guys who come to her defense.

It's a featherweight escapist film that's OK as a mild diversion if you want to chill mindlessly for a while and don't give a damn what others might think about your poor taste in films.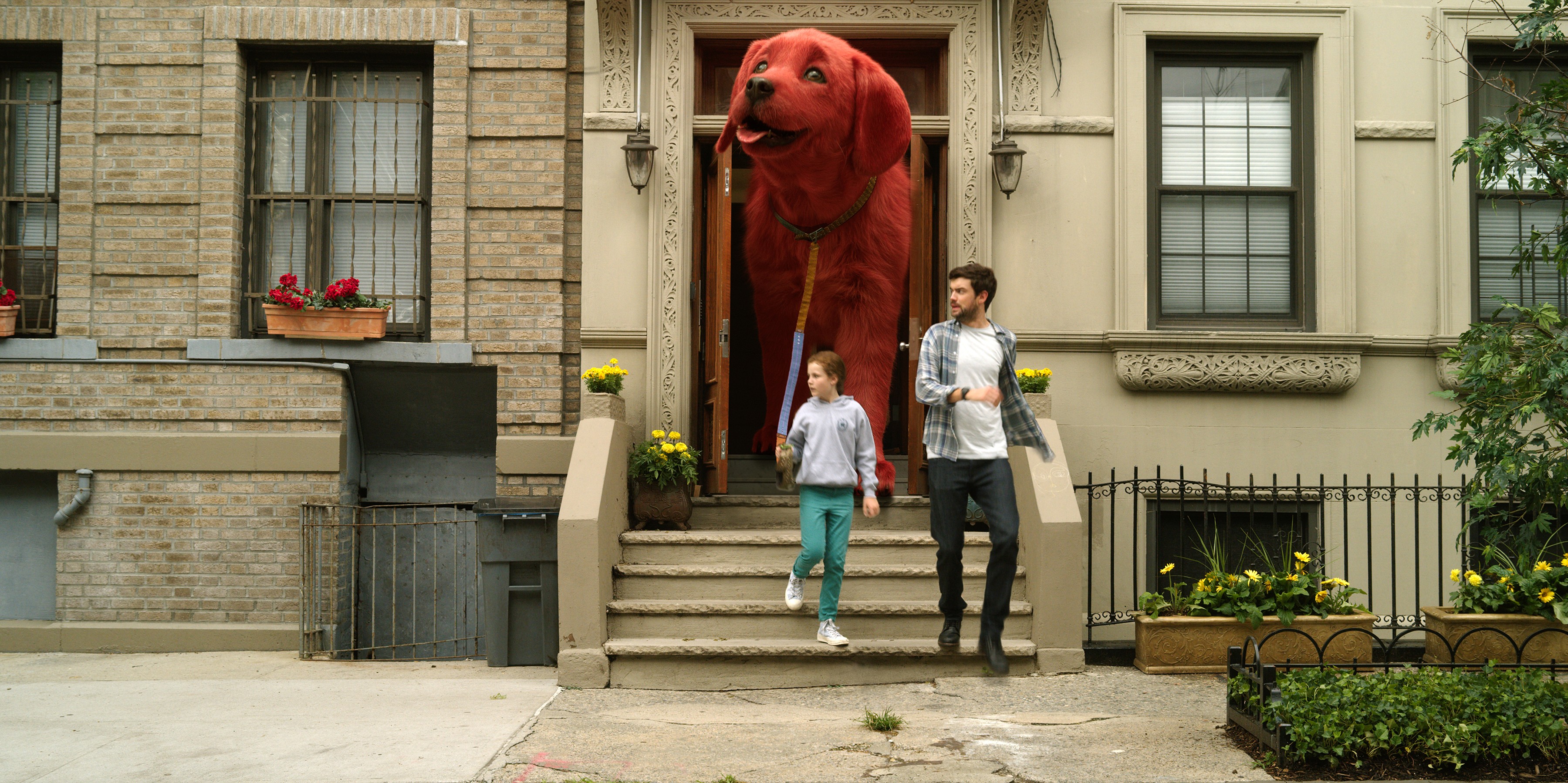 REVIEWED ON 11/11/2021 GRADE: B-