YOU CAN'T ESCAPE FOREVER
(director: Jo Graham; screenwriters: story by Roy Chanslor/Fred Niblo Jr/Hector Chevigny; cinematographers: Tony Gaudio/James Van Trees; editor: David Weisbart; music: Adolph Deutsch; cast: George Brent (Steve Mitchell), Brenda Marshall (Laurie Abbott), Gene Lockhart (Carl Robelink), Roscoe Karns (Mac' McTurk), Paul Harvey (Major Turner), Edward Ciannelli  Boss Greer),  Mary Field (Kirsty Lundstrom), Ed McWade  (Jimmy), Edith Barrett (Madame Lucille), Charles Halton (Charles Gates), Harry Hayden (Judge Hardaker), John Dilson (Pop), Joseph Downing (Varney), George Meeker  (Cummings), Erville Alderson (Crowder), Paul Newlan (Louie), Jack Carr (No-Neck), Dick Wessel (Moxie), Harry Tenbrook (Harry, bartender Lonesome Club), Elliott Sullivan (Mooch), Frank Richards (Scotty); Runtime: 77; MPAA Rating: NR; Warner Home Video; 1942)
"A goofy B film crime drama."
Reviewed by Dennis Schwartz

A goofy B film crime drama. It's directed without aplomb by Jo Graham ("Across The Pacific"/"The Sea Wolf") with an eye for comedy. It's based on a silly story by Roy Chanslor, and is written by Fred Niblo Jr and Hector Chevigny.

Reporter Laurie Abbott (Brenda Marahall) faints while covering the execution of Varney (Joseph Downing), and reports him executed instead of pardoned at the last minute. As punishment she's assigned to write the lovelorn column by managing editor Steven Mitchell (George Brent), her boyfriend. When Steve tries to link crime kingpin Boss Greer (Edward Ciannelli) with the murder of the eccentric informer Crowder (Erville Alderson), the publisher (Paul Harvey) is threatened by Greer with a libel law suit and as a punishment Steve replaces Laurie as the lovelorn columnist. A reader (Mary Field) of the lovelorn column tips off Steve that the Lovelorn Club performs marriages, and he recalls Crowder married there. Visiting the club with newspaper photographer Mac (Roscoe Karns ) and Laurie, he gets the address of fortune teller Lucille (Edith Barrett), Crowder's former wife, and learns that Carl Robelink (Gene Lockhart), owner of the club, is Greer's brother-in-law and murdered her husband to get his book on Greer's black market activities with rubber and sugar. Instead of destroying the book as ordered, the cunning Carl buried the book with Crowder.

It's entertaining when it covers the zany newspaper business, but dreadful when it comes to the plot.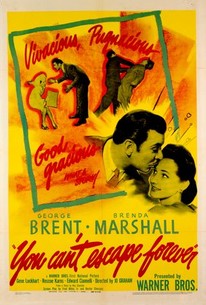 REVIEWED ON 10/13/2016 GRADE: B-