NEVER FEAR
(director/writer: Ida Lupino; screenwriter: Collier Young; cinematographer: Archie Stout; editors: Harvey Manger/Wm. H. Ziegler; music: Leith Stevens; cast: Sally Forrest (Carol Williams), Keefe Brasselle (Guy Richards), Hugh O'Brian (Len Randall), Lawrence Dobkin (Dr. Middleton), Eve Miller (Phyllis Townsend), Rita Lupino (Josie), Herbert Butterfield (Walter Williams), Kevin O'Morrison (Red Dawson), Stanley Waxman (Dr. Taylor), Jerry Hausner (Mr. Brownlee), John Franco (Carlos); Runtime: 82; MPAA Rating: NR; producers: Collier Young/Ida Lupino; Kino Lorber Blu-ray/TCM/Eagle-Lion production; 1950-in B/W) 
"The low-budget, engrossing drama, shot as if a documentary, deals with polio from a young woman dancer's POV."
Reviewed by Dennis Schwartz
 
The low-budget, engrossing drama, shot as if a documentary, deals with polio from a young woman dancer's POV, and is fearlessly written and directed by the star Hollywood actress Ida Lupino ("The Lust for Gold"/"On Dangerous Ground"). It was shot with the couple's own money in a company they formed called the Filmmakers. She was born in England and moved to Hollywood in 1934 when she was 20. Never Fear is her illustrious debut as a director and co-writer with her husband Collier Young, and comes after she contacted in 1934 a mild case of polio in her right hand and leg.

Carol Williams (Sally Forrest) and Guy Richards (Keefe Brasselle) are dance partners, with him the choreographer, who are on the verge of getting their breakthrough professional dancing job when Sally collapses and it's discovered she has polio in the legs and is hospitalized to do rehab.

On her way to recovery she must overcome her depression and fear of polio.

Never Fear is the first feature length film directed by a woman that MoMA preserved.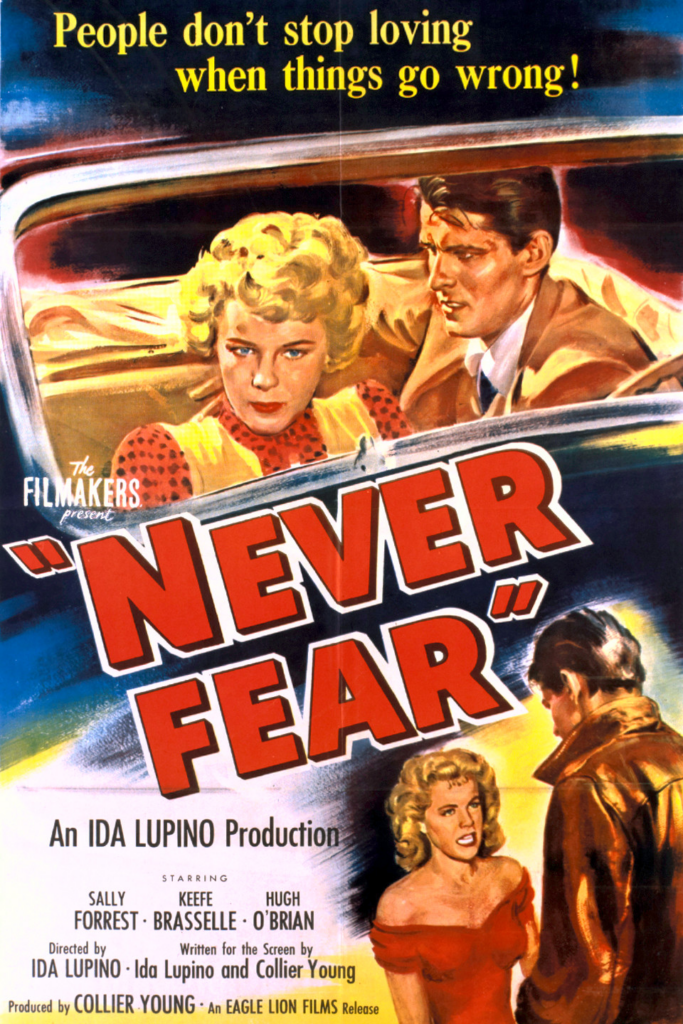 REVIEWED ON 2/10/2023  GRADE: B+