CATHERINE CALLED BIRDY
(director/writer: Lena Dunham; screenwriter: novel by Karen Cushman; cinematographer: Laurie Rose; editor: Joe Klotz; music: Carter Burwell; cast: Bella Ramsey (Birdy), Billie Piper (Lady Aislinn), Andrew Scott (Lord Rollo), Lesley Sharp (Morwenna), Joe Alwyn(Uncle George), Isis Hainsworth (Aelis), Michael Woolfitt (Perkin), Sophie Okonedo (Ethelfrida Rose Splinter of Devon), Lesley Sharp (Morweena), David Bradley (Lord Gideon Sidebottom), Mimi Ndiweni (Lady Berenice Sidebottom), Dean-Charles Chapman (Robert), Archie Renaux (Edward the Monk), Paul Kaye (Sir John, Shaggy Beard); Runtime: 108; MPAA Rating: PG-13; producers; Tim Bevan/Eric Fellner/Jo Wallett: Amazon Studios; 2022)
"A pleasant coming-of-age dramedy for teens."
Reviewed by Dennis Schwartz
A pleasant coming-of-age dramedy for teens that's effectively directed and written by Lena Dunham ("Sharp Stick"/"Tiny Furniture"), who adapted it to the screen from a 1994 children's novel by Karen Cushman. It's set in 1290 in Stonebridge, England.

Lady Catherine, known as Birdy (Bella Ramsey), is a precocious 14-year-old who has nothing much in life to look forward to, aside from a future husband, probably chosen by her family (the family is on the verge of bankruptcy and her dad is looking to marry her off to a rich aristocrat, as she spends her time resisting such a marriage).

To make her dull life more interesting, Birdy is manipulative, mischievous, adventurous and capable of doing tricks to get some kicks out of her mundane existence. She's egged on by her unhelpful older brother, a monk named Edward (Archie Renaux).

The film is filled with well-placed zingers and not so well-placed fart jokes, and a playful teenager outlook that challenges the rigid medieval social order.

Like a fairy tale of old, there's a contrived happy ending (as the conflicted father and daughter reconcile, which seems like a reach).

Birdy's parents are well-played by Billie Piper (given too little to do) and Andrew Scott (in the bigger role). The supporting cast has many colorful characters like the worldly-wise widow (Sophie Okonedo); Uncle George (Joe Alwyn), the dashing former Crusader, and the ambitious goat-herder Perkin (Michael Woolfitt).

The recognizable pop songs are fine tuned to fit into the music of the 13th century, which works fine.

What doesn't work is Birdy's unneeded narration, which grows tiresome.

Life for a young girl in a man's world has its cutesy charms, but there's not much else to savor except for Bella Ramsey's enjoyable performance and a real good one by the talented animated cast.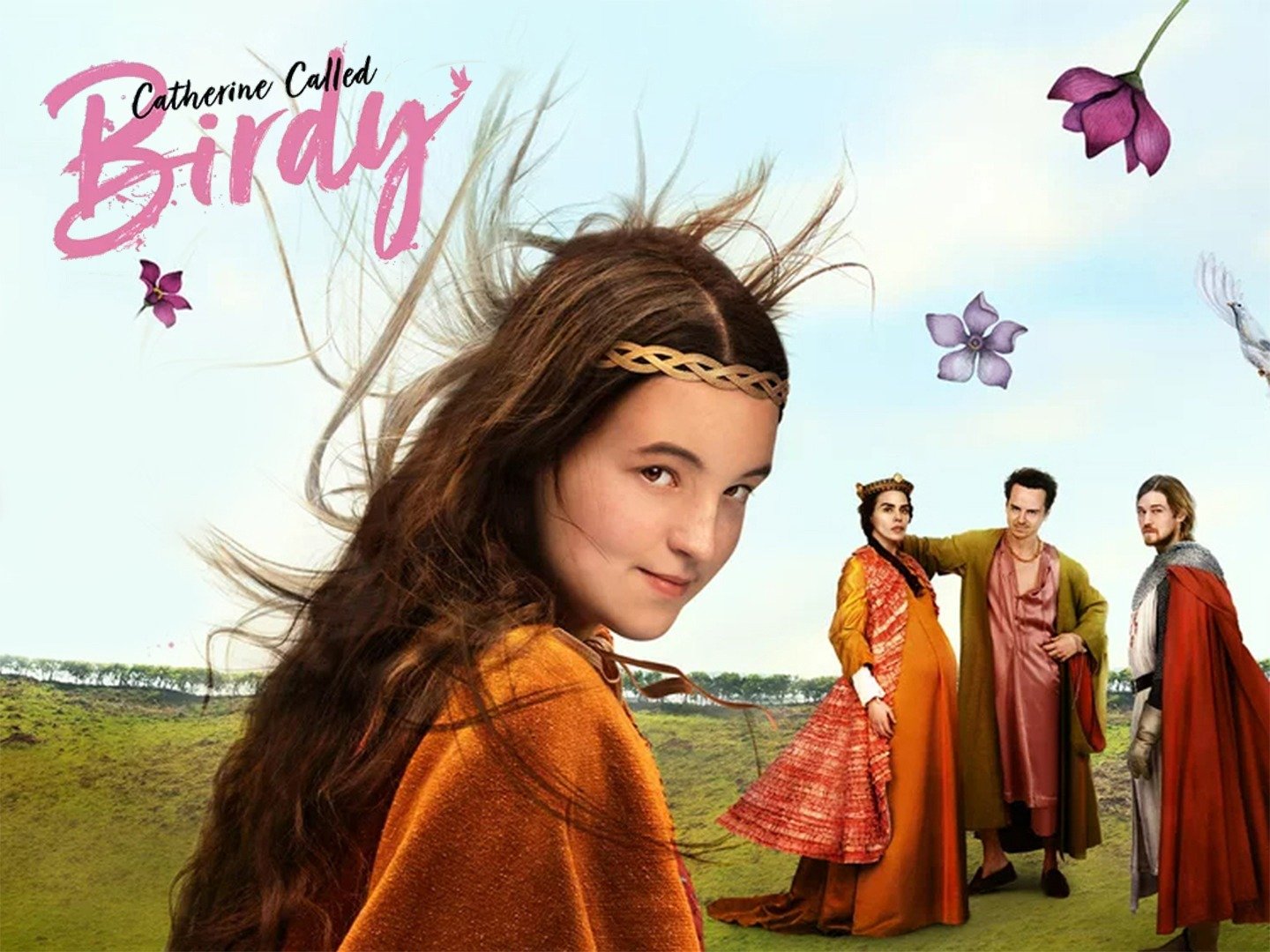 REVIEWED ON 10/19/2022  GRADE: B