TAYLOR SWIFT: THE ERAS TOUR
(director: Sam Wrench; cinematographer: Brett Turnbull; editors: Dom Whitworth, Rupa Rathod, Reg Wrench, Ben Wainwright Pearce, Hamish Lyons, Guy Harding;  music: Taylor Swift; cast: Taylor Swift, Amos Heller, Paul Sidoti, Matt Billingslea, Mike Meadows; Runtime: 168; MPAA Rating: PG-13; producer: Taylor Swift; AMC Theatres Distribution; 2023)
"An artful production that highlights Taylor's strong physical presence."
Reviewed by Dennis Schwartz

The gifted musical director Sam Wrench smoothly directs this Taylor Swift concert film shot over three nights in August of this year at Los Angeles' SoFi Stadium before crowds of 70,000. It went on for three hours and the 33-year-old singer sang 36 songs and kept her stamina the whole time. Only a few songs from the concert never made it onto film, in a film that was cut down to a playing time of 168 minutes.

The music covers 9 of her 10 studio albums and 17 years of experience, as the concert devoted a section to each of the 9 albums in a non-chronological order. The albums included "Lover" (2019), "Fearless" (2008), "Evermore" (2020), "Reputation" (2017), "Speak Now" (2010), "Red" (2012), "Folklore" (2020), "1989" (2014) and "Midnights" (2022). What it shows is that she always reinvented herself after each album and thereby always appears to be fresh.

It seems that Taylor's strength is in her ability as a songwriter, as her voice is good but not great.

The songs ranged from the sing-along "Cruel Summer" through the uplifting finale, "Karma." The song I enjoyed most was her 10-minute breakup ballad "All Too Well." Other highlight songs were "Miss Americana & the Heartbreak Prince,"  "Our Song," and "The Man."
 
There were no interviews, talking heads, backstage shots–just the music, backup dancers and singers, many costume changes and many visually pleasing stage sets. It's an artful production that highlights Taylor's strong physical presence.
 

The Eras Tour, which lasted over a seven-month period, before ending in LA, lets those not Swifties see the concert movie and perhaps will come to understand why Taylor has amassed such a large fan base and how captivating a performer she is. She has hit the peak of her very successful career, and seems ready for a bright future.

The mostly female audience also seemed to be her most enthusiastic fans.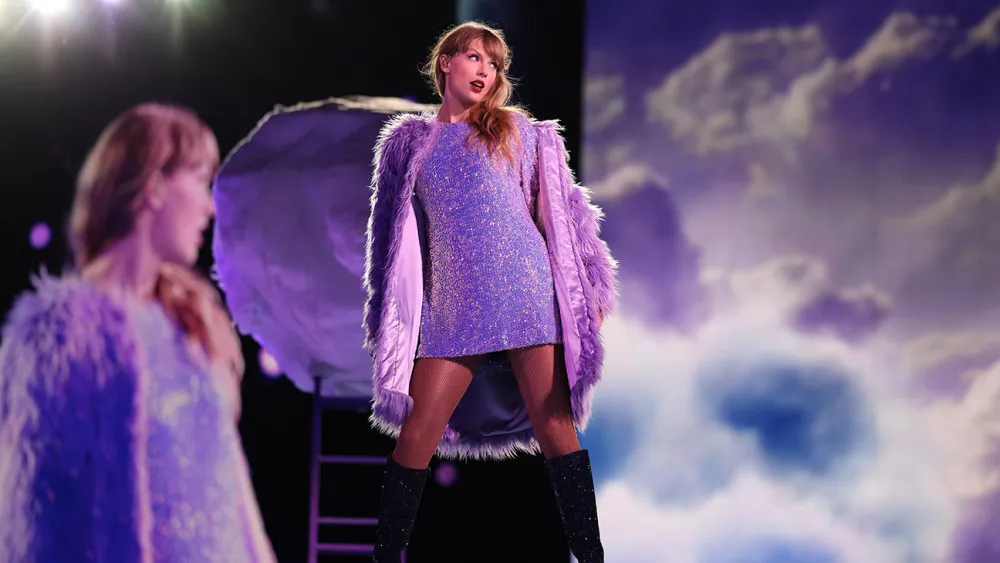 REVIEWED ON 10/29/2023  GRADE: B+