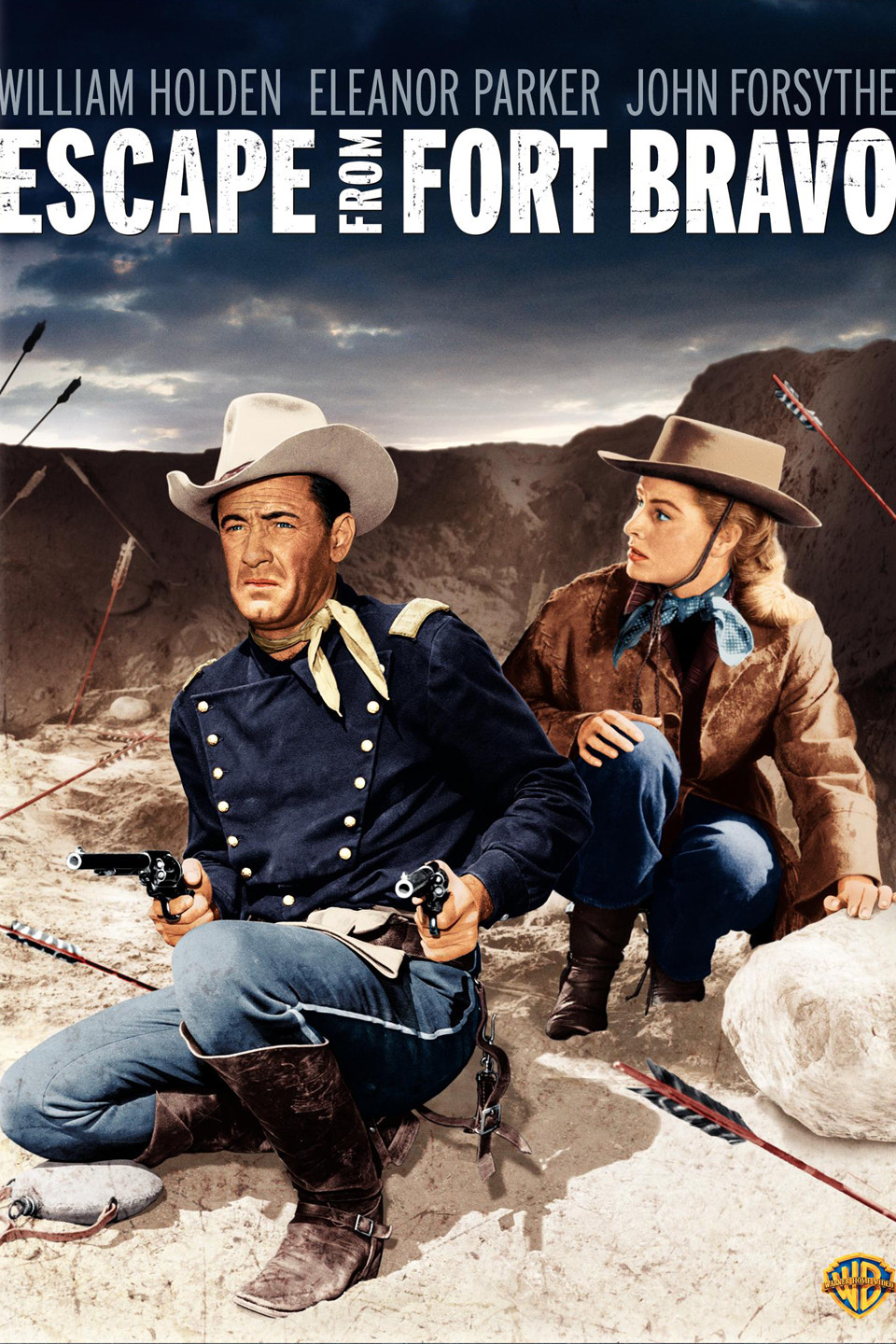 ESCAPE FROM FORT BRAVO
(director: John Sturges; screenwriters: Frank Fenton/from the story by Michael Pate & Philip Rock; cinematographer: Robert Surtees; editor: George Boemler; music: Jeff Alexander; cast: William Holden (Capt. Roper), Eleanor Parker (Carla Forester), John Forsythe (Capt. John Marsh), William Demarest (Campbell), William Campbell (Cabot Young), John Lupton (Bob Bailey), Richard Anderson (Lt. Beecher), Carl Benton Reid (Col. Owens), Polly Bergen (Alice Owens), Howard McNear (Watson),Alex Montoya (Sgt. Chavez); Runtime: 98; MPAA Rating: NR; producer: Nicholas Nayfack; MGM; 1954)
"Though not one of the better Westerns it was still effective."
Reviewed by Dennis Schwartz
A modest but fairly entertaining Western based on a story by veteran Australian-born B film actor Michael Pate and directed with a flair for the action sequences by John Sturges ("Gunfight at the O.K. Corral"). It was the first film that William Holden gets serious money as a star, after his success in Sunset Boulevard in 1950. The action is set in 1863 in the Arizona Territory during the Civil War. Fort Bravo holds a stockade for Confederate prisoners, where humanitarian Colonel Owens (Carl Benton Reid) doesn't lock the prisoners up because to escape means fleeing across the hostile desert where the Mescalero Indians patrol and are willing to kill any white man.
After Stan Jones sings a corny cowboy ditty called Yellow Stripes, steel-jawed cavalry Captain Roper (William Holden) brings in a horseless Rebel escapee Bob Bailey (John Lupton) while he rides his horse. This gets the disapproval of the colonel and the Confederate prisoners.
Out on a patrol, Roper rescues the stage bringing Texas beauty Carla Forester (Eleanor Parker) to Fort Bravo for the upcoming wedding to her school chum Alice Owens (Polly Bergen), the colonel's daughter. She's marrying the prim Lt. Beecher (Richard Anderson ), a West Point grad who disapproves of Roper's hardnose attitude and is determined to prove he can be just as macho as Roper while still being human. It turns out that Carla has really come to free her Confederate prisoner boyfriend Captain John Marsh (John Forsythe), who chooses to take along in his projected escape to Texas gruff old-timer Sergeant Campbell (William Demarest), wise guy young soldier Cabot Young (William Campbell) and the spirited but cowardly Bailey. The escape takes place on the eve of the wedding, as the men hide in the supply wagon of a storeowner Southern sympathizer (Howard McNear). Femme fatale Carla goes along with the men because she's rattled when the lonely Roper fell hard for her aggressive advances, used as a ploy to throw him off her tracks, and asked her hand in marriage. Carla would rather not face Roper again since she thinks she might actually love him and feels bad she made such a fool of him.
It leads to Roper going out with Lt. Beecher and a small detail to recapture the escapees, which they easily do but they all get trapped in the desert by the attacking Mescaleros. The heart of the film is to see if these enemies can band together to stave off the fierce attack by the Apaches.
Though not one of the better Westerns it was still effective. The scene where the Indians attack the outnumbered soldiers using psychological warfare and after bracketing them with lances fire a barrage of arrows into their position, though familiar as a typical Cowboy and Indian plot line, it was nevertheless ingenuously crafted. It was filmed on location in California's Death Valley.
REVIEWED ON 6/27/2005 GRADE: B-