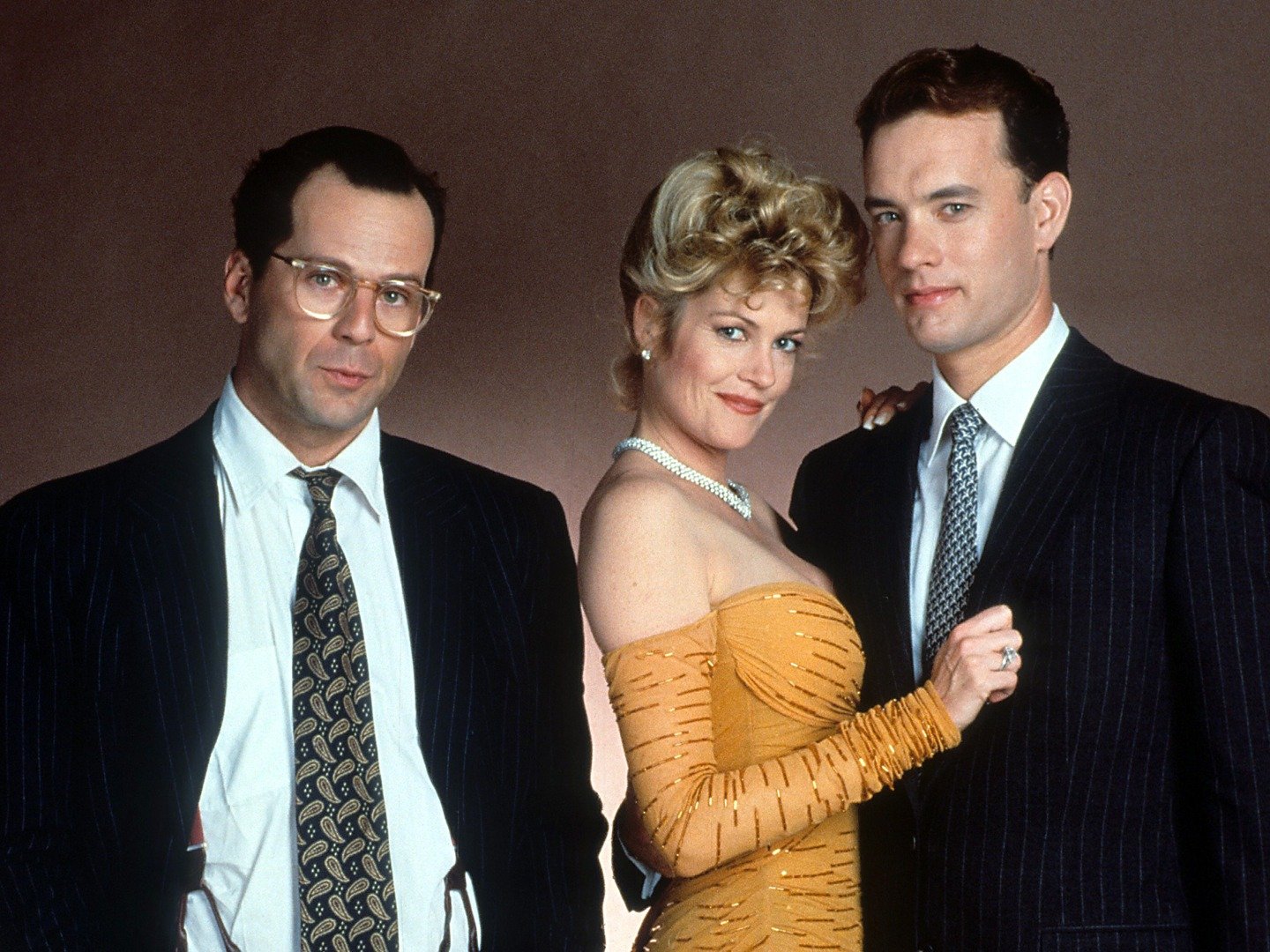 BONFIRE OF THE VANITIES, THE

(director: Brian De Palma; screenwriters: based on the Tom Wolfe novel/Michael Cristofer; cinematographer: Vilmos Zsigmond; editors: David Ray/Bill Pankow; music: Dave Grusin; cast: Tom Hanks (Sherman McCoy), Bruce Willis (Peter Fallow), Melanie Griffith (Maria Ruskin), Kim Cattrall (Judy McCoy), Saul Rubinek (Jed Kramer), Morgan Freeman (Judge Leonard White), John Hancock (Reverend Bacon), Kevin Dunn (Tom Killian), Clifton James (Albert Fox), André Gregory (Aubrey Buffing), Robert Stephens (Sir Gerald Moore), Alan King (Arthur Ruskin), Kirsten Dunst (Campbell McCoy), Barton Heyman (Detective Martin), Norman Parker (Detective Goldberg), Donald Moffat (Mr. McCoy), Mary Alice (Annie Lamb), Louis Giambalvo (Ray Andruitti), F. Murray Abraham (Bronx D.A.); Runtime: 125; MPAA Rating: R; producer: Brian De Palma; Warner Bros.; 1990)
"Has more embarrassing moments than good ones."
Reviewed by Dennis Schwartz
Director Brian De Palma's ("Greetings"/"Carrie"/"Scarface") $45 million dollar big budget bomb is a rendition of Tom Wolfe's off-color bestseller. It rings hollow as a social conscience film, is strained in its black humor, not as subtle as the novel in making its political points, is heavy-handed, whitewashes the author's scathing satire, reduces the author's rich characters to uninteresting caricatures, and is a terribly uneven movie that has more embarrassing moments than good ones. Nevertheless this bomb is a flashy and watchable Hollywood film even if it remains pointless, as it explodes in pretty Technicolor shots and bursts of yuppie outrage. The choice of DePalma to direct was not a good one, as he turned it into a bonfire of inanities replete with miscast leads and a screenplay by Michael Cristofer that missed its targets.
Tom Hanks is Sherman McCoy, known as the "master of the universe," a shallow Wall Street bond trader who makes millions while enjoying the good life and the sexual favors of his overbearing married mistress Maria Ruskin (Melanie Griffith), a Southern belle gold-digger. Sherman is married to 'trophy wife' Judy (Kim Cattrall), who suspects hubby is unfaithful in their loveless marriage. The married bond trader takes a wrong turn on the Bruckner Expressway and lands in the South Bronx ghetto while returning from the airport with his foxy mistress in his luxury car. When two black youth seem threatening, Maria in panic backs his Mercedes accidentally into a black teenager leaving him badly hit and the couple flee the scene of the accident in fear of their lives. They also do not report the accident to the police because she doesn't want her husband to know of her affair.
With that incident hitting the newspapers, the jackals come out of the woodwork after the police under political pressure easily track down Sherman's car and charge him with hit-and-run. The rabble-rousing disingenuous local black community activist, Reverend Bacon (John Hancock), uses it to rally the blacks for justice and gets the affable white alcoholic reporter Peter Fallow (Bruce Willis), who is about to lose his job, to be the publicist for his cause and use the incident for his own gain to write a book and cover the tabloid story for his newspaper knowing it will sell papers.
Sherman is brought to his knees, as the white politicians use whitey as a scapegoat for their own cynical purposes to show they care about justice for all. In the end, Sherman is left without any allies only a remorseful Fallow, who narrates the story and states 'What shall it profit a man, if he gain the whole, but lose his soul?', and the sympathetic honest black Judge White (Morgan Freeman) who gives in conclusion a risible morality speech to the courtroom for the citizens to "Go home and be decent."
The story is narrated by the now successful newspaper reporter Peter Fallow (BruceWillis), who wrote his bestselling book on this incident and within a year rose to the top on the back of McCoy while his subject matter sinks to the bottom.
REVIEWED ON 4/8/2009 GRADE: C