WHITE TIGER, THE
(director/writer: Ramin Bahrani; screenwriter: based on the novel by Aravind Adiga; cinematographer: Paolo Carnera; editor: Tim Streeto; music: Danny Bensi, Saunder Jurriaans; cast:  Priyanka Chopra-Jonas (Pinky), Rajkummar Rao (Ashok), Vedant Sinha (Dharam), Adarsh Gourav (Narrator, Balram), Mahesh Manjrekar (The Stork), Vijay Maurya (The Mongoose), Nalneesh Neel (Vitiligio), Swaroop Sampat (The Great Socialist), Kamlesh Gill (Granny), Sanket Shanware (Kishan), Harshit Mahawar (Young Balram); Runtime: 126 ; MPAA Rating: R; producers:Ramin Bahrani/Mukul Deora; Netflix; 2020)
"It's a class-struggle story Dickens could probably sympathize with."
Reviewed by Dennis Schwartz
The American film is set in India. It tells about the struggle of a poor guy who would do anything to escape from his caste of  poverty and servitude (and he gets our sympathy despite his questionable actions). The drama is based on Aravind Adiga's acerbic 2008 novel, a Booker-winner, and is written-directed by Iranian-AmericanRamin Bahrani ("Man Push Cart"/"Chop Shop").

 Adarsh Gourav is in his first starring performance (a wonderful one). He plays Balram, who was born into a low caste, in a poor village, in India, where he once impressed his teachers for his academic flair which was viewed – as rare as a white tiger. But at an early age his education had to be abandoned to work in a tea shop because of his family's poverty. Nevertheless he eventually becomes a self-made success story.

As a grown-up the calculating and ambitious Balram grovels before the town's landlord-known as "the Stork" (Mahesh Manjrekar). His plan is to escape poverty through servitude to the landlord's U.S. educated son, as he's granted permission by his granny (Kamlesh Gill) to leave the village and take driving lessons, and thereby gets a chauffeur's job for a rich boss–the Americanized Ashok (Rajkummar Rao) and his Brooklyn-raised wife, Pinky (Priyanka Chopra Jonas). They treat the staff decently.

Since  Balram's father died of TB, he's obligated to send most of his salary home. His big break comes when he gains worldly experience by traveling with his rich boss to Delhi as a driver.

Things change after a horrible car accident in 2007 in Delhi. Balram's bosses will test his loyalty and set him up to provide a cover-up for their folly. Ashok and his wife Pinky are drunk late at night and are speeding. Pinky hits a little kid who darts in front of the car, while Balram is in the back seat. The servant must take the blame for the crime and receives no promises of gain from it, but moves on from there to have a change of attitude about life and to start to profit from India's now booming economy as a businessman.

After a flashback in 2010 we review Balram's tough life in the impoverished village where he was raised, as he does the voice-over narration. He tells how he developed a constant servant's smile and to fawn over the upper-classes and to always ingratiate himself to his masters. We're told India once had a thousand castes, but now there are only two: the haves and the have-nothings. The majority of the country is in the poor class and are trapped in a state of dependence. From Balram's tale we learn how servitude to his masters was programmed into him from his childbirth, and how politically corrupt is the country.

Balram's story reflects the story of modern India, as he's now changing for the better because of India's growing technology skills are enabling them to compete with the West in the New Economy.

The film also taps into the underneath rage that runs through the modern-day poor class of India. While Balram knows he's part of the rabble but is ready to get out of that situation because he believes he's the "white tiger" of his family — a once-in-a-generation animal with the gift of transcending his circumstances. The movie reflects how Balram is chasing after his own dreams, as he manipulates to get ahead in such a backward system.

This is a film with no happy ending but one that casts deep aspersions on the caste system, saying it corrupts everyone and shouldn't even exist anymore if India will really compete with the West. It's made clear this is no fantasy "rags to riches" film like "Slumdog Millionaire," but a hard-nosed look at a struggling country trying to find its way to success. It's a class-struggle story Dickens could probably sympathize with.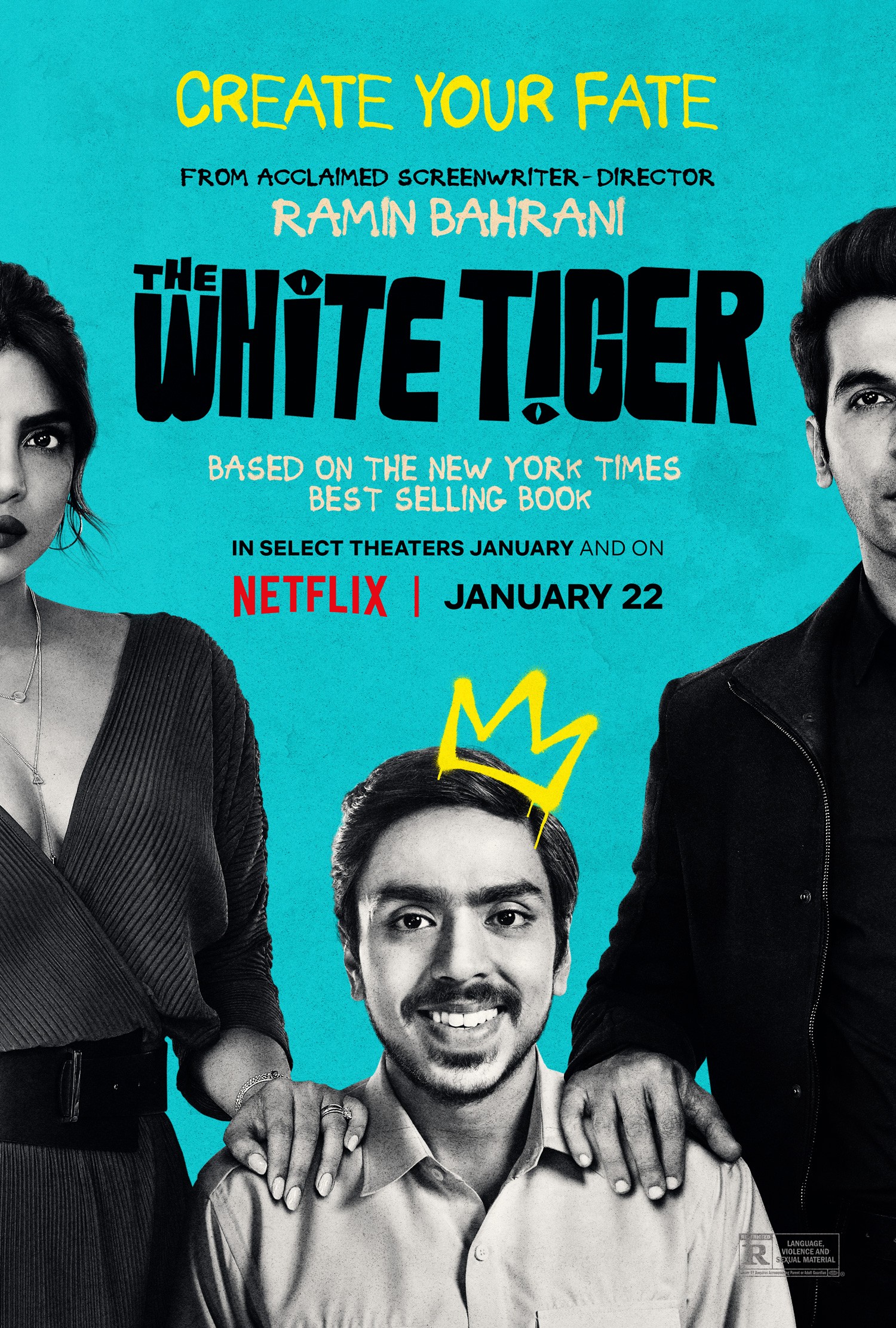 REVIEWED ON 1/19/2021 GRADE: B-