BLACK WARRANT
(director/writer: Tibor Takacs; screenwriters: story by Michael Pare/D. Glase Lomond/Joshua A. Cohen/Javier Reyna; cinematographer: Brandon Ruiz; editor: Maicon Desouza; music: Maurico Yazigi; cast: Cam Gigandel (Anthony Van Owen), Tom Berenger (Nick Falconi), Jeff Fahey (LaRusso), Hani Al Naimi (Hussein Bin-Farri), Helena Haro (Mina), Sara Seyed (Rashida), Jonathan Avigdori (Sadiq), Rafael Cabrera (Zico), Peter Nikkos (Fevzi 'El Turco' Polat); Runtime: 94; MPAA Rating: R; producer: Elias Axume/Joshua A. Cohen/Eduard Ousipov/Robert Eagar; Saban Films; 2022)
"Unpleasant generic B- action pic."
Reviewed by Dennis Schwart
zHungarian born filmmaker Tibor Takacs ("Blowback"/"The Gate") is the writer-director of this unpleasant generic B- action pic regarding the activities of a cyber terrorist crime organization armed with a weapon to attack the power grid so that it causes world chaos. It's based on a story by Michael Pare, D. Glase Lomond, Joshua A. Cohen and Javier Reyna.

Nick Falconi (Tom Berenger) is a semi-retired government for hire killer living on a yacht in Tijuana, who is contacted down there by the fed agent LaRusso (Jeff Fahey) for his services to stop a terrorist attack. He is teamed up with the DEA agent Anthony Van Owen (Cam Gigandel), who after a failed raid on a smuggler's druggie warehouse has his partner killed in the raid by the criminal Zico (Rafael Cabrera). The replacement partner, Nick, and the agent Anthony, try to avert a terrorist attack by going after the threatening mob.

What follows is the arrest of the connected organization money launderer, known as 'El Turco' (Peter Nikkos). But the trigger-happy Nick kills him before he gives any info.

Help comes when Nick picks up aspiring chef, Mina (Helena Haro), who pines to go to a culinary school in America and will provide intel if Nick uses his connections to get her there.

The oddball partners then pursue the crime boss, Hussein Bin Farri (Hani Al Naimi), who is threatening the world with explosives and is armed with his dangerous machine.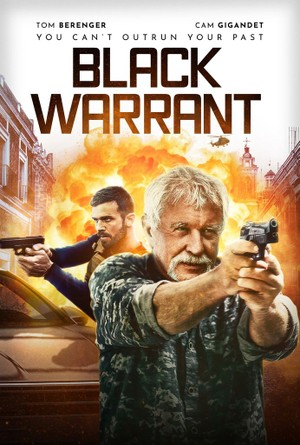 REVIEWED ON 12/16/2022  GRADE: C