BANDIT
(director/writer: Allan Ungar; screenwriters: Kraig Wenman/based on the novel by Robert Knuckle; cinematographer: Alexander Chinnici; editors: Michael Lane/Allan Ungar; music: Aaron Guilhuis; cast: Josh Duhamel (Gilbert Galvan Jr/Robert Whiteman), Elisha Cuthbert (Andrea), Mel Gibson (Tommy Kay), Nestor Carbonell (Snydes), Olivia D'Abo (Linda), Dylan Flashner (Bishop); Runtime: 126; MPAA Rating: R; producer: Jordan Beckerman/Eric Gozlan/Ryan D. Smith/Jordan Yale Levine; Quiver Distribution; 2022-Canada)
"An entertaining but limited thriller."
Reviewed by Dennis Schwartz
An entertaining but limited thriller based on a true story of a charming career criminal. It's directed by the Toronto-based filmmaker Allan Ungar ("Gridlocked"/"Tapped Out") and is co-written by him and Kraig Wenman, with its story based on the novel by Robert Knuckle.


The criminal Robert Whiteman (Josh Duhamel) takes that handle after ditching his given name Gilbert Galvan Jr. when he escapes a Michigan jail and flees to Ontario in 1985. He gets that name when he buys a homeless man's ID and uses the card to get a job selling ice cream. But when fired, he needs another job fast and turns instead to robbing banks after crashing a shelter and making up a story to meet the social worker Andrea (Elisha Cuthbert).

After falling for Andrea, he begins flying around Canada using various disguises to rob multiple cities in a day. The national press dub him "The Flying Bandit."
Robert's pursued by the persistent detective Snydes (Nestor Carbonell), who dearly wants to nab him.

Ungar gives the bandit too much love and makes the career criminal an undeserved sympathetic character. Furthermore the film becomes preachy, telling viewers not to judge people when they're most vulnerable. He seems to be blind to the fact his anti-hero protagonist is a greedy pig, who robs banks because of his unhealthy love of money.

Yet the love story that develops between Andrea and Robert makes the film a bit more tolerable.
The anti-Semitic Mel Gibson, an outcast in Hollywood after exposed as a bigot, has reemerged playing supporting roles mostly instead of starring roles. Here he's a shady loan shark, who could be menacing if crossed.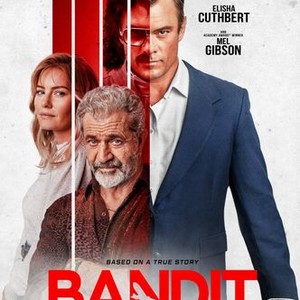 REVIEWED ON 10/17/2022 GRADE: C+