BELFAST
(director/writer:Kenneth Branagh; cinematographer: Haris Zambarloukos; editor: Úna Ní Dhonghaíle; music: Van Morrison; cast: Jamie Dornan (Pa), Caitriona Balfe (Ma), Judi Dench (Granny), Ciarán Hinds (Pop), Jude Hill (Buddy), Colin Morgan (Billy Clanton), Lara McDonnell (Moira), Olive Tennant (Catherine), Lewis McAskie (Will); Runtime: 97; MPAA Rating: PG-13; producers; Kenneth Branagh, Laura Berwick, Becca Kovacik, Tamar Thomas: Focus Features; 2021-UK)
"A tender autobiographical coming-of-age tale."
Reviewed by Dennis Schwartz

A tender autobiographical coming-of-age tale from the actor and filmmaker Kenneth Branagh ("Cinderella"/"Thor"), who was raised in Belfast as a Protestant. When he got older his parents moved to England. The nostalgic and personal film opens with a look in full-color of present-day Belfast, then in monochrome it films Belfast as it looked in the late-60s. Before you can rejoice in that look back, a fight breaks out in the street between a tense group of  Protestants and Catholics in the Troubles-era.

First-time actor Jude Hill plays Buddy at nine (with a certain brilliance). He's a stand-in for Branagh. His older brother Will is played by Lewis McAskie. The hard-working Pa (Jamie Dornan), with a job as a joiner in England, and the caring Ma (Caitríona Balfe), are a calming influence for the kids during these tough times. Though the family is pestered by the local trouble-making thug Billy Clanton (Colin Morgan) to join the local uprising to oust the minority Catholics from the neighborhood, they refuse–not wishing to take a side or cause anyone harm.

The pull of living in an area where the family has known everyone all their life is strong and gives them a reason to remain, but Pa is upset with the rise in violence and thinks moving to England would be best.

There are pleasant memories Buddy has of those days spent with his lively grandparents (Judi Dench and Ciarán Hinds) and of his schoolboy crush on Catherine (Olive Tennant).

The ensemble cast all give genuine and affecting performances. It's a lovely film even if sentimental to a fault, but it agreeably shows the humble environment a great artist came out of in this heartwarming family drama period film.

The Van Morrison soundtrack adds to the good feel of the movie.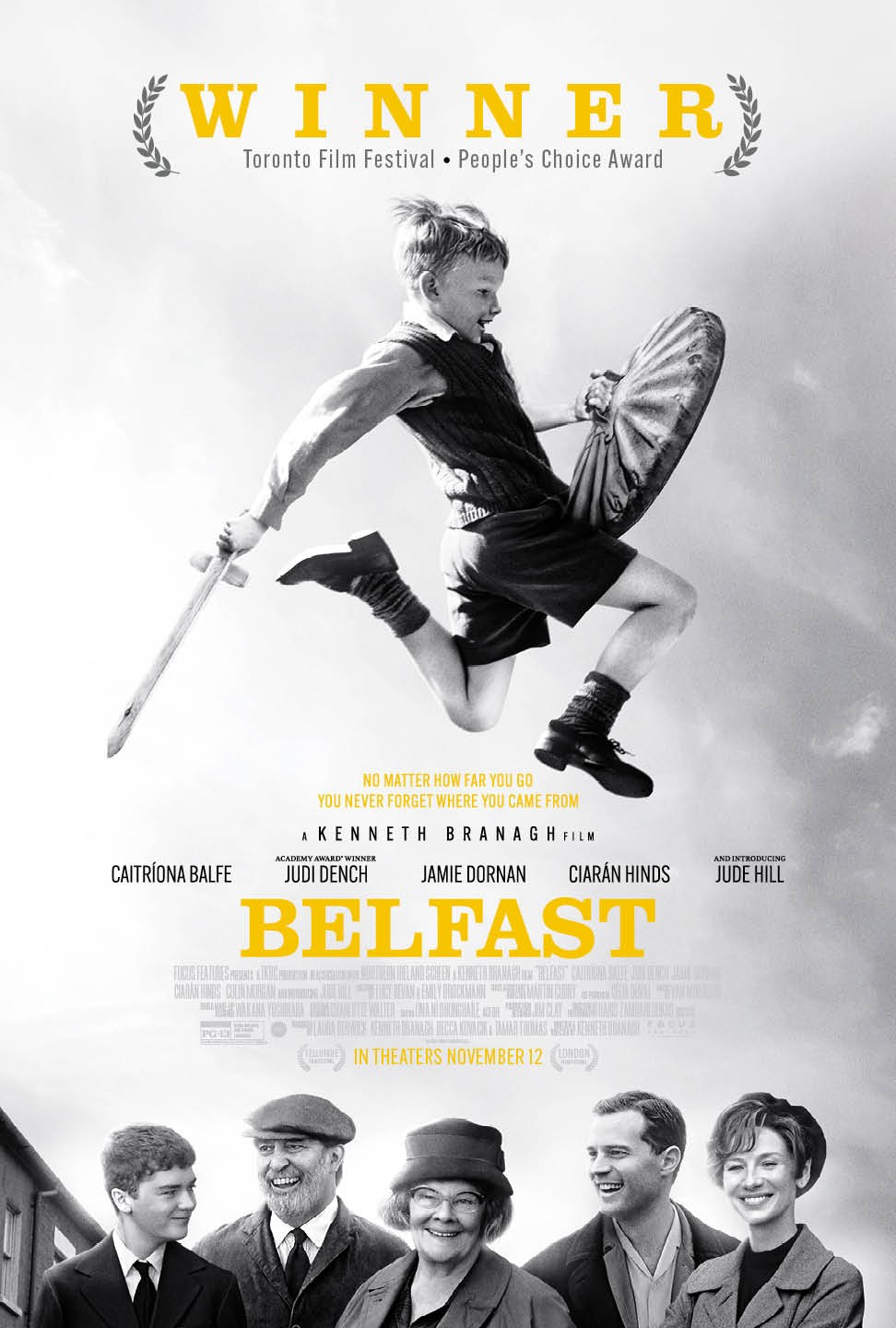 REVIEWED ON 10/24/2021 GRADE: B+