ANIMAL HOUSE
(director: John Landis; screenwriters: Harold Ramis/Chris Miller/Douglas Kenney; cinematographer: Charles Correll; editor: George Folsey Jr.; music: Elmer Bernstein; cast: John Belushi (John "Bluto" Blutarsk), John Vernon (Vernon Wormer), Karen Allen (Katy), Mary Louise Weller (Mandy Pepperidge), Greg  Marmalard(James Daughton), Kevin Bacon (Chip Dillon),Tim Matheson (Otter),James Widdoes(Hoover), Bruce McGill (D-Day), Mark Metcalf (Doug Neidermeyer), Stephen Furst (Kent "Flounder" Dorfman), Tom Hulce (Larry "Pinto" Kroger), Christian Miller (Handbar), Verna Bloom (Marion Wormer), Bruce Bonheim (B.B.), Douglas Kenney (Stork), Donald Sutherland (Prof. Jennings), Cesare Danova (The Mayor), Peter Riegert (Donald 'Boon' Schoenstein), Lisa Baur (Shelly Dubinsky), Stacy Grooman (Sissy), Martha Smith (Babs Jansen); Runtime: 109; MPAA Rating: R; producers: Matty Simmons/Ivan Reitman; Universal; 1978)
"Earns a diploma for tasteless low-budget comedy."
Reviewed by Dennis Schwartz

Earns a diploma for tasteless low-budget comedy in its vain attempt to be anti-establishment. John Landis ("Slasher"/"Innocent Blood") moderately directs this free-wheeling cynical and scatological parody on college frats that achieved its status as a classic in comedy by acclimation from the public, but when viewed today is an over-rated and pointless nostalgia slapstick comedy. The scenario was created by National Lampoon regulars Doug Kenney and Chris Miller in collaboration with Harold Ramis, an actor-writer who worked on the Lampoon's radio show and theatrical revues. The generational youth comedy was valued at the time as a cultural phenomenon, whose off-base comedy included crude sight gags, food fights, gross-out sex scenes, an unauthorized toga party, beer guzzling and much hell-raising.

Dean Wormer (John Vernon), in a one-dimensional villain role, puts his energy into revoking Delta's charter and getting it off campus.

The Delta House at the fictional Faber College, in Pennsylvania, in 1962 has a bad reputation of being home to misfits and losers, which doesn't stop incoming dweeb freshmen Larry Kroger (Tom Hulce) and Kent Dorfman (Stephen Furst) from pledging after snubbed by the top-rated Omega House.

The snobby Omega House is ruled by the wheedling Marmalard (James Daughton) and the sadistic Neidermeyer (Mark Metcalf), who ally with the dean to get the goods on Delta so they can be removed from the campus. While Delta fights back, with an overwhelming performance by pledge master John Belushi as the animal-like slob of Delta and an ensemble cast of loose– canons such as the Delta seniors D-Day (Bruce McGill), Otter (Tim Matheson) and Boon (Peter Riegert). The mindless climax has the expelled from college Delta members get revenge on the dean and Omega by disrupting the homecoming parade.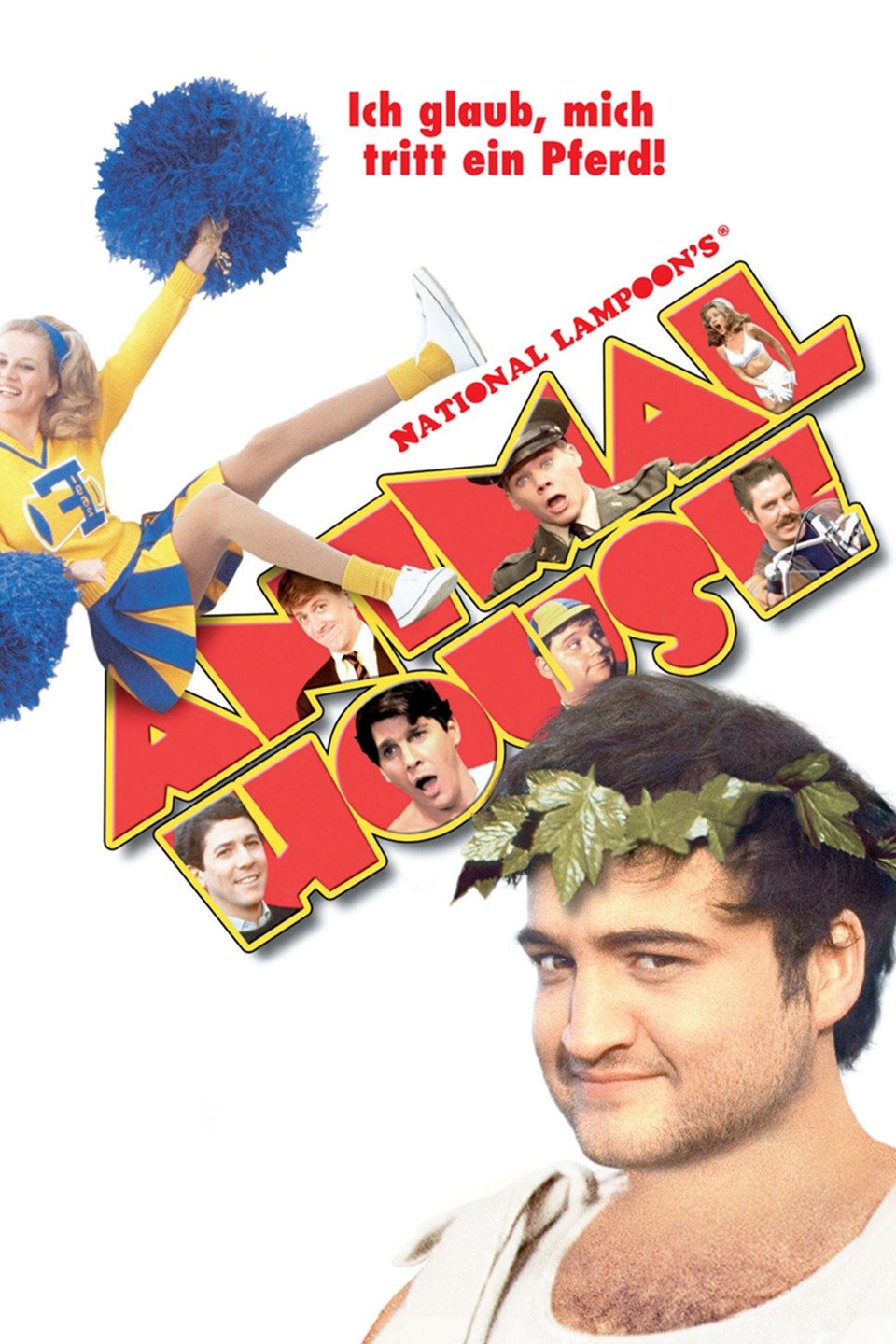 REVIEWED ON 2/1/2019 GRADE: B-