PORGY & BESS
(director: Otto Preminger; screenwriters: Dorothy Heyward play, Dubose Heyward libretto, N. Richard Nash; cinematographer: Leon Shamroy; editor: Daniel Mandell; music: Ira Gershwin/George Gershwin; cast: Sidney Poitier (Porgy), Dorothy Dandridge (Bess), Sammy Davis Jr. (Sportin' Life), Pearl Bailey (Maria), Brock Peters (Crown), Diahann Carroll (Clara), Clarence Muse (Peter), Ruth Attaway (Serena), Lesley Scott (Jake), Ivan Dixon (Jim); Runtime: 138; MPAA Rating: NR; producer; Samuel Goldwyn: Columbia Pictures; 1959)
"The story is trite, but the music is elegant."
Reviewed by Dennis Schwartz

Otto Preminger ("Exodus"/"Skidoo") in a heavy-handed manner directs George Gershwin's celebrated Negro folk opera that has a nice budget of over $6 million. Producer Samuel Goldwyn fired director Rouben Mamoulian for Otto Preminger over creative differences, but learned his lesson that Otto was not the right person to direct such a film. It's based on the play by Dorothy Heyward, with the libretto by Dubose Heyward. The story is trite, but the music is elegant; while the photography by Leon Shamroy is sensational and the art direction by Serge Krizman and Joseph Wright is terrific.

The crippled beggar Porgy (Sidney Poitier) loves Bess (Dorothy Dandridge), a slum living floozy adored by rotten men like Crown (Brock Peters), a tough stevedore, and Sportin' Life (Sammy Davis, Jr.), her heroin provider.

Crown flees town after killing a man over an argument at a craps game. Bess thereby moves in with Porgy. When Crown returns he comes to take back Bess. But Porgy kills him and runs away. Thereby Bess goes with Sportin' Life to New York. When Porgy returns to Catfish Row and Bess is gone, he decides to follow her to NYC.

The singing voices of Diahann Carroll, Poitier and Dandridge are dubbed by Loulei Jean Norman, Robert McFerrin and Adele Addison. While Pearl Bailey and Brock Peters do their own singing.


George Gershwin, who controlled the music rights to the production, hated the film and thought Otto ruined it, and his estate banned the film from being shown.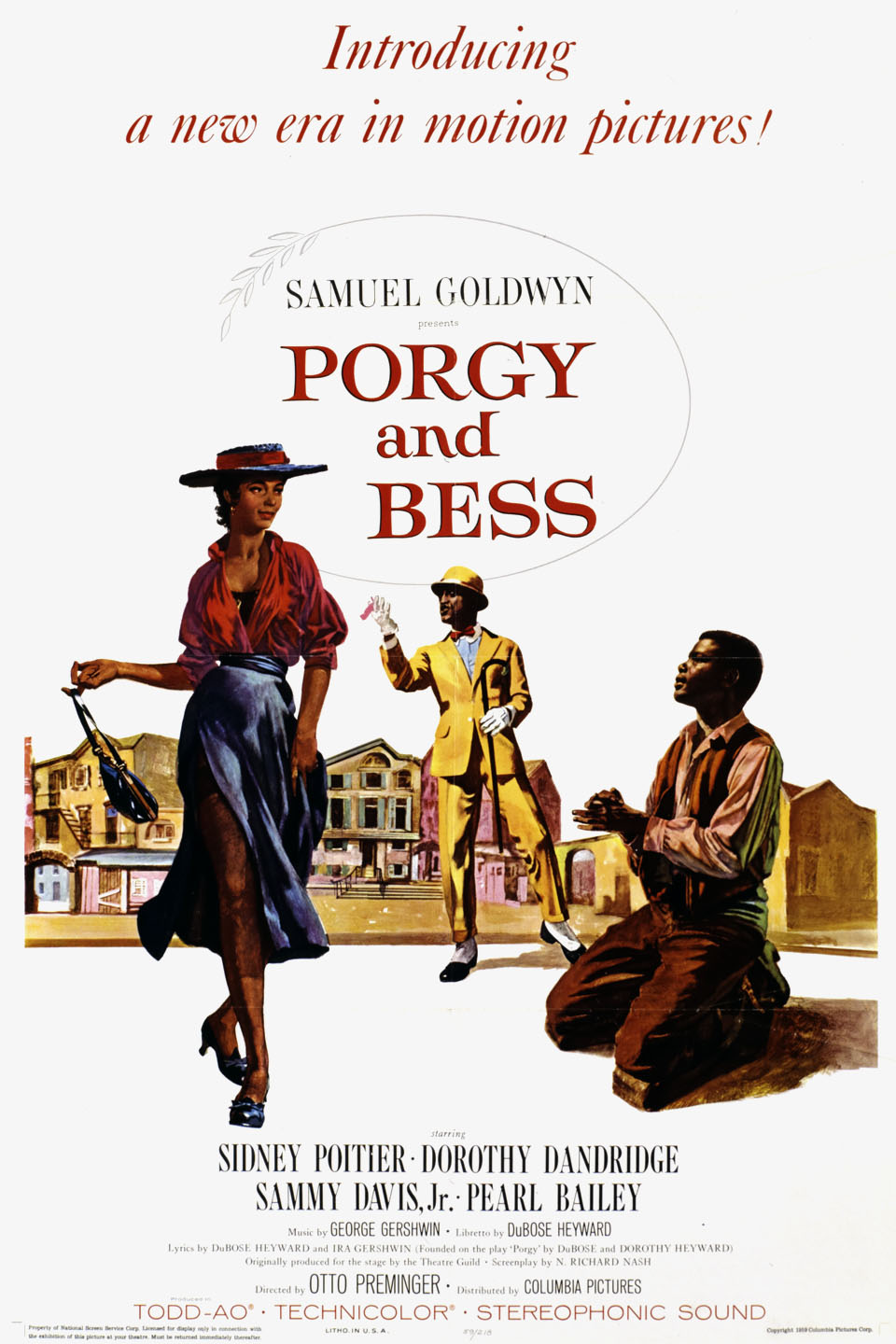 REVIEWED ON 4/25/2022  GRADE: B-