YOU WON'T BE ALONE
(director/writer: Goran Stolevski; cinematographer: Matthew Chuang; editor: Luca Cappelli; music: Mark Bradshaw; cast: Noomi Rapace (Bosilka), Jasmina Avramovic (Bosilka's Mother-in-Law), Alice Englert (Biliana), Sara Klimoska (Nevens), Anamaria Marinca (Maria), Felix Maritaud (Yovan), Carloto Cotta (Boris), Milena Nikolic (Wife of Boris); Runtime: 109; MPAA Rating: R; producers; Kristina Ceyton, Samantha Jennings: Focus Features; 2022-Australia-in Macedonian & Romanian with English subtitles)
"An unconventional folklore horror tale, involving a shape-shifting witch."
Reviewed by Dennis Schwartz

An unconventional folklore horror tale, involving a shape-shifting witch, in a supernatural horror story searching for what it means to be human, that's superbly filmed by the short film director making his feature film debut, the Australian writer-director with Macedonian roots (he was born there), Goran Stolevski. It's  Stolevski's evocative and beautiful visual film, that reminds one in many ways of the unusual but grand art-house films of the great Terrence Malick but still remains uniquely a Stolevski film. Though filmed with much blood-shed and violence that is not gratuitous.

The monster witch is a young girl kidnapped in an isolated mountain village and changed into a witch by an ancient spirit. With her sharp black claws and a severely pockmarked face, she is called Old Maid Maria by the superstitious Macedonian peasants. The shape-shifting witch is referred to as a Wolf-Eateress, who has been around since the 19th century and lives on the blood of the newborns and wild animals.

Curious about humans, the young witch accidentally kills a peasant in the nearby village and then takes the peasant's shape to live life in her skin. Her mission through the ages is to try to find out what it means to be a human.

One day, confronting a new mother in her house, she wants to eat her baby, but the woman pleads for a way to save her child and it's resolved that if the witch returns when her daughter is 16, she can then have her. The witch cuts the baby's tongue, so she can't talk. To keep her child safe, mom hides her in a cave and she's isolated from others.

But when the fearful feral child comes of age, the witch grabs her and converts her to being an immortal shape-shifting witch. Her life journey now becomes of trying to find a way to enjoy life and stay out of the way of the vengeful Maria. In different bodies, she discovers many of the ways women are wronged in patriarchal societies.

As a result of the changing bodies we get a cast from all over the world- brilliantly playing them are– Noomi Rapace (an abused wife) is Swedish,  Alice Englert (a betrothed woman) is Australian,  Carloto Cotta is Portuguese (and is the married man she inhabits) and Sara Klimoska is Macedonian (the isolated cave-living teen child). While Anamaria Marinca is Romanian (who plays Old Maid Maria).

It played at the Sundance Film Festival.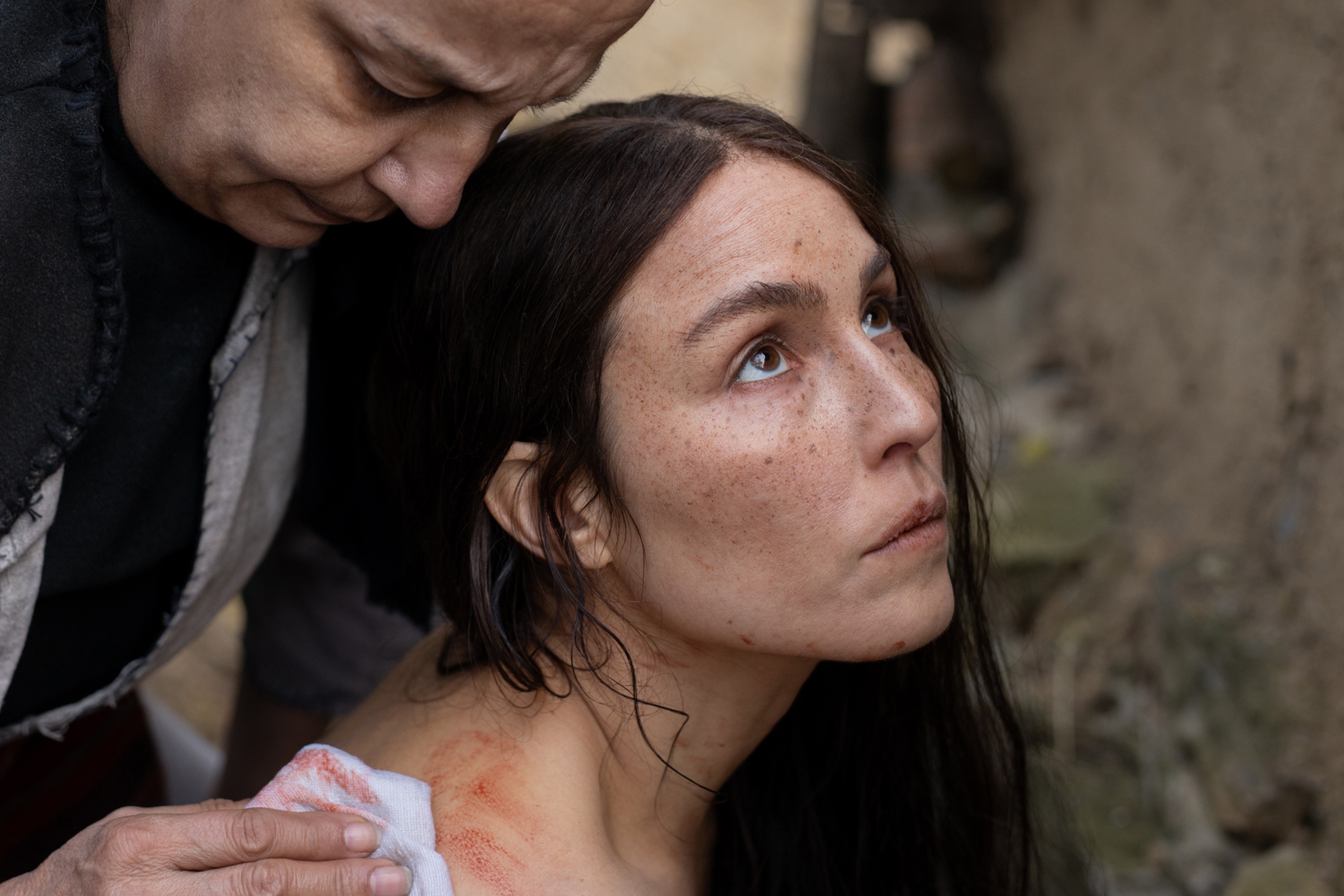 REVIEWED ON 1/31/2022  GRADE: A-