YOMEDDINE
(director/writer: A. B. Shawky; cinematographer: Federico Cesca; editor: Erin Greenwell; music: Omar Fadel; cast: Rady Gamal (Beshay), Ahmed Abdelhafiz (Obama), Shoq Emara (Ireny), Yasser El-Ayouti (Hamed); Runtime: 96; MPAA Rating: NR; producer: Dina Emam; Strand Releasing; 2018-Egypt/Austria/USA-in Arabic with English subtitles)
"The drama plays out as a comical and quirky character-study road film, that might be slight but is watchable despite all its gooey sentimentality."
Reviewed by Dennis Schwartz

"Yomeddine" is Arabic for Judgment Day.The title suggests the film's theme that we will be judged by our inner and not outer worth.

The ambitious first feature film of Egyptian director A. B. Shawky, who is half-Egyptian and half-Austrian and was educated at NYU. It's about a gentle, disfigured fortysomething Coptic leper, Beshay (Rady Gamal, who was discovered by the director in a leper colony north of Cairo).

The fiction story tells us when Beshay is cured and his mentally ill wife, Ireny (Shoq Emara), dies, he leaves the leper colony he lived in all his life for the first time and travels to Qena, Egypt, the home of his family, to try and find again his family roots. As a child Beshay's father brought him to the leper colony outside Cairo and never made contact with him again. Beshay has a donkey who helps him earn a marginal living by scavenging for sellable items of trash from the local garbage dumps. When Beshay goes on his journey, his young friend from the nearby orphanage, Obama (Ahmed Abdelhafiz), hides in the donkey cart and unwittingly becomes Beshay's traveling companion. On the road, the odd-couple are received at times with hostility by the ignorant who fear having contact with a leper. There's the incident on a train where Beshay in visible anger shouts out to the staring crowd "I'm a human being!".

The journey ends with some hope when Beshay befriends a group of disabled beggars, who manage to give him a free ride to his birth place. They warn him it's best to count on his fellow freaks for help and that he should accept not being perceived by the public as "normal".

The director gets fine performances from his non-professional cast and the drama plays out as a comical and quirky character-study road film, that might be slight but is watchable despite all its gooey sentimentality. Also, the desert visuals by the Argentinian cinematographer Federico Cesca are good, whose shot of the pyramid of Meidum brought out the tourist in me.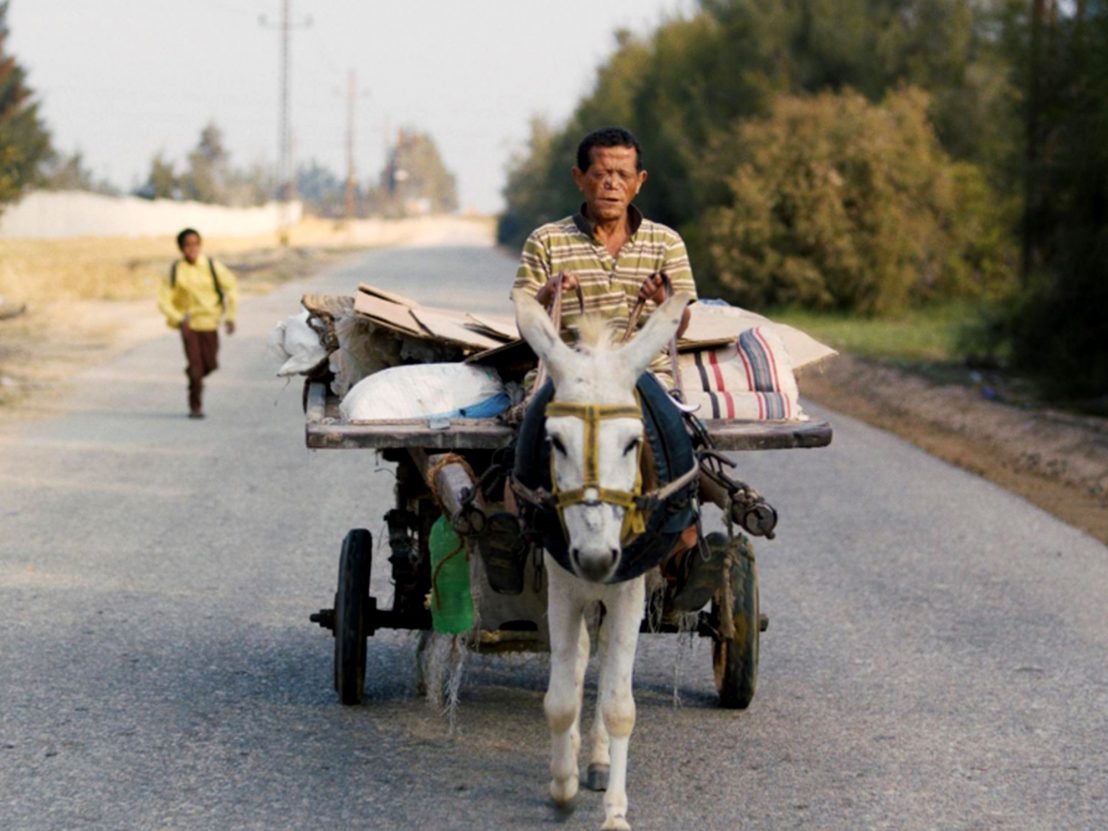 REVIEWED ON 1/31/2020  GRADE: B