WILD SEED
(director: Brian G. Hutton; screenwriter: Les Pine/story by Ike Jones and Pine; cinematographer: Conrad Hall; editor: Hugh S. Fowler; music: Richard Markowitz; cast: Michael Parks (Fargo), Celia Kaye ("Daffy," Daphne), Ross Elliot Mr. Collinge), Eva Novak (Mrs. Simms), Woodrow Chambliss (Mr. Simms), Rupert Crosse (Hobo); Runtime: 99; MPAA Rating: NR; producer: Albert S. Ruddy; Universal; 1965-B/W)
"Contrived love story which rings hollow."
Reviewed by Dennis Schwartz

Brian G. Hutton ("Kelly's Heroes "/"Where Eagles Dare") helms this contrived love story which rings hollow. It's based on a story by Les Pine and Ike Jones, and is written by Pine.

The 17-year-old Daffy (Celia Kaye) runs away in the middle of the night from her foster parents in Manhattan and naively sets out to hitch a ride to see her real folks in Los Angeles. When she gets a ride from a man who tries to rape her and loses her suitcase trying to escape, she heads over to an all-night rest spot on the highway and is befriended by an opportunistic young drifter named Fargo (Michael Parks). Despite her suspicions, she takes up his offer that he will get her to the West Coast by hopping the trains. When caught by the bulls and arrested, Fargo tells them they are married to get released. But the bulls steal her last forty bucks. Once in Los Angeles, thanks to Fargo's skill as a hustler, she visits Mr. Collinge (Ross Elliot), her businessman real father, who is friendly to her. We learn that he gave her up for adoption because Daffy's mother was never his wife, just someone he had a brief affair with. The foster parents arrive to take her back home, as the confused Daffy now sees that they love her. But she's fallen in love with Fargo, and decides to marry him. It doesn't look like he can offer her a bright future, but that's life!

Parks is appealing as the good guy drifter who is a born hustler. The excellent cinematographer Conrad Hall superbly captures in his b/w photography the right hobo train atmosphere. But the happy ending
was not earned and only reveals how vacuous is the story.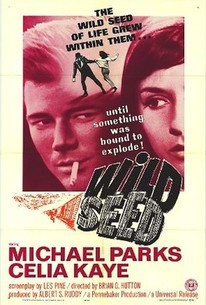 REVIEWED ON 4/12/2020 GRADE: C+