DUAL
(director/writer: Riley Stearns; cinematographer: Michael Ragen; editor: Sarah Beth Shapiro; music: Emma Ruth Rundle; cast: Karen Gillan(Sarah), Aaron Paul (Trent), Beulah Koale (Peter), Maija Paunio (Sarah's Mom), Theo James (Robert Michaels); Runtime: 95 MPAA Rating: R; producers; Aram Tertzakian, Nate Bolotin, Lee Kim, Nick Spicer, Maxime Cottray, Riley Stearns: RLJE films/XYZ Films; 2022-Finland/USA-in English)
"Stupid but funny and offbeat."
Reviewed by Dennis Schwartz

A strange and cynical dark comedy, sci-fi film, by writer-director Riley Stearns ("The Art of Self-Defense"/"Faults") that involves a terminal illness and a cloning.

Sarah (Karen Gillan) is diagnosed by her doctor with a rare terminal illness. While going over her funeral options, Sarah is provided a pamphlet for "Replacement," by a company that for a big price can make a clone of her with a swipe of a nostril (yikes!). She goes through with it knowing the clone will have to pay the fee.
Ten months later her doctor tells her she is in remission and can lead a normal life. Of course, she must now "decommission" the clone. But her boyfriend Peter (Beulah Koale) and her mom (Maija Paunio) prefer the clone, who hangs out with them and is more charming than the real Sarah. Thereby the clone feels right about getting a court order to stop her termination and is granted the right to have a duel to see who lives between them, that's to be televised on a popular show a year from now.

If you haven't flipped this nonsense off by now, you better be ready for more craziness.
For the upcoming dual, the unemotional Sarah, who speaks in a monotone voice, gets a dueling expert to be her personal trainer. Not having much money, she hires the cheapest, the no-nonsense Trent (Aaron Paul). The training for this life and death event consists of doing somersaults, watching 1980s slasher films, and slow-motion swipes with cardboard weapons.
This is all stupid but funny and offbeat.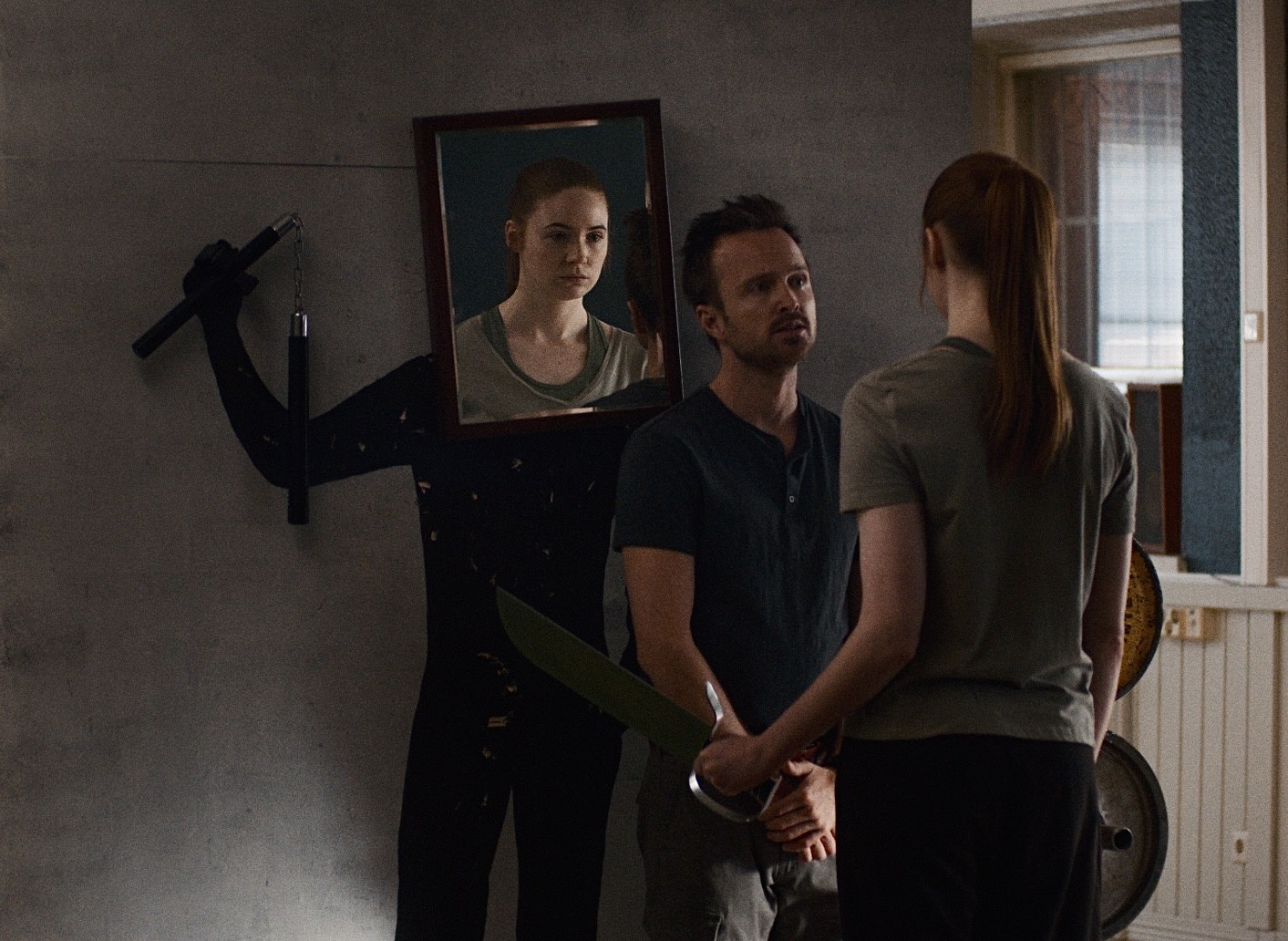 REVIEWED ON 2/6/2022 GRADE: C+