WHAT'S UP, DOC?
(director/writer: Peter Bogdanovich; screenwriters: Buck Henry/David Newman/Robert Benton; cinematographer: László Kovács; editor: Verna Fields; music: Artie Butler; cast: Barbra Streisand (Judy Maxwell), Ryan O'Neal (Dr. Howard Bannister), Madeline Kahn (Eunice Burns), Kenneth Mars (Hugh Simon), Austin Pendleton (Frederick Larrabee), Michael Murphy (Mr. Smith), Phil Roth (Mr. Jones), Sorrell Booke (Harry), Stefan Gierasch (Fritz), Mabel Albertson (Mrs. Van Hoskins), Liam Dunn (Judge Maxwell); Runtime: 94; MPAA Rating: PG-13; producer: Peter Bogdanovich; ; 1972)
"Energetic contemporary takeoff on the Hollywood screwball comedies of the 1930s."
Reviewed by Dennis Schwartz
This energetic contemporary takeoff on the Hollywood screwball comedies of the 1930s is by a film historian who knows and loves his films but has no flair for delivering the comedy. What he can deliver with smashing style are the requisite double-takes, pratfalls, fast pacing and quirky movements from that era of comedy. Using Howard Hawk's "Bringing Up Baby" as its model director Peter Bogdanovich ("Targets"), fresh off his acclaimed Hawksian "The Last Picture Show," lets it rip as a strictly physical slapstick Road Runner type of flick. The screenwriting team of Robert Benton and David Newman aided by writer Buck Henry, keep it in the madcap spirit of a Preston Sturges romp.
The film's gimmicky plotline is that in a San Francisco hotel there are a quartet of identical red plaid suitcases that through a mix-up get into the wrong hands. They contain stolen Top Secret documents, valuable diamonds, a change of clothes, and some igneous rocks. Our hero is a dim, nebbish and absent-minded musicologist from Iowa named Dr. Howard Bannister (Ryan O'Neal ), traveling with his bossy fiancée Eunice Burns (Madeline Kahn, her film debut) to a musicologist convention as a finalist for the Larrabee Foundations top prize of a $20,000 musical grant. Howard makes music from the rocks, linking his study to the way the ancients made primitive music without instruments, while his rival Hugh Simon (Kenneth Mars) is a nasty Croatian musicologist who only has bad things to say about Howard and tries to sabotage him with the eccentric foundation head Frederick Larrabee (Austin Pendleton).
In the hotel lobby the kooky Judy Maxwell (Barbra Streisand), bounced out of at least five graduate schools but still pursuing a higher education, spots the bespectacled Howard and falls in love with someone who is her exact opposite and madly pursues him despite the presence of the overbearing Eunice and Howard's reluctance to get involved with her. This becomes the source for the comical adventure involving repeated thefts of luggage, two well-orchestrated car chases across the city, Judy dangling from a hotel ledge ala Harold Lloyd, and a final courtroom scene (rather lamely done) that brings all the parties together to clear things up.
Streisand sings twice, once under the titles a rendition of Porter's "You're the Top" and once in the film itself she sings "As Time Goes By." Other supporting actors who chip in with good comical turns include Stefan Gierasch as the larcenous hotel concierge, Sorrell Booke as the hotel detective with the charm of a lout, Mabel Albertson as the rich hotel guest whose jewels were stolen, Liam Dunn as the pill-popping judge whose daughter caused the trouble, Michael Murphy as the stolen documents thief and Phil Roth as the undercover agent tracking the suitcase with the Top Secret documents.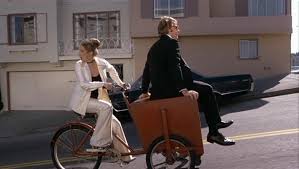 REVIEWED ON 2/14/2007 GRADE: C+