WAR WITH GRANDPA, THE
(director: Tim Hill; screenwriters: Tom J. Astle, Matt Embers, based on the novel by Robert Kimmel Smith; cinematographer: Greg Gardiner; editors: Craig Herring, Peter S. Elliot; music: Aaron Zigman; cast: Robert De Niro (Ed), Oakes Fegley (Peter), Uma Thurman (Sally), Cheech Marin (Danny), Rob Riggle (Arthur), Laura Marano (Mia), Poppy Gagnon (Jenny), Jane Seymour (Diane), Isaac Kragten (Steve), Juliocesar Chavez (Billy), Christopher Walken (Jerry), T.J. McGibbon (Emma), Colin Ford (Russell); Runtime: 94; MPAA Rating: PG; producers: Marvin Peart, Rose Morris Peart, Phillip Glasser; Hulu/Universal Pictures/Prime Video; 2020)
"It could have been worse–it could have run for 100 minutes instead of 94."
Reviewed by Dennis Schwartz

Tim Hill ("Garfield: A Tale of Two Kitties"/"Alvin and the Chipmunks") directs Robert De Niro in a cringe-worthy, mean-spirited, low-brow comedy that scores only a few laughs from all its slapstick gags and silly jokes. The lazy comedy is credited to Tom J. Astle and Matt Embers, and is based on the 1984 novel by Robert Kimmel Smith.

Ed (Robert De Niro) is an irascible widower who moves in with his overbearing suburban-residing daughter Sally (Uma Thurman) and her husband Arthur (Rob Riggle), and their 3 children-the 12-year-old Peter (Oakes Fegley), the teen sister Mia (Laura Marano) and the younger sister Jenny (Poppy Gagnon). It comes after Ed has a bad experience involving a security guard over the grocery store's self-check-out machine.

This forces Peter to give his bedroom to Grandpa as he moves to the attic. The unhappy kid declares war on Grandpa, and pulls dumb pranks on him.

Maybe this dumb story will appeal to its kiddie target audience, but it had no appeal to this adult viewer. But it could have been worse–it could have run for 100 minutes instead of 94.

You got me why notable actors Christopher Walken, Jane Seymour and Cheech Marin signed on for such minor parts to be in such an unappealing film.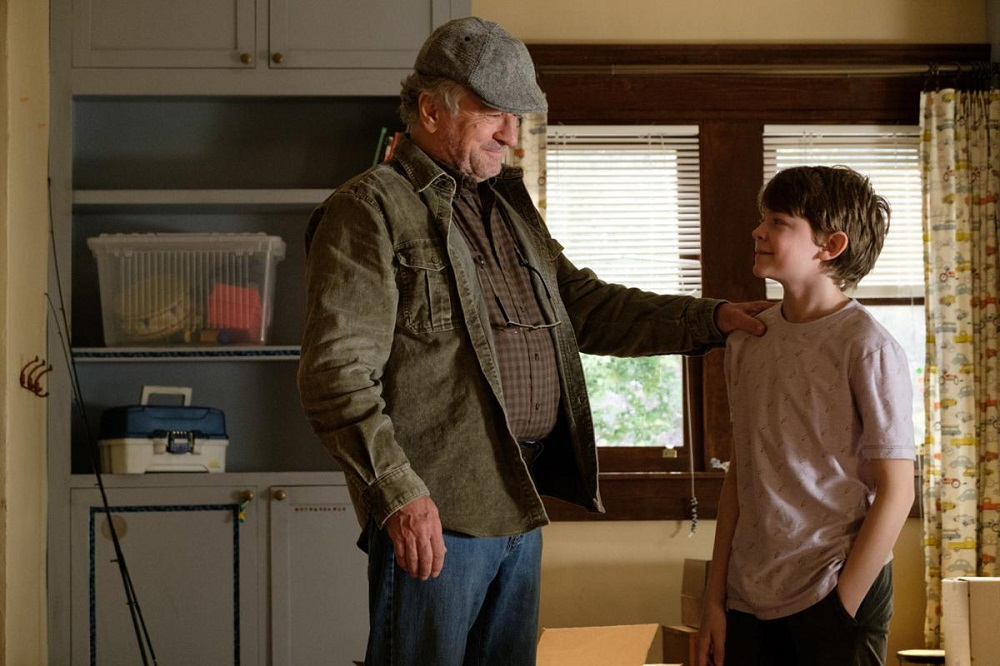 REVIEWED ON 8/19/2023  GRADE: C