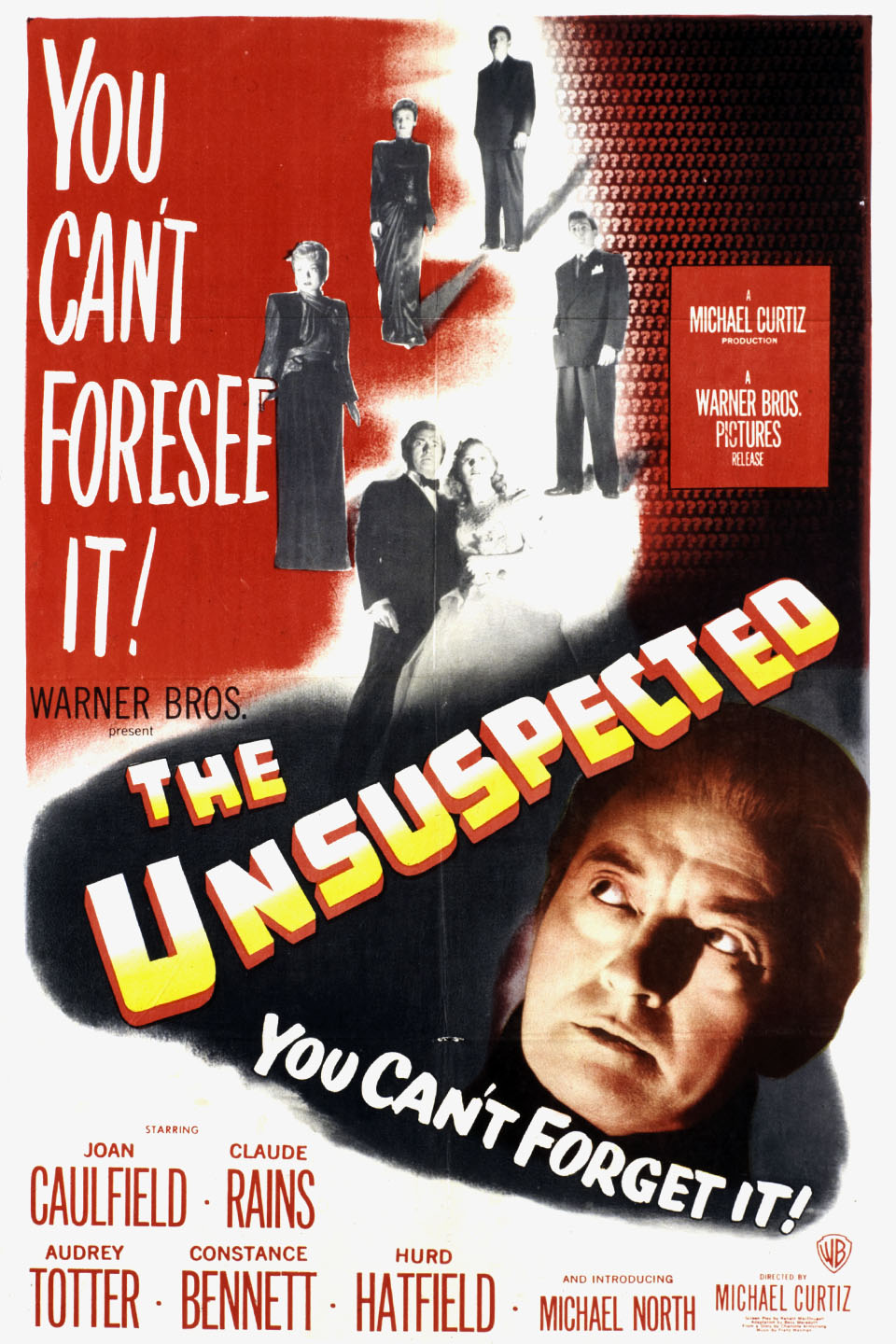 UNSUSPECTED, THE

(director: Michael Curtiz; screenwriters: from the book The Unsuspected by Charlotte Armstrong/Ranald MacDougall/Bess Meredyth; cinematographer: Elwood "Woody" Bredell; editor: Frederick Richards; music: Franz Waxman; cast: Claude Rains (Victor Grandison), Joan Caulfield (Matilda Frazier), Audrey Totter (Althea Keane), Constance Bennett (Jane Moynihan), Fred Clark (Richard Donovan), Hurd Hatfield (Oliver Keane), Ted North (Steven Francis Howard), Harry Lewis (Max), Barbara Woodell (Roslyn Wright), Walter S. Baldwin (Judge Maynard), Jack Lambert (Mr. Press); Runtime: 103; MPAA Rating: NR; producer: Charles Hoffman; Warner Brothers; 1947)
"Directed in a grand expressionist style by Michael Curtiz."
Reviewed by Dennis Schwartz
A creepy noirish thriller and damsel-in-distress tale, much like Preminger's superior Laura (1944), directed in a grand expressionist style by Michael Curtiz ("Casablanca"). Writers Ranald MacDougall and Bess Meredyth adapt it from the novel by Charlotte Armstrong. The film only bogs down when it doesn't do as much with the author's intricate plot as it could have, and things seem too muddled to be believable. But it makes up for that with a eloquently menacing and macabre performance by Claude Rains.
Victor Grandison (Claude Rains) is the genial radio host of a popular true crime show, who is secretly committing a murder while he's regaling the audience with an eerie murder story. The victim is Grandison's secretary Roslyn Wright who is found in his Westchester mansion hanging from a chandelier after receiving a call from the calculating bitch Althea Keane (Audrey Totter), Grandison's impoverished niece living in the mansion, inquiring if her drunken husband Oliver (Hurd Hatfield) is there. Homicide chief Richard Donovan (Fred Clark) is satisfied it's a suicide, as Althea never reports that call where she heard the murdered woman screaming. Steven Howard (Ted North) is certain it wasn't a suicide. He was Roslyn's longtime friend and planned on marrying her when he got out of the service. Steven schemes to investigate Grandison by posing as the husband of Matilda Frazier (Joan Caulfield), Grandison's wealthy heiress niece, who actually owns the mansion but her uncle was appointed as her guardian and assumed control of the house. Steven's scheme gets him invited to be a guest in the mansion, but nobody knows Steven or was aware that he was married to Matilda for three days prior to her death in a South American shipwreck. Suspecting Steven might be scheming to inherit her estate, he's checked out by Donovan and proves to be wealthier than Matilda and doesn't need her money–he only asks for a portrait of her hanging in the living room. In a scene that comes right out of Laura, Matilda returns from the dead saying she was rescued at sea three weeks ago and suffered a nervous breakdown. But she thinks she might have amnesia because she doesn't remember marrying Steven and doesn't even recognize him.
Grandison becomes wary of Steven and fears that he will upset his plans to inherit the estate. When Steven offers Donovan proof that the secretary was murdered, the clever criminologist covers up his tracks by framing Oliver for the murder in a well-conceived ploy. To eliminate both Steven and Matilda and be home free, Grandison calls upon Mr. Press (Jack Lambert), a criminal he's blackmailing, to do another job for him. Mr. Press is listening to Grandison's radio show while fully-clothed in bed in the seedy Peekskill Hotel, while from his window one can partially see the blinking neon sign of only the letters "kill…kill…kill."
Steven is clubbed by Press in the mansion garage and put in a trunk and taken for a wild chase ride on the Saw Mill River Parkway in the back of Press's pickup truck heading toward the garbage dump, while Grandison poisons Matilda's wine and leaves a suicide note on the coffee table.
Constance Bennett plays Grandison's wisecracking assistant, a close friend of Rosalyn and Steven's, who is secretly helping him solve the murder.
If one can get past the holes in the plot, one should be on firm footing for this well-acted and charmingly told stylish film noir. It is further enhanced by the shadowy and glossy cinematography of "Woody" Bredell. When the heroine is being poisoned, we view the deteriorating effects the drugs has on her through a wine glass.
REVIEWED ON 2/25/2005 GRADE: B+