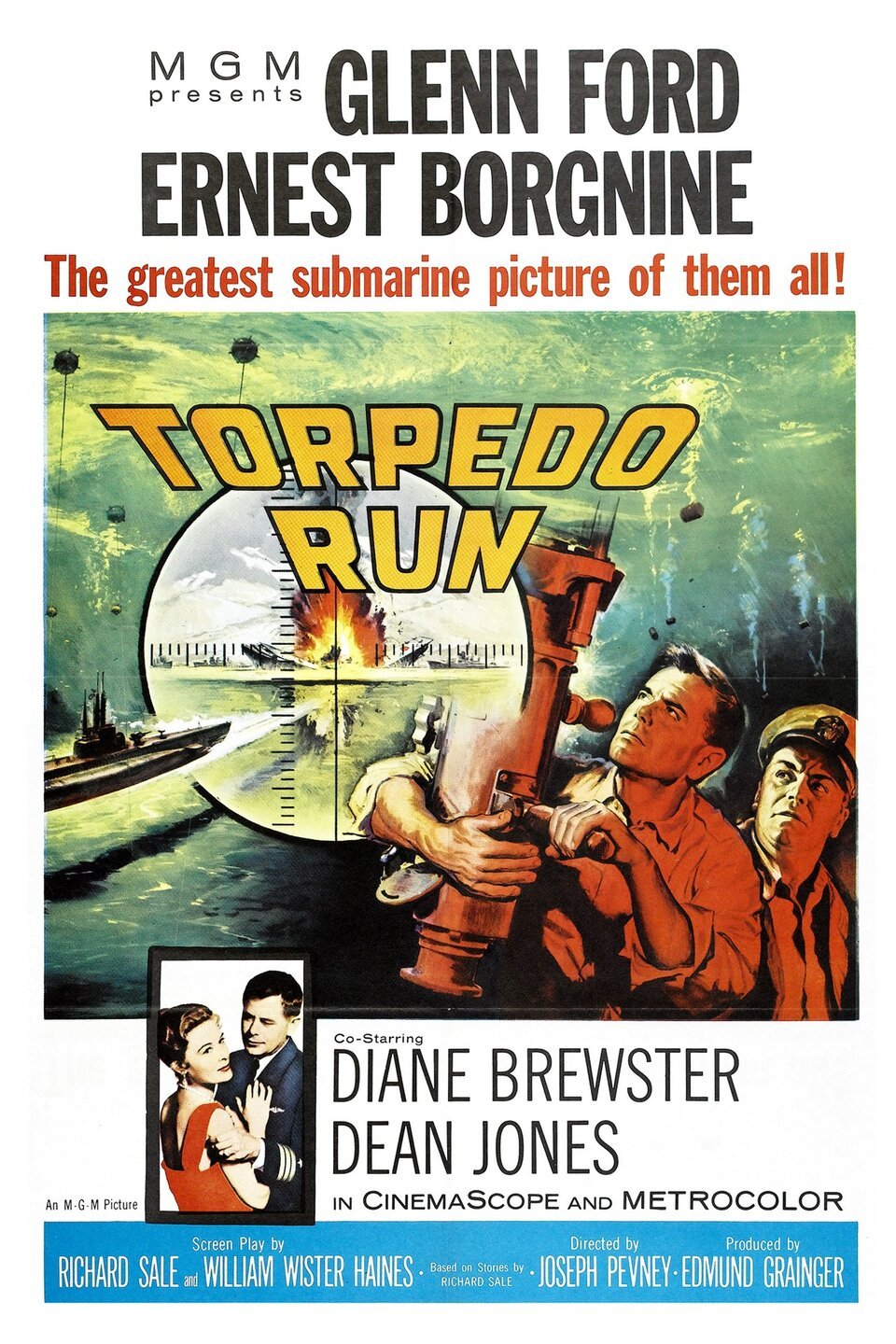 TORPEDO RUN
(
director: Joseph Pevney; screenwriters: William Wister Haines/from story by Richard Sale; cinematographer: George Folsey; editor: Gene Ruggiero; cast: Glenn Ford (Lt. Cmdr. Barney Doyle), Ernest Borgnine (Lt. Archer Sloan), Diane Brewster (Jane Doyle), Philip Ober (Adm. Samuel Setton), Dean Jones (Lt. Jake "Fuzz" Foley), L.Q. Jones ("Hash" Benson), Paul Picerni (Lt. Burt Fisher), Robert Hardy (Lt. Redley); Runtime: 98; MGM; 1958)

"With the news sinking in fast that his wife and child are aboard the freighter, Barney must make a decision whether to fire or not on the prize aircraft carrier that he locates."
Reviewed by Dennis Schwartz
A well-crafted submarine psychological thriller from a novel by Richard Sale. Lt. Cmdr. Barney Doyle (Glenn Ford) is the hard-nosed, no-nonsense, taciturn submarine commander, who is considered by the higher-ups to be the most competent submarine captain in the South Pacific Islands. The story begins just before WW11 and is set in 1942 in the Pacific. Barney's second-in-command is his longtime and loyal friend, Lt. Archer Sloan (Ernest Borgnine), who is honest to a fault. Archie is someone who has risen from being an enlisted man to his present position and is now awaiting a command of his own.
On leave, Barney and Archie visit with Barney's wife Jane (Diane Brewster). She was born in Manilla, where the couple now live with their young daughter. Expecting war to break out soon Barney implores his wife to leave Manilla, but she insists on staying. Just before Barney leaves, he is informed about the Japanese attack on Pearl Harbor.
Out at sea for the next 10 months, Barney learns that the Japanese invaded Manilla and overtook it. He later on learns from Admiral Setton (Philip Ober), who is head of operations for the Pacific, that his wife and child are in an internment camp. The good news is that they are alive. Meanwhile, he is on a mission to get the Japanese aircraft carrier that led the attack on Pearl Harbor. This mission is classified as top-priority by the Navy. Barney's "Greyfish" submarine locates the Japanese aircraft carrier in Tokyo Bay and breaks through the netting to pursue it, the first time an American submarine was in these waters during the war.
But Admiral Setton learns through intelligence some bad news — that all 1,400 prisoners from the internment camp were placed on a freighter, which will act as a screener for the chased destroyer. With the news sinking in fast that his wife and child are aboard the freighter, Barney must make a decision whether to fire or not on the prize aircraft carrier that he locates. Archie tells him not to–that the odds are remote of hitting it and are almost a certainty of hitting the freighter. Barney makes the impossible decision in a flash, and his submarine releases two torpedoes. To Barney's dismay, the torpedoes hit the freighter sinking it. He even refuses to go after any survivors, figuring the aircraft carrier is using that freighter as bait to torpedo his submarine. No one will question Barney Doyle's patriotism, though they might question the wisdom of that decision.
Barney, visibly shaken and tense, knowing his family is dead, becomes obsessed with getting the aircraft carrier.
To the film's credit, Ford's performance is well-mannered and credible. The action scenes of the eventual showdown between the rivals, makes for exciting cinema. It was also a good idea to show how much the captain cared for his family by showing in flashbacks how their relationship evolved. What weakened the story somewhat is all the self-congratulations that kept being passed around among the higher-ups, with everyone a man of his word and a team player. It was hard to believe that everyone who wore a Navy uniform could be that perfect. Thereby a certain banality that crept into this otherwise compelling presentation. As for providing human drama along with the typical submarine action shots, this film far outweighs the recently released U-571. The only thing the newer version has over this submarine flick, is that it makes good use of how far the technology has come.
REVIEWED ON 5/8/2000 GRADE: C+
Dennis Schwartz: "Ozus' World Movie Reviews"
© ALL RIGHTS RESERVED DENNIS SCHWARTZ