TICK, TICK…BOOM!
(director: Lin-Manuel Miranda; screenwriters: based on the music by Jonathan Larson/Steven Levenson; cinematographer: Alice Brooks; editors: Myron Kerstein/Andrew Weisblum; music:Jonathan Larson; cast: Andrew Garfield (Jon), Alexandra Shipp (Susan), Robin de Jesus (Michael),  Vanessa Hudgens (Karessa),  Joshua Henry (Roger), Bradley Whitford (Stephen Sondheim), Tariq Trotter (H.A.W.K. Smooth), Judith Light (Rosa Stevens), MJ Rodriguez (Carolyn), Ben Levi Ross (Freddy); Runtime: 115; MPAA Rating: PG-13; producers; Brian Grazer, Ron Howard, Julie Oh, Lin-Manuel Miranda: Netflix; 2021)
"It showcases the terrific Andrew Garfield to shine as the playwright Jonathan Larson."
Reviewed by Dennis Schwartz

Pulitzer Prize and Tony Award winner Lin-Manuel Miranda, the composer of "Hamilton," makes his feature directorial debut with tick, tick…BOOM!, an energetic adaptation of the semi-autobiographical musical by the late Jonathan Larson (Andrew Garfield), who died of an aneurysm at the age of 35, which came just prior to his tremendous hit Rent and its off-Broadway premiere, a play which revolutionized the theater in the early 1990s.

It's a film for the MTV generation, New Yorkers and for fans of the theater. If you're not into Broadway, you're probably better off skipping it (I'm not too big on Broadway musicals, but liked this production very much except for a few minor objections).

The musical film is based on the music by Jonathan Larson and script by Steven Levenson. What it lacks is emotional depth, a sense of intimacy and a way of making us care more about our struggling protagonist. Instead it offers us a good watch, as it showcases the terrific Andrew Garfield to shine as the playwright Jonathan Larson and it clues us in that this boy can sing (something movie viewers never saw before from this talented actor).

The film gets its title because it has Jon Larsen (Garfield) desperate to come up with a second-act song for his musical while working under the burden of several deadlines, some self-imposed, some imposed by fate, as a ticking clock is heard in the background to drive home the point (throughout the film) that he's always on the clock over deadlines (and the loss of his life in an untimely death).

Larson is a struggling artist (working a day waiter's job at the downtown Moondance Diner in Manhattan) who is about to hit 30 with no stage credits. Just before that birthday date, Jonathan previews at his workshop the not finished dystopian musical, Superbia, to friends and possible producers, and has an anxiety attack thinking he blew his big opportunity.

At this delicate time in his career, his best friend, a gay man and an actor and a roommate, Michael (Robin de Jesus), works as a marketing executive and moves out to live in a luxury apartment building. Also, his appealing dancer/singer girlfriend Susan (Alexandra Shipp) eventually leaves him to become a teacher in another town because he spends more time working on his musical than he does with her.

On top of all that Jonathan's experiencing writer's block and can't create the song he needs for a main character (Vanessa Hudgens) that was suggested to him as necessary to have by his theater idol Stephen Sondheim (Bradley Whitford).

The musical begins by showing Jonathan's original performance in a small theater box, where he's at the piano with a rock band and two backup singers, Roger (Joshua Henry) and Karessa (Vanessa Hudgens). It cuts away from time-to-time with rehearsal scenes and of Jonathan, Michael, and Susan offering a running commentary on Jonathan's life, particularly how his deteriorating relationship with Susan never recovers.

Ultimately it shows how Jonathan goes on to become rich and famous as a playwright, as he struggles to reach the top despite the doubts of his agent (Judith Light).

For Broadway aficionados, you can take pleasure in short cameos of some of its stars, including Bernadette Peters, Joel Grey, Bebe Neuwirth, Chita Rivera, and more I couldn't identify because of my unfamiliarity with Broadway actors.

As for the songs, they were mostly forgettable even if pleasant. The best of them might be the zany birthday song about aging, called  "30/90." It tells how one might feel at reaching 30, knowing that your youthful days are gone forever.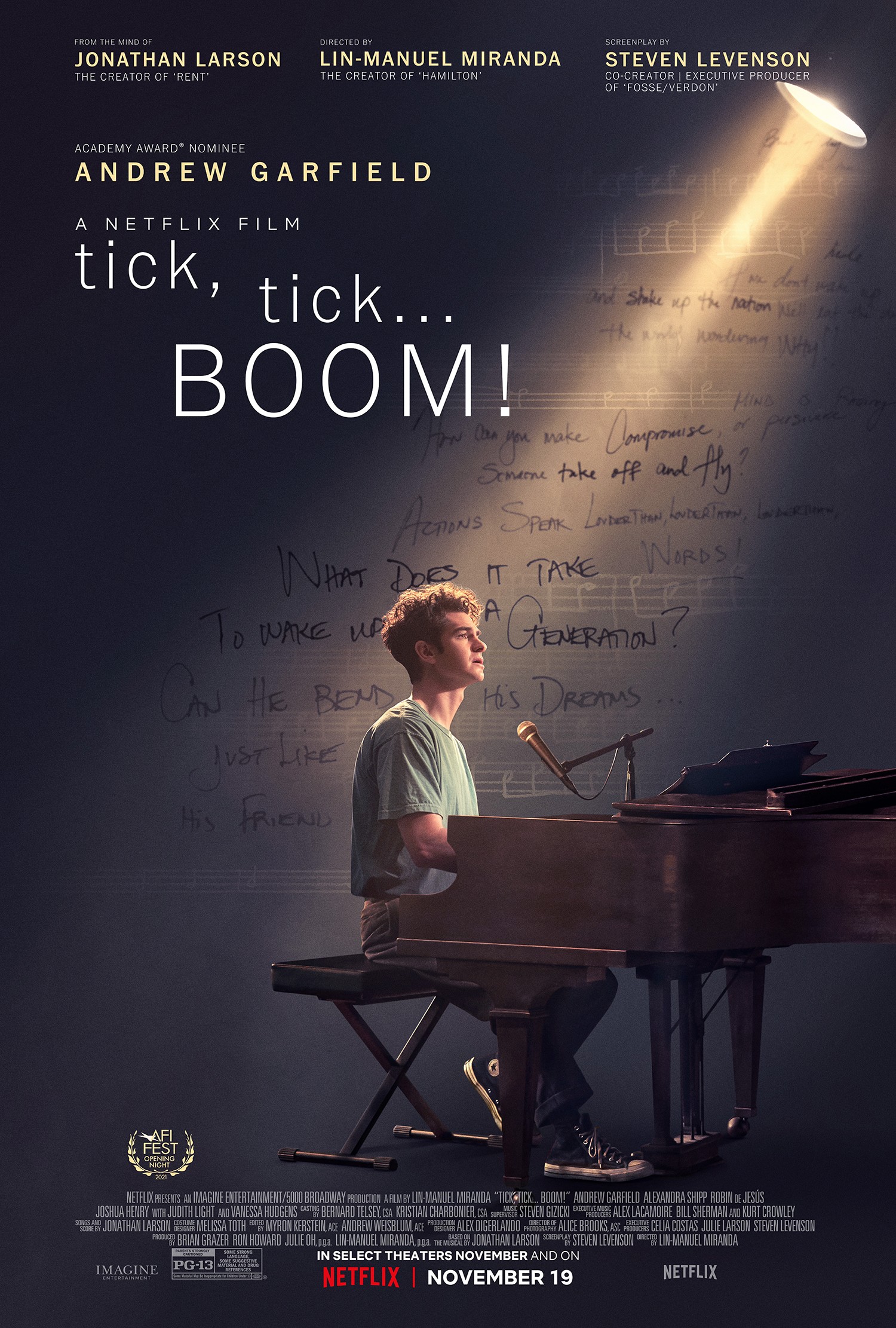 REVIEWED ON 11/18/2021 GRADE: B