THERAPY DOGS
(director/screenwriter: Ethan Eng; screenwriter: Justin Morrice; cinematographer: Ethan Eng; editor: Ethan Eng; music: ; cast: Justin Morrice (Justin), Kyle Peacock (Kyle), Mitchell Cidade (Mitchell), Kevin Tseng (Kevin); Runtime: 83; MPAA Rating: NR; producers: Walter Woodman/Justin Morrice/Patrick Cederberg/Matthew Hornick/Ethan Eng; Zapruder Films; 2022-Canada)
"Enticing guerrilla documentary."
Reviewed by Dennis Schwartz

The 17-year-old Ontario suburban high school student Ethan Eng is a first-time filmmaker who directed this enticing guerrilla documentary. He co-wrote it with best friend and fellow H.S. student Justin Morrice. Ethan also is a member of a rock band called Shy Kids. Both kids are loners and misfits, who are regular drug users and known as school rebels.

Therapy Dogs premiered at the Slamdance Film Festival, specializing in showing indie films, located in the same place in Utah where the Sundance Film Festival is located.

Eng was inspired by Toronto filmmaker Matt Johnson's dark comedy The Dirties, which won the Grand Jury Prize for Best Narrative at Slamdance in 2013.

It follows the movements of Eng and classmate Morrice in their senior high school year. It was shot supposedly as a "yearbook video." It chronicles such things as Ethan getting a severe parental lecture on his bad behavior; reminiscing about the suicide of a former beloved classmate, Kevin Tseng; andthe showing of the pair's many goofy antics. Eng offers his youthful insights on life that are mature and worth hearing.

In summation, Eng tells us "Youth is, as it always has been, about being young. Young and reckless, existential and inarticulate, hopeful and hopeless."


The film has a raw quality to it that keeps it genuine despite many bits being awkwardly staged.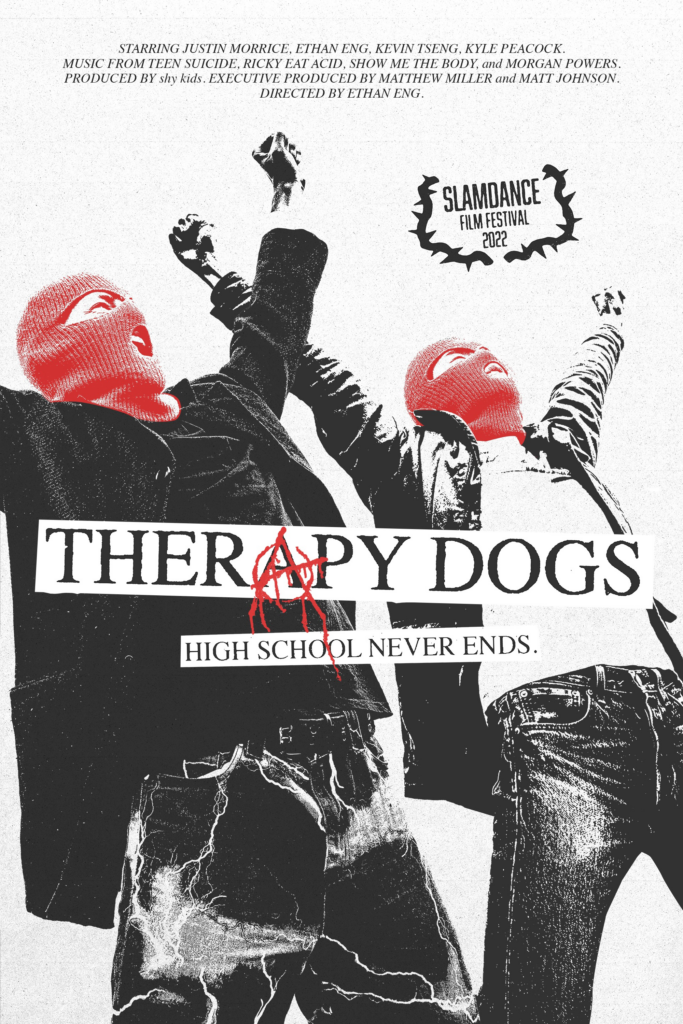 REVIEWED ON 3/13/2023  GRADE: B