THE POPE'S EXORCIST
(director: Julius Avery; screenwriters: Michael Petroni,Evan Spiliotopoulos, story by Chester Hastings, Jeff Katz, R. Dean McCreary, based on the books An Exorcist Tells his Story & An Exorcist: More Stories by Father Gabriele Amorth; cinematographer: Khalid Mohtaseb; editor: Matt Evans; music: Jed Kurzel; cast: Russell Crowe (Father Gabriele Amorth), Daniel Zovatto (Father Tomas Esquibel), Alex Essoe (Julia), Peter Souza-Feighoney (Henry), Laurel Marsden (Amy), Franco Nero (The Pope), Cornell John (Bishop Lumumba), Ryan O'Grady (Cardinal Sullivan), River Hawkins (Enzo), Bianca Bardoe (Rosaria), Alessandro Gruttadauria (Father Gianni), Ralph Ineson (Asmodeus-voice of thedevil); Runtime: 103; MPAA Rating: R; producers: Doug Belgrad, Jeff Katz, Michael Patrick Kaczmarek; Sony Pictures; 2023-in English, with some dialogue in German, Latin, Italian, Spanish)
"A devil of a film."
Reviewed by Dennis Schwartz

Australian director Julius Avery  ("Son of a Gun"/"Overlord") helms this weird, inane and clunky demon-possession horror pic supposedly based on a true story as told by the real exorcist Father Amorth (the Vatican chief exorcist between 1986 and 2016) who is fictionalized for the film.

It's a devil of a film, set in 1987, that generates no suspense or surprises as lamely scripted by Michael Petroni and Evan Spiliotopoulos. It's based on the books An Exorcist Tells his Story & An Exorcist: More Stories by Father Gabriele Amorth. It falls short of the gold standard demonic Catholic possession flick as set by William Friedkin's The Exorcist of 1973.

The American Julia (Alex Essoe) moves with her two kids, Amy (Laurel Marsden) and the teenager Henry (Peter DeSouza-Feighoney), into a long abandoned abbey in Castille, Spain, that she inherited from her late husband (he died a year ago). She fixes it up, as she intends putting it up for sale. But before you can say get me to the exorcist in time, Henry becomes demonically possessed. Thereby the Vatican sends Father Amorth (Russell Crowe), their chief exorcist, to investigate the possession and he's assisted by the local padre Father Esquibel (Daniel Zovatto). Father Amorth brings with him an exorcist's tool-kit case, filled with talismans, crucifixes, papal seals and so on. The gruff but jokey character also keeps on him a whisky flask (which might also be advisable for those in the audience who might have a better view of such flicks when a bit tipsy).

The result is a tedious and unimaginative film, where even Crowe's amenable performance soon becomes a bore before its CGI third act brings out some blood and gore from its exorcism.

We hear from the devil that he acknowledges the boy's possession was just an excuse to ensnare the exorcist in a trap. Still there's no scares or shocks for this dumpster fire of a film.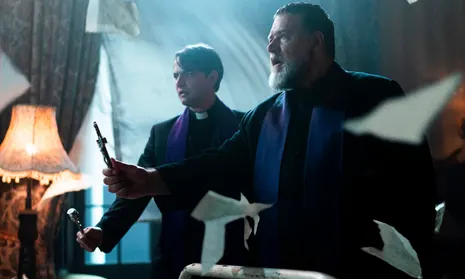 REVIEWED ON 8/20/2023  GRADE: C