THE MEYEROWITZ STORIES (NEW AND SELECTED)
(director/writer: Noah Baumbach; cinematographer: Robbie Ryan;; editor: Jennifer Lame  music: Randy Newman; cast: Adam Sandler (Danny Meyerowitz),  Ben Stiller (Matthew), Dustin Hoffman (Harold Meyerowitz), Emma Thompson (Maureen), Elizabeth Marvel (Jean Meyerowitz), Grace Van Patten (Eliza Meyerowitz), Judd Hirsch (L.J. Shapiro), Rebecca Miller (Loretta Shapiro), Adam Driver (Randy), Matthew Shear (Gabe), Candice Bergen (Julia); Runtime: 110; MPAA Rating: NR; producers: Scott Rudin, Noah Baumbach, Lila Yacoub, Eli Bush; Netlix; 2017)
"The dialogue bristles."
Reviewed by Dennis Schwartz

A stinging family drama directed and written by Noah Baumbach ("De Palma"/"Mistress America") with power and force. The ensemble cast takes to the acerbic but literate material as if it was caviar for the swells.

The colorful, embittered, pretentious, self-centered and narcissistic white bearded family patriarch, Harold Meyerowitz (Dustin Hoffman), is a once-hopeful sculptor and retiring teacher at Bard. Divorced three times, the aging professor is having a retrospective of his work by the college, which brings his estranged family together for the event. Harold lives with his tipsy youthful wife number four Maureen (Emma Thompson). His oldest son Danny (Adam Sandler) is a failed musician and is divorced. His only child Eliza (Grace Van Patten), who he has raised and dearly loves, is a freshman studying film at Bard. The other son is Matthew (Ben Stiller), a successful financial planner living in Los Angeles. He's dad's favorite, but like the other children is angered by dad's selfishness and crude ways that have also hurt him. The middle child is the withdrawn Jean (Elizabeth Marvel), who dad always neglected. The third wife is Candice Bergen, whose son is Matthew.

Judd Hirsch is a wormy rival sculptor, whom Harold kisses up to because he's so successful but really detests.

The dysfunctional family dramedy is schematic, has dead spots and is less cinematic than stage-bound. But the dialogue bristles with non sequiturs and tunes into the conscience of the New York City Jewish artist milieu. It's a good arthouse film that deserves a bigger audience.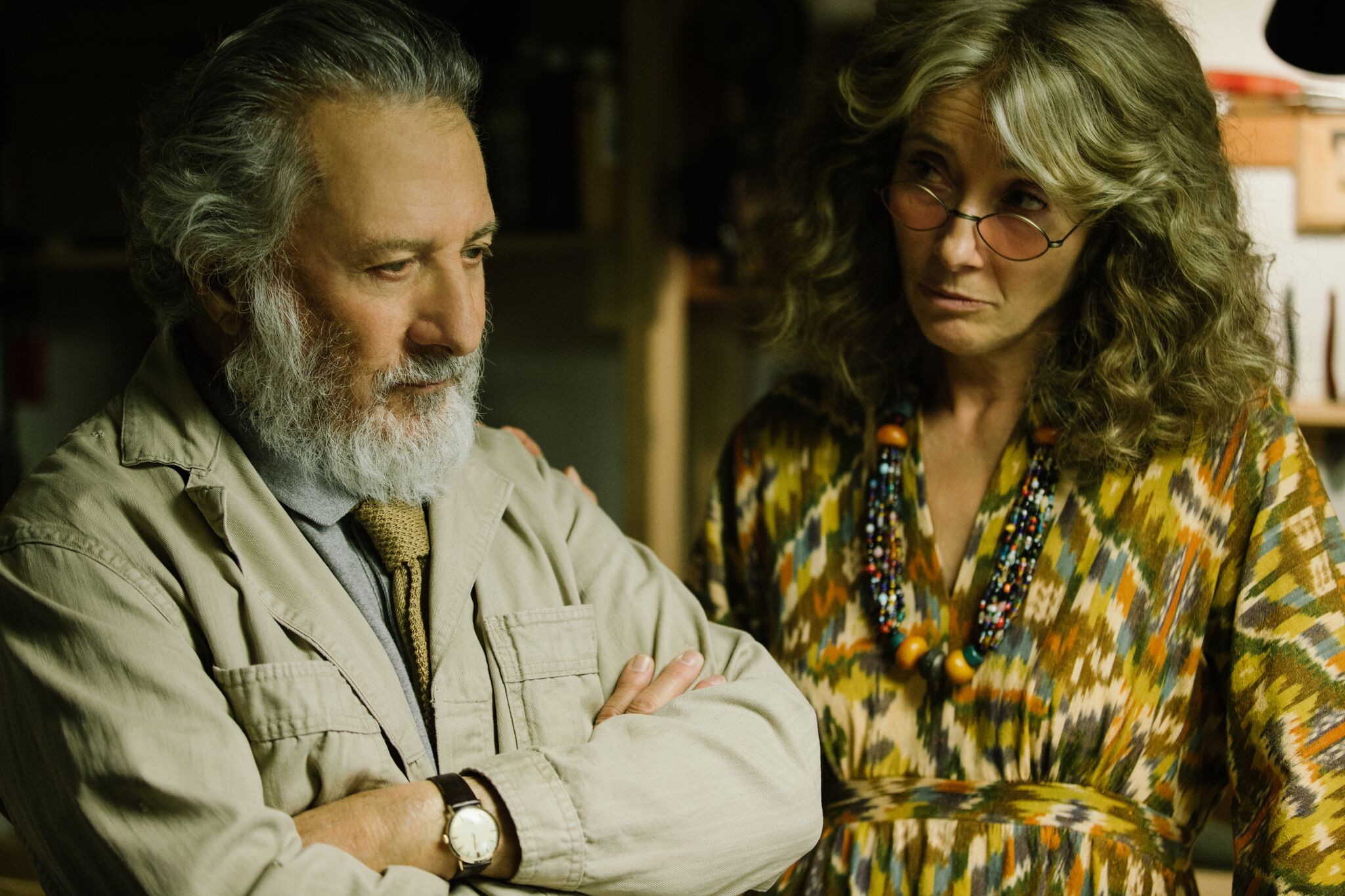 REVIEWED ON 12/22/2017 GRADE: B+