MOB LAND
(director/writer: Nicholas Maggio; screenwriters: story by Maggio & Rob Healy; cinematographer: Nick Remy Matthews; editor: Bryan Gaynor; music: David Gerald Steinberg; cast: Kevin Dillon  (Trey), John Travolta (Sheriff Bodie Davis), Timothy W. Murphy (Ben), Stephen Dorff (Clayton), Tia DiMartino (Mila), Ashley Benson (Caroline Connors), Jesse Sharp (Mike), Tommy G. Kendrick (Attendant), Robert Miano (Ellis), Shiloh Fernandez (Shelby Connors); Runtime: 112; MPAA Rating: NR; producers: Corey Large, Bernie Gissler; Saban Films; 2023)
"Dorff is riveting as the provocative hit man."
Reviewed by Dennis Schwartz

The debut directorial feature film of Nicholas Maggio is a good one. The low-budget derivative B-film is based on a story he wrote with Rob Healy.

A soft-spoken young family man named Shelby Connors (Shiloh Fernandez) is living a quiet life as an amateur drag racer and auto mechanic in the rural south of Alabama with his wife Caroline (Ashley Benson) and young daughter Mila (Tia DiMartino). Spurred on by greed and some altruism and loss of a job, the addicted to prescription pills Shelby partners as the getaway driver with his drifter brother-in-law Trey (Kevin Dillon) to rob an opioid pill mill that's connected to the mob.

A mob enforcer, Clayton (Stephen Dorff), for the New Orleans mob, is ordered by his bosses to go to the small town and clean up the mess, as during the robbery Trey kills two people before taking the money and pills. The boys are in big trouble with no hiding place in sight, as the creepy Clayton comes to town and immediately kills the loudmouth Trey.

Bodie Davis (John Travolta, in a small role as a character actor), a friend of Shelby, is the bumbling small town sheriff, at the beginning stages of terminal cancer, who can't wait to retire. He's the honest sheriff just trying to keep the peace and do his job as he investigates the robbery and killings, trying to find out who did it.

Clayton is intrigued by Shelby and holds off killing him. Instead, if Shelby agrees, two workers at the pill store will be killed to take his place.

Dorff is riveting as the provocative hit man, who lives on the edge.

As most of the film is shot on a hand-held camera, it unfortunately leaves the visuals annoyingly shaky.

However, this twisty morally besmirched crime thriller is a surprisingly captivating film that in some ways compares favorably with other curious same-themed crime films such as "Hell or High Water," but without reaching those level.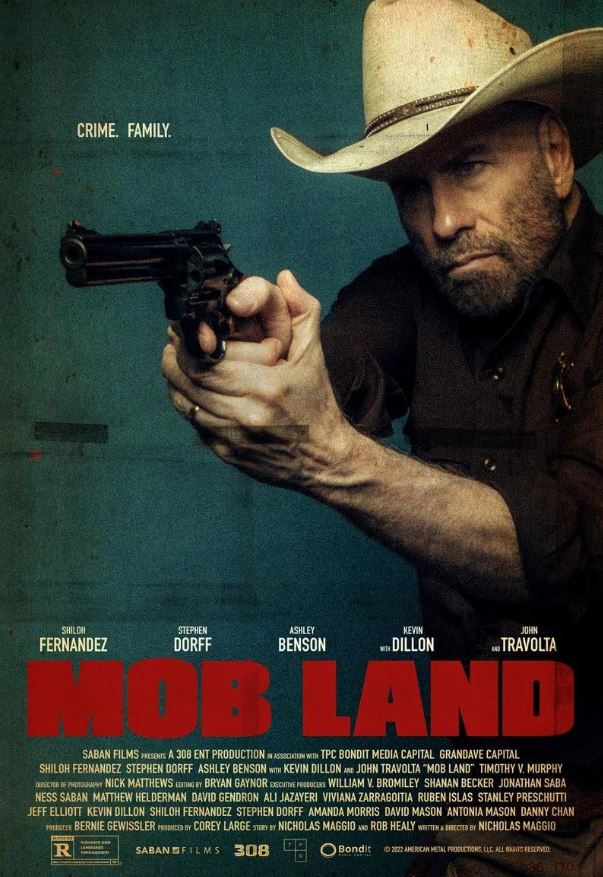 REVIEWED ON 8/30/2023  GRADE: B