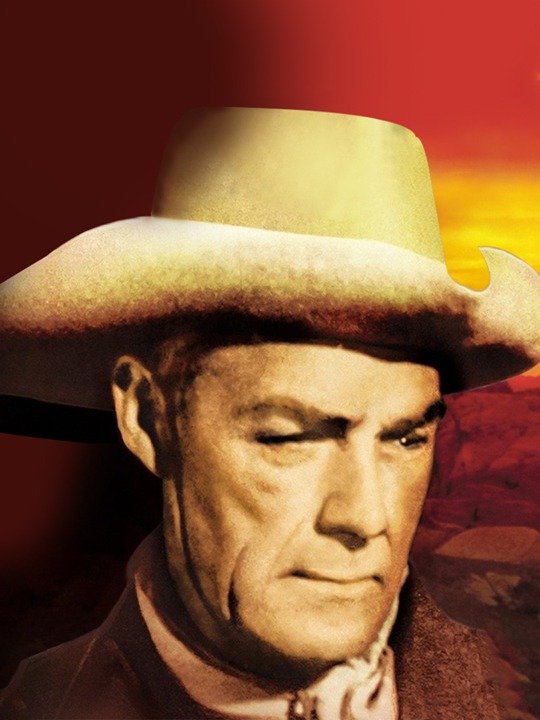 TEN WANTED MEN
(director: H. Bruce Humberstone; screenwriters: story by Harriet Frank, Jr. & Irving Ravetch/Kenneth Gamet; cinematographer: Wilfrid M. Cline; editor: Gene Havlick; music: Paul Sawtell; cast: Randolph Scott (John Stewart), Richard Boone (Wick Campbell), Jocelyn Brando (Corinne Michaels), Donna Martell (Maria Segura), Skip Homeier (Howie Stewart), Lester Matthews (Adam Stewart), Leo Gordon (Frank Scavo), Alfonso Bedoya (Hermando), Dennis Weaver (Sheriff Clyde Gibbons), Kathleen Crowley (Marva Gibbons), Lee Van Cleef (Al Drucker), Clem Bevans (Tod Grinnel), Denver Pyle (Weed); Runtime: 80; MPAA Rating: NR; producer: Harry Joe Brown; Columbia Pictures; 1955)
"A solid but nevertheless routine Randolph Scott oater."
Reviewed by Dennis Schwartz
A solid but nevertheless routine Randolph Scott oater. Kenneth Gamet's screenplay, based on the story by Harriet Frank, Jr. & Irving Ravetch, was too weak to be salvaged–even by the usual tight performances of Scott and a finely mannered sleazy one by the villainous Richard Boone. It was made by Scott's own production company. Veteran B-picture director H. Bruce Humberstone, whose specialty is crime stories and musicals, shoots a rare Western. John Stewart (Scott) is a self-made success story as he's become the wealthiest rancher in the Arizona Territory near the Mexican border, who seeks to bring law and order to the growing small-town he helped build. He has lawyer brother Adam (Matthews) and his obnoxious son Howie (Homeier) come from Ohio to administer the law. But trouble starts when his lesser landowner rival and owner of the town saloon, Wick Campbell (Boone), who hates John, has his live-in senorita Maria Segura (Martell) stolen by Howie. She finds Wick abusive and seeks protection from John, as she runs away to stay in his ranch. A range war starts over the Mexican girl, as Wick goes into a jealous snit and hires professional gunslingers from all over the west to raid John's ranch and try to take over his empire. These ruthless hired killers are led by Frank Scavo (Gordon) and his underling Drucker (Van Cleef), and act to carry out Wick's empire ambitions.
The gang first steals cattle from John. Then the killings start. Wick gets away with shooting down in cold blood rancher Todd Grinnel in order to inherit his ranch falsely on a loan default, as there were no witnesses except for Scavo's men. When Howie goes drinking in Wick's saloon he's forced into a gun duel and shoots Weed in self-defense, one of Scavo's men who initiated the fight. Since John is on this law and order trip, Howie is placed in jail until there's a proper trial. But the spoiled young man escapes rather than having faith in a fair trial. This sets off a chain of violence, as Wick guns down Adam on the trail leading to John's ranch. This gets John to forget about the law and come after Wick. It leads to the climactic shootout in town.
Warning: spoiler to follow.
John is trapped by the gang in the freight office with his 'best girl,' the widow Corinne (Brando), the sheriff, and a few of the good citizens. Howie gets into the action, as he sneaks back into town from his hideout to help Uncle John. When the action clears with the good guys winning, the film ends with a double wedding as Howie ties the knot with Maria and John with Corinne.
REVIEWED ON 1/9/2004 GRADE: C+    https://dennisschwartzreviews.com/