TENDER MERCIES
(director: Bruce Beresford; screenwriter: Horton Foote; cinematographer: Russell Boyd; editor: William M. Anderson; music: George Dreyfus/songs by Lefty Frizzell/Robert Duvall/Johnny Cymbal/Bobby Hart/Austin Roberts/Sara Be/Craig Brickhardt; cast: Robert Duvall (Mac Sledge), Tess Harper (Rosa Lee), Betty Buckley (Dixie Scott), Wilford Brimley (Harry Silvers), Ellen Barkin (Sue Anne), Allan Hubbard (Sonny), Lenny von Dohlen (Robert), Norman Bennett (Reverend Hotchkiss); Runtime: 90; MPAA Rating: PG; producer: Philip Hobel/Horton Foote/Robert Duvall; Universal Pictures; 1983)
"An anti-Hollywood drama that glitters in its subdued form because it's a real gem."
Reviewed by Dennis Schwartz
An old-fashioned country western musical drama that's a sobering, sensitive and unsentimental tale about redemption and changing relationships, where Robert Duvall earned his deserved Best Actor Oscar playing an alcoholic washed up once famous country and western singer and songwriter seeking solace in the arms of a young Texas widow. Aussie filmmaker Bruce Beresford ("Breaker Morant"/"Driving Miss Daisy"/"The Fringe Dwellers"), in his first American film, directs with the fierce intensity of someone who understands the unique barren landscape of rural Texas (shot in Waxahachie, Texas, which also served as the locale for "The Last Picture Show") and its people, while Horton Foote ("To Kill a Mockingbird") pens it as an austere family drama that has its costar, Tess Harper, in her auspicious film debut, not ashamed to thank the Lord for his "tender mercies."
Mac Sledge (Robert Duvall) has hit the skids since divorced eight years ago from his famous country western singer wife Dixie (Betty Buckley), whom he once tried to kill in a drunken rage. Dixie has refused to let him see his daughter Sue Anne (Ellen Barkin) since the ugly divorce, and despises her ex to the point that she doesn't even want to see him. The down-and-out ex-country singer wakes up hung over from a night of drinking in a small Texas town outside of Austin and gets handyman work in a desolate rundown motel/gas station run by the attractive 28-year-old Rosa Lee (Tess Harper), who married at 16 and at 18 was widowed with the death of her soldier husband in Vietnam. The decent woman, who sings in the Baptist church choir, raised her precious 10-year-old son Sonny (Allan Hubbard) on her own. The lonely duo soon fall in love and marry, and Mac swears off the booze and bonds with the curious kid who never knew his real father. The remainder of the story has Mac living close to the poverty line and fighting back the inner demons that once plagued him, wrestling with a chance to make a singing comeback with some fawning young admirers who have a struggling small-time country band, getting baptized with Sonny during one Sunday service and both trying to reckon if they are "different" persons now, and finally dealing with his unhappy 18-year-daughter who sneaks a visit to his motel and tells him without bitterness that she never knew him but has trouble relating to her pushy mom about her 30-year-old three times married musician boyfriend.
The moody bleak piece is all heart, featuring great natural acting by the ensemble cast, and offers hope to those who can't find a reason to live but who still consider themselves lucky to be survivors. It's an intimate everyday story about just folks making the best of things no matter what, and has no big moments but takes us along on its bumpy ride to find that caring for someone else is a virtue that has its own reward. An anti-Hollywood drama that glitters in its subdued form because it's a real gem.
Duvall convincingly sings his own country songs, while Wilford Brimley has a nice turn as he diplomatically as possible plays Dixie's current manager and Mac's former manager.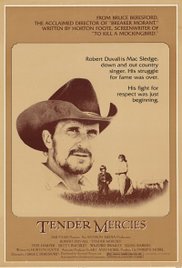 REVIEWED ON 5/5/2008 GRADE: A-