TAHARA
(director: Olivia Peace; screenwriter: Jess Zeidman; cinematographer: Tehillah De Castro; editors: Troy Lewis/Olivia Peace; music: ; cast: Madeline Grey DeFreece (Carrie Lowstein), Rachel Sennott (Hannah Rosen), Daniel Taveras (Tristan Leibotwitz), Jenny Lester (Melissa), Bernadette Quigley (Moreh Klein), Keith Weiss (Zack), Rachel Wender (Natalie), Shlomit Azoulay (Elaina Cohen); Runtime: 77; MPAA Rating: NR; producers; Jess Zeidman, Dasha Gorin, Madison Ginsberg: Film Movement; 2020)
"It's a poignant film that treats its subjects with respect as they try to search for answers to their love life."
Reviewed by Dennis Schwartz

The film's title comes from the Jewish ritual of washing the body before burial.

In her feature film debut, Olivia Peace directs in an assured way this well-acted queer, coming of age drama and acerbic comedy, that is about teenage female toxicity. It's set in Rochester, NY, and filmed in the same synagogue Hebrew school the screenwriter Jess Zeidman attended. The drama is about an anxious teen girl who is manipulated into a romantic encounter with her best friend during the funeral service of their former Hebrew school classmate.

There's a long friendship between the manipulative white girl Hannah (Rachel Sennott) and the more stable Black girl Carrie (Madeline Grey DeFreece), who are classmates at the Jewish High School they attend in Rochester. In the opening scene, the girls attend a memorial service for a classmate, Samantha Goldstein, someone unpopular they barely knew and acted mean to the girl who committed suicide.

After the ceremony, their teacher, Ms. Klein (Bernadette Quigley), takes the kids into a classroom for some "grief counseling," and lectures that all Jews are responsible for each other." But the students don't listen.

The girls after the lecture are in the bathroom together, where Hannah convinces Carrie to kiss her. What follows is a scene in animation by Emily Ann Hoffman.

After the kiss Hannah thanks her and leaves the bathroom, and will avoid Carrie. This leaves Carrie confused as to why Hannah is now ignoring her, and therefore starts making friends with a boy named Tristan (Daniel Taveras), someone Hannah has a crush on and seems to think that she has to work on her kissing to bag him.

It's a poignant film that treats its subjects with respect as they try to search for answers to their love life.

Shot in the same location over a long day.

Tahara played at the virtual NewFest in New York at its LGBTQ+ Film Festival.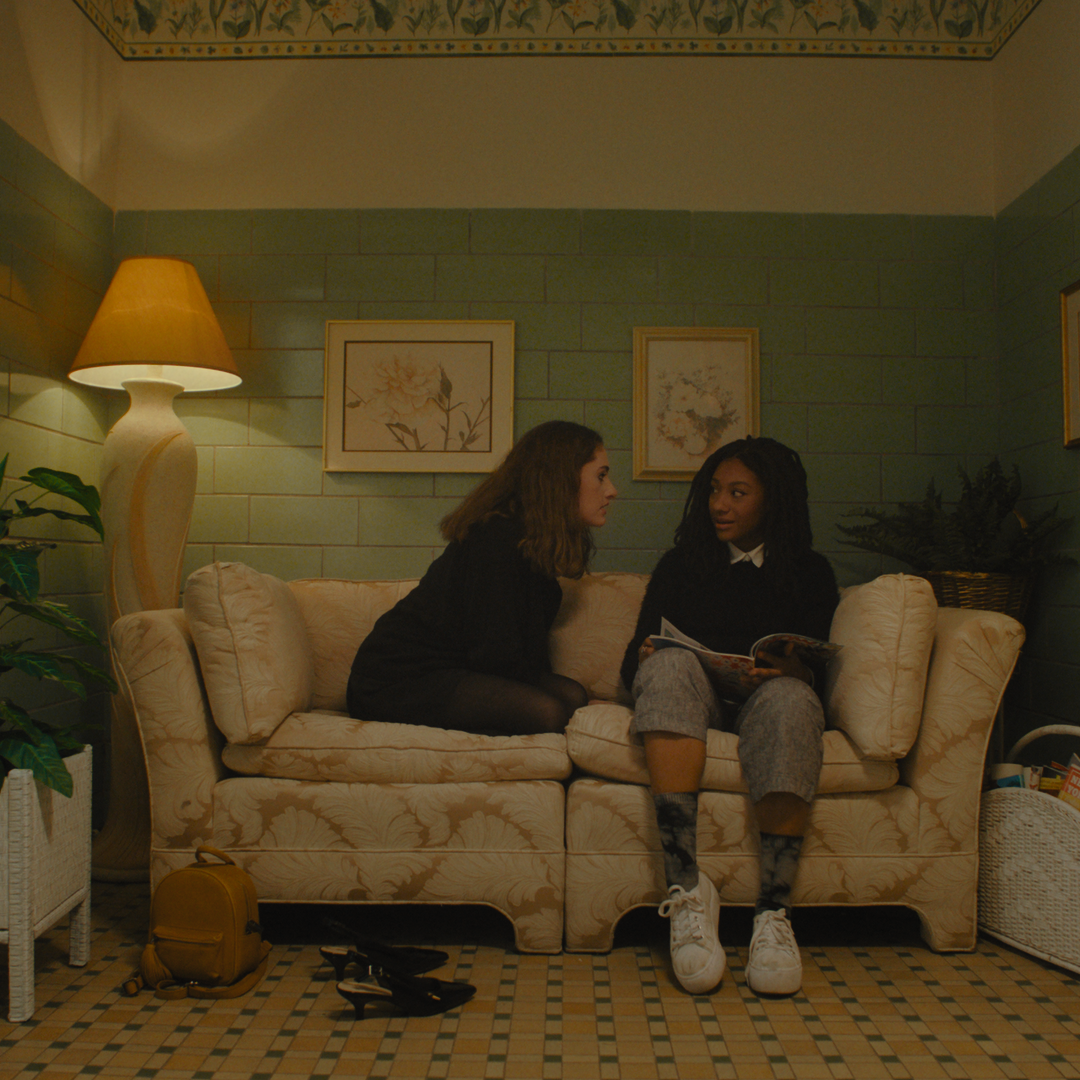 REVIEWED ON 6/10/2022 GRADE: B