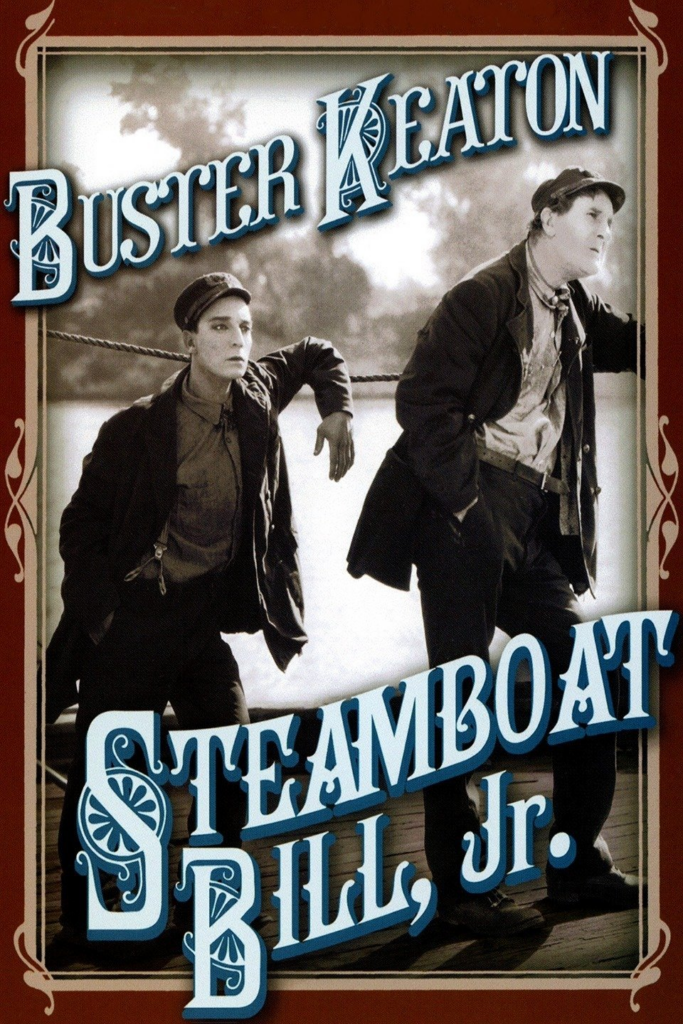 STEAMBOAT BILL JR.
(director: Charles Reisner; screenwriter: Carl Harbaugh; cinematographers: Bert Haines/Dev Jennings; editor: Sherman Kell; cast: Buster Keaton (William Canfield Jr.), Tom McGuire (John James King), Ernest Torrence (William Canfield Sr), Tom Lewis (First Mate), Marion Byron (Marion King); Runtime: 71; MPAA Rating: NR; producer: Joseph M. Schenck; Kino Video; 1928-silent)
"One of the greatest of the silent comedies about the effects of parental rejection."
Reviewed by Dennis Schwartz
One of the greatest of the silent comedies about the effects of parental rejection. It was Buster Keaton's last indie produced film and his second to last silent feature film – he made two final silent comedies at MGM: The Cameraman (1928) and Spite Marriage (1929). The film features the classic finale scene of the cyclone that destroys the whole town but miraculously not Keaton. He avoids a three-story building facade that crashes down on top of him, thanks to a window placed just right. Keaton was known for doing all his own stunts.
It's set in the sleepy Mississippi riverside town of River Junction, where the burly tough guy captain, William Canfield Sr (Ernest Torrence) and his loyal first mate Tom (Tom Lewis), run the rundown steamboat. The bad news is that a modern steamboat run by tycoon rival John King (Tom McGuire) has been launched and the tramp steamer has lost all its business. Steamboat Bill is buoyed that his college son William Canfield Jr. (Buster Keaton), whom he hasn't seen since he was a baby, is arriving by train from Boston. Dad expects his son will be as big and strong as he is, and will help him against his wealthy rival. But the captain is disappointed when his son turns out to be puny and effete, and is foppishly dressed with a beret and sports a mustache on his lip.
There are a series of delightful sight gags, slapstick, finely tuned observed jokes about the accident-prone Keaton, and Keaton's manic energy in the athletic stunts he performs. The many gags include losing his white carnation at the railroad station, which makes it hard for his father to identify him. The trauma of buying a new hat, as his dad can't stand that beret. Learning how to operate the steamboat, that results in a collision with the rival boat. After his dad lands in jail for operating a boat that's condemned and acting unruly when confronted, Keaton comically busts him out of jail.
While Keaton is getting clipped at the barbershop, in the opposite chair is Marion King (Marion Byron), who knows him from Boston and whose father owns the rival steamboat. Despite both father's opposing their romance, they stay together. Keaton's father tries to make a man out of him; it bears fruit in the final cyclone sequence, where Keaton saves his father, Marion and her father as the town is being rearranged by the storm. In the end, Keaton wins the hand of Marion.
REVIEWED ON 6/30/2005 GRADE: A
© ALL RIGHTS RESERVED DENNIS SCHWARTZ