STAND UP AND CHEER!
(director/writer: Hamilton MacFadden; screenwriter: based on an idea by Will Rogers & Philip Klein/Ralph Spence; cinematographers: Ernest Palmer/L.W. O'Connell; editor: Margaret Clancy; music: Arthur Lange; cast: Shirley Temple (Shirley Dugan), Ralph Morgan (President's Secretary), Warner Baxter (Lawrence Cromwell), Nigel Bruce (Dinwiddie), John Boles (Himself), Madge Evans (Mary Adams),James Dunn (Jimmy Dugan), Theresa Gardella (Aunt Jemima), Nick Foran (Himself), Stepin Fetchit' (Himself), Arthur Byron (John Harly), Sylvia Froos (Herself), Frank Mitchell (Senator Danforth), Jack Durant (Senator Short); Runtime: 69; MPAA Rating: NR; producer: Winfield Sheehan; Fox Film Corporation; 1934)

"There's not much here to stand up and cheer for."
Reviewed by Dennis Schwartz
This so-so musical comedy, based on a lousy idea by Will Rogers & Philip Klein, has a political backdrop that is grating. It would have been even worse if the 6-year-old Shirley Temple wasn't in it to enliven things by singing "Baby Take a Bow." This is the film where the American public began its love affair with the adorable little girl. Hamilton MacFadden ("Riders of the Purple Sage"/"Escape by Night"/"Inside the Law") co-writes with Ralph Spence and directs this naive propaganda piece as if its topical message was an urgent one. There's not much here to stand up and cheer for, everything seems unhinged and pretentious.
President Franklin D. Roosevelt appoints a big-time Broadway theatrical producer, Lawrence Cromwell (Warner Baxter), as the new Secretary of Amusement in order to cheer up the American public from the ill-effects of the Depression. Cromwell appoints Mary Adams (Madge Evans) as one of his many secretaries (she becomes his romantic interest) and he also brings along his right hand man Dinwiddie (Nigel Bruce) as his talent scout. The scout hunts down chorus girls, jazz people and various types of pop singers, and the boss plans on an all-star revue. But his patriotic efforts are opposed by a wealthy industrialist, John Harly (Arthur Byron), who profits from the ongoing economic slump and wants no changes. The businessman tries bribing Cromwell to quit, but he can't be bribed from his mission to bring entertainment to a suffering country.
Aunt Jemima (Theresa Gardella) is all energy in her lively "revival-meeting" musical number, a skit that I thoroughly enjoyed. The one I hated, a lame skit I don't know what the filmmaker was thinking had a penguin in clothes (with the voice of Jimmy Durante) telling George Bernard Shaw (Stepin Fetchit) that the penguin is a shrunken Jimmy Durante.
The many pleasant songs include "I'm Laughin'," "We're Out of the Red,' "Stand Up and Cheer," "Broadway's Gone Hill-Billy," "This Is Our Last Night Together" and "She's Way Up Thar."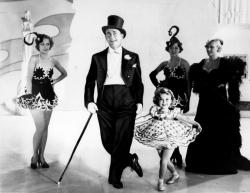 REVIEWED ON 8/20/2014 GRADE: C+